Sleeping Giant Brewing Company Celebrates 7th Birthday
by Scott A. Sumner
The Sleeping Giant Brewing Company had a 7 Th Birthday Celebration on June 14th. The successful Thunder Bay start up company now has 30 staff members, a large facility and continues to grow!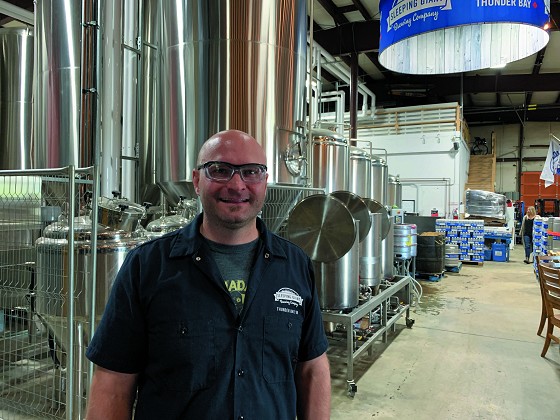 " We are celebrating our 7th birthday today after getting our license 7 years ago and delivering out first keg to the Madhouse on Bay Street. We are super excited to celebrate this with our customers, our employees and licensees," said Kyle Mulligan Head Brewer, co owner and founder Sleeping Giant Brewing Company." At the start it was it just me brewing every two weeks with 2 tanks and now we have two full time brewers and 12 tanks, and the tanks now hold 4 of my original tank size. We also have this wonderful new building with a craft room where we can enjoy these wonderful new beers."
Sleeping Giant Brewing Company started with1 year round beer and now have 18 beers on tap and 4 waiting in the wings for space. They sell 6 to 7 thousand heta litres, which are 100 liters each, and a can is 1/2 litre, so that is a lot of beer.
" We were controlled on our growth, relied on Thunder Bay and slowly added until we moved to this new location. The community have bought into the beer and we are trying to get more tasty beer. We also try and give back to the community and appreciate our customers." said Kyle.
I asked Kyle who's also a family doctor, why get into the brewery business?
"Both my wife and I love beer and when we travelled we would always look for a brewery or brew fest. I started brewing personally and wanted to share our beers with others.We were hoping we would get to this level and had to prove to the bank we could do it with our own investment at the start."
The company have expanded their market into Manitoba and in LCBOs in London and Ottawa. They are across Ontario with a sales rep in Timmins." Beer is a communal beverage where you can sit and talk with your friends, a shared experience much like with wine. Right now we are brewing a lot of beer for the busy summer period, focusing on our community involvement and maybe will be adding some new tanks and off site storage."