Red Sky Metis Independent Nation Celebrate National Indigenous Peoples Day
by Scott A. Sumner
The Red Sky Metis IndependentNation in Thunder Bay celebrated National Indigenous Peoples Day at Prince Arthur's Landing.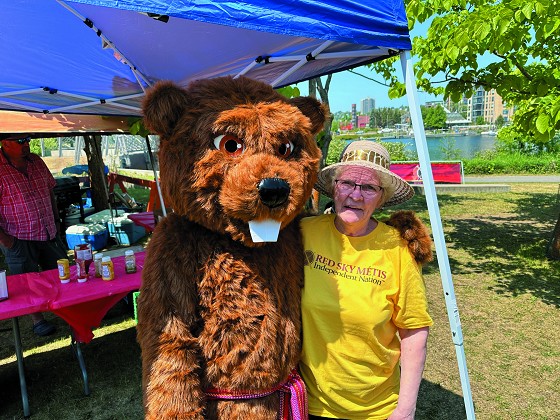 " We are the 84 Half Breeds that were included in Robinson Superior Treaty, which is all the rivers that flow into Lake Superior from Batchewana Bay to the Pigeon River Border. Our home land is water based. It is National Indigenous Peoples Day today representing all the Indigenous peoples in Canada," said Donelda DeLaRonde, Executive Director of Red Sky Metis Independent Nation in Thunder Bay." It is about time after finding residential schools. This day is to educate people that this area was once a Metis settlement and about what kind of games we play and the fur trade. It is a day for learning. Today we have 150 students here from three local schools who are having fun with some games that teach about our culture.We have been doing this for the last six years."
" The Metis people are doing well, getting better. Education is very important.We want our history to stay alive.They say if you don't know where you are from you don't know where you are going.Our history is very important to us. We have to look after the land and the water environment. With all the activities going on in the Robinson Superior Treaty area, it is really important that we look at the accumulative effects of all the industries that are happening in all of our territories. Lake Superior is very important to us." said Donelda.