Rebecca Johnson to Retire from Thunder Bay City Council
After five terms, the Councillor-at-Large will not seek re-election
After serving the City of Thunder Bay as a Councillor-at-Large for 19 years, Rebecca Johnson today announced her retirement from municipal politics. Rebecca will not seek re-election to Council this coming fall.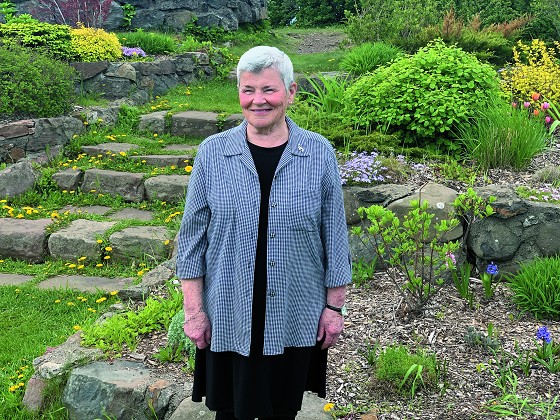 Johnson is a highly respected public figure who has served the community for over 40 years. She is best known for her fiscal prudency, no-nonsense approach and getting things done. During five terms, her priorities have focused largely on economic development, environmental stewardship, diversity & inclusion, and age-friendly initiatives.
In more recent years, Councillor Johnson has also turned her interests to community health & wellness, serving as Chair of Thunder Bay's Drug Strategy and most recently, as a member of the Thunder Bay District Health Unit Board of Directors.
"It has been my absolute honour to serve the citizens and businesses of this community at large", says Johnson. "Thunder Bay is my home and serving the community through politics is one of my biggest passions. "I will continue to contribute to both – just differently. I am grateful to the voters who chose to elect me for 5 consecutive terms. Thank you for your trust and confidence for almost 20 years."
Beyond her Council commitments, Rebecca has played an instrumental role in the broader community as an influential leader, advocate, mentor and volunteer. Her portfolio includes 10 years with the Thunder Bay Chamber of Commerce and 12 years serving the Lakehead Public School Board. She also sat on over 20 volunteer boards, organizations and committees, tackling complex issues from women in politics and gender equality, to immigration and seniors' care.
In her personal life, reading and education, camping and attending Skate Canada national competitions are her passions. She is the recipient of 20 prestigious awards, and received Her Majesty, Queen Elizabeth II Diamond Jubilee Medal from the Government of Ontario in 2012.
Looking ahead, Rebecca plans to continue to serve as a community volunteer but also spend more time with her family.
"I could not have served this community without the unwavering support of my family," continues Rebecca. "My children missed out on a lot of time, events and playdates over the years to support my public service work. As a single mother, our family had to work as a team to achieve everything we have. I am certainly looking forward to enjoying more time with my children and grand-children moving forward."
Over the years, Rebecca has built an extensive network of peers, supporters and allies. She will continue to operate her business, REBECCA REPORTS … for the RECORD and make a difference in the community.
Rebecca's current term on Council ends in November 2022.
About Rebecca Johnson, Councillor-at-Large
Rebecca has served on the following City Boards & Committees as a Councillor-at-Large during this term of Council:
Thunder Bay Drug Strategy (Chair) (2009 – present)
Thunder Bay District Health Unit Board of Directors (2021 – present)
Anti-Racism & Equity Advisory Committee (2009 – present)
Off-Leash Dog Park (2007 - present)
Accessibility Advisory Committee (2006 - present)
Clean, Green and Beautiful Committee (Chair) (2005 - present)
District of Thunder Bay Social Services Administrative Board (2018 – present)
Geraldton Native Housing Corporation Board of Directors (Chair) (2021 – present)
CEDI - Community Economic Development Initiative Working Group between Fort William First Nation and the City of Thunder Bay (2017 – present)
respect. Working Group (2016 – present)
Earth Care Waste Working Group (2010 – present)
Thunder Bay Age Friendly Committee (2018 – present)
Thunder Bay District Municipal League (2003 - present)
Federation of Canadian Municipalities Coalition Against Racism & Discrimination (2005 - present).
Rebecca's Awards & Memberships
2021 – Rebecca Johnson Age Friendly Senior Award – for outstanding contribution to enrich the social, cultural and civic life in Thunder Bay.
2020 – Thunder Bay Chamber of Commerce Charles J. Carter Lifetime Business Achievement Award in recognition of high standards of excellence in business and in community service.
2019 – Girl Guides of Canada "Silver Thanks Pin" acknowledging the commitment given to the organization as the Guiding Ambassador for the past 11 years.
2014 - PARO Centre for Women's Enterprise "Top 20 in 20 Platinum Award"
2012 - Her Majesty, Queen Elizabeth II Diamond Jubilee Medal presented by the Government of Ontario
2012 - The Canadian Hearing Society, Thunder Bay Branch Accessibility Award for "Going the Extra Mile" when providing service to Deaf, Deafened and Hard-of-Hearing residents and visitors of Northwestern Ontario
2012 - CERAH Champion award - recognition of extraordinary sense of public service in advancing the health and social care for an aging population and promote the health and well-being of people aging across the lifespan
2011 - Toastmasters International District 6 Communication and Leadership Award
2008 - Influential Women of Northern Ontario Awards - Public Sector Award
2007 - Nominated as one of the Most Influential Women of the Decade in Northwestern Ontario
2006 - Girl Guides of Canada Ambassador, Thunder Bay Division
2000 - Northwestern Ontario Associated Chambers of Commerce Don Sanders Award of Excellence
1999 - Ontario Chamber of Commerce Executives James Gordon Carnegie Award in recognition of the contribution of a Chamber of Commerce professional as a leader and a mentor to other Chamber professionals
1998 - Canadian Chamber of Commerce Executive of the Year Award
1998 - Ontario Association of Broadcasters "Friend of the Industry" Award
1995 - Silver Achievement Award in celebration of the 25th Anniversary of the City of Thunder Bay in recognition of outstanding community service (1 of 25 awards presented)
1994 - Ontario Chamber of Commerce B.J. Gillespie Memorial Award recognizing exceptional community service and dedication to the Chamber movement
1992 - City of Thunder Bay Achievement Award in recognition of distinguished contribution to the Community of Thunder Bay
1991 - Thunder Bay Business Women's Network Woman of the Year - Balanced Life Award
1990 - Ontario Municipal Recreation Association Certificate for volunteer contributions to recreation, which significantly enhanced the quality of life in the community.
Rebecca's Community Boards and Committees
Creative Arts Northern Network (Director) (2018 – present)
Federal Status of Women Gender Equity Network (2017 – present)
Special Olympics Canada Winter Games Thunder Bay 2020 Games Organizing Committee serving on the Executive as the Administrative Officer (2017 – present)
Northwest LHIN Regional Seniors' Care Advisory Committee (2017 – present)
Women in Politics – Past Co-Chair, Steering Committee (2013 – present)
Women in Politics Mentorship Program (2020 – present)
LIP – Local Immigration Partnership (2010 – present)
Age-Friendly Thunder Bay (Past-Chair) (2009 - present)
Northwestern Ontario Immigration Web Portal Steering Committee (2009 - present)
Thunder Bay Police Youth Corps (Director) (1993 – present)
Diversity Thunder Bay Co-Chair (1991 – present)
Thunder Bay Association of Volunteer Administrators (TBAVA – 2017 - present)
Mentor – to a participant in the City of Thunder Bay Pathways to Leadership Mentorship Program (2016 – 2017)
Thunder Bay Community Living Self-Advocate Council (2015 – present)
Mentor – to a participant in the Women in Politics Mentorship Program (2021)
Thunder Bay Chamber of Commerce Education Committee (2003 – present)
Ontario Chamber of Commerce 2019 Senior Event Advisory Committee (2018 – 2020)
Leadership Thunder Bay – Board Director (2003 – 2010); Executive Administrator (2011 – 2019); Mentorship Committee Chair (2017 – 2021)
Mentor – to a participant in the Northern Leadership Project (Science North, Laurentian University, City of Greater Sudbury, Health Sciences North (2015 – 2016)
Girl Guides of Canada, Thunder Bay Division Ambassador (2006 – present)
Slate River Women's Institute (1959 – present)
Thunder Bay District Women's Institute (1963 – present)
Rebecca's Honourary Memberships
Leadership Thunder Bay
PARO Centre for Women's Enterprise
Thunder Bay Business Women's Network
Thunder Bay Chamber of Commerce
Northwestern Ontario Associated Chambers of Commerce
Beta Sigma Phi Sorority Thunder Bay Intercity Council