QUEBEC CITY GOLF: FUN EXPERIENCE!
by Scott A. Sumner
During my time as a journalist I have always enjoyed visiting Quebec. To me there just seems to be something special about the Quebec people. They have an enthusiasm for life and are very proud of their home province. It is fun to hear the French language and you almost feel like a Quebecer by the time you leave.
My journey began with two brief flights to Quebec City to their very modern terminal building. After picking up a rental car, a Hyundai Genesis that was a treat to drive, it was off to the hotel. My first hotel stay in Quebec City was at the TRYP Quebec Hotel Pur by Wyndham.
The 18-storey luxury hotel located on Rue De La Couronne in downtown Quebec City is the only TRYP brand in Canada. It is a 4 star property that includes a very special restaurant called the TABLE, where for lunch and dinner you sit together as a group called Tapas. " The hotel was completely renovated and has a very modern contemporary look," said Annie St-Yves, Sales Manager at TRYP by Wyndham. " We are located in a great central location in Quebec City where you can explore the area. There are many unique boutiques and nice restaurants right here."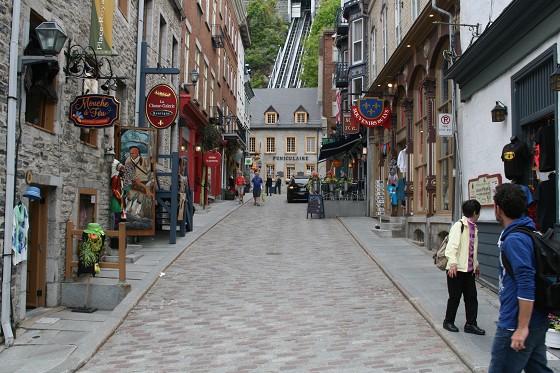 When you come to Quebec City you have to spend some time in the old section of the city and experience the grand history of the area. My guide Marinus (Ries) Pot gave me an excellent tour of the beautiful churches, old cobble stone streets and great views of the St. Lawrence River with many magnificent buildings in the backdrop.
My first golf game was at Club de Golf Royal Charbourg, which was very close to the downtown area of Quebec City.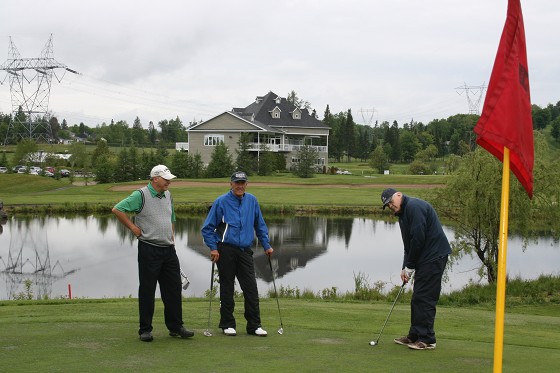 It was my pleasure to play a round with Yvon Bouchard, Golf Director Club de Golf Royal Charbourg and Mont- Tourbillion, a second course nearby. Bouchard has been the head pro continuously at Mont- Tourbillion since 1972. He started at age 26, after two years in Trois Riviere as a pro. In his early years Bouchard grew up caddying at the Manor Richelieu. " We are 10 minutes from the Quebec City. Phillip Watson, who is from Quebec, designed this course. Mont- Tourbillion was designed by Howard Watson, " said Yvon Bouchard. " The weather has been awful to start this year especially in May when it rained so much, almost 20 days. We had 7 days with almost no play in May. In between we had some great weather and then it got bad again. The weather is usually quite good here so it has been quite unusual this season. The grass doesn't grow well with just water, you need sun as well. Also there was a bad accumulation of ice that did hurt the course a little this year."
Club de Golf Royal Charbourg has about 50 members but the main play comes from mostly tourists and local tournaments. The green fee is $43 during the week and $55 on the weekend and the cart cost is $16 per person. In their good years they do over 30,000 rounds. The average season is May to early October. In the fall season it is very colourful when the leaves change colour. The weather usually is between 18 to 25 degrees Celsius.
" I like the course as it is challenging and can play from 7000 yards if you want to. The front nine is flatter and the back nine in the mountains,'" smiled Yvon.
" The CPGA have not found anyone else who had been a head pro at the same course for so many years- 42. I play three times per week here in Quebec and spend the winters in Florida where I have been a member at a club near Fort Lauderdale for the last 25 years. I have also been in the ski business at Mt Saint- Anne. Skiing and golf are my passions." smiled Yvon.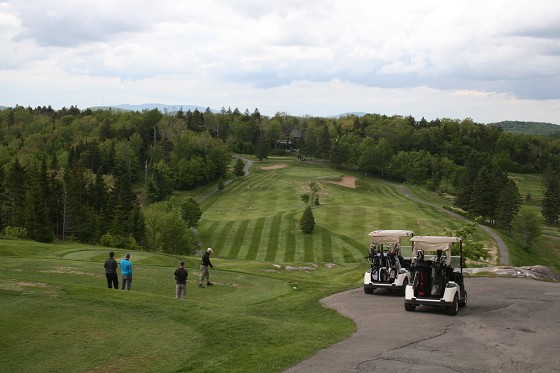 I really enjoyed my golf game at Royal Charbourg. (See www.royalcharbourg.com and www.monttourbillon.com) We played a match where Yvon and I were able to claim victory over two low handicap members on the last hole!
My next golf game in Quebec City was Golf Le Grand Vallon at the foot of Mt Saint- Anne, a well-known Quebec ski area. It was great to play with Denis Roy, Head Professional and one of his most avid golf members, Gilles who holds the record of playing 72 holes in 1 day! " This is my favourite golf course in Quebec City. I had lived away in Montreal for 20 years and when was offered the job here I couldn't refuse. To move back to my hometown has been great.," said Denis Roy. " At Isle du Montreal we built two great courses and I was involved in that development with Pat Ruddy as the architect. It is an amazing place there. It was an old landfill that we were able to use.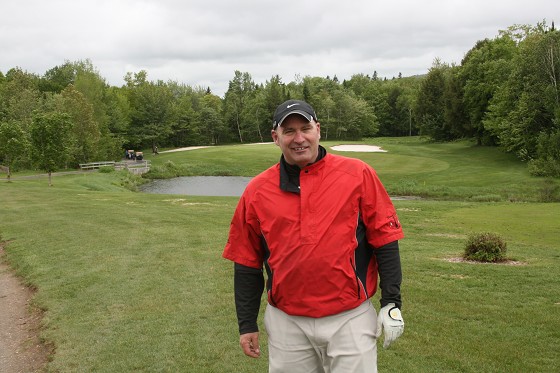 Golf Le Grand Vallon is located about a 1/2-hour drive from Quebec City. The drive is very scenic right along the St Lawrence River. The course is located at the base of the mountain and the fairways roll gently. " Golf Le Grand Vallon was designed by the great architect Howard Watson, who has not received the recognition he deserves. He has also built courses like the Board of Trade in Toronto. Our course was built in 1974 and is now owned by RCR Resources, which own the ski properties Mt Saint- Anne as well as Fernie, Kicking Horse and other golf courses in the west," said Roy. " Our season starts early May when the course is more ready and we end in October. The temperature is only slightly colder than Quebec City. The fall here is spectacular with the changing colours. You can stay in the condos near the golf course and we place golf carts there so you can travel to the course. As it is off-season to skiing you get good value."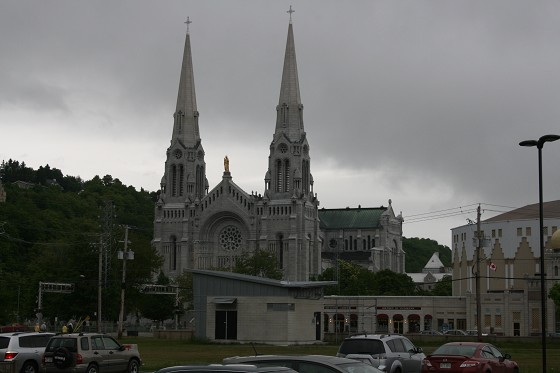 Peak season at Golf Le Grand Vallonon weekends the green fee is $95 and includes cart and range balls. All you have to do is swing said Denis Roy.
The greens at Golf Le Grand Vallonwere tremendous with Kentucky blue grass. They can be hard to read and you have to be aware of where the St Lawrence River and the mountains are when you putt.
" The course is a very good challenge, not overly long, but the average golfer can get to the green and have some fun. We are busy here with a short season and lots of visitors. There are members who usually sign up for three years and get 1 year free," said Denis Roy. " The drive to the course from Quebec City is spectacular adjacent to the St Lawrence River by the Saint- Anne Church as well. The church is spectacular and a must see. We send some of our golfers there for a miracle instead of giving then lessons." laughed Denis. You can find more information on Golf Le Grand Vallon www.legrandvallon.com has packages.
It was a real treat to stay next at Le Bonne Entente (see www.lebonneentente.com), which is the only 5 star and 4-diamond property operated all year round in Quebec City. Originally it was a house in the 1950's owned by Colonel Jones who built it for his retirement in 1948, but unfortunately he passed away in 1949. His son converted it to a bed and breakfast of 12 rooms. In 1960 the property was enlarged and today has 160 rooms on 11 acres. It is right in a neighborhood but near a major artery located under 10 minutes from the airport. They also have the largest spa in the area.
"We are a resort out of the town but have a shuttle that will take you downtown in 15 minutes. It is the best of both worlds. Our new section, URBANIA, cost $7 million and has 28 rooms. The rooms feature a spa bathroom with a light therapy bath and enclosed glass shower," said Pascale Banville, Marketing and PR Director at the Le Bonne Entente. " We have three restaurants on the property. The NAPA Grille is a California type outdoor restaurant near the pool and you can see the chef prepare your food. It is a retreat hotel."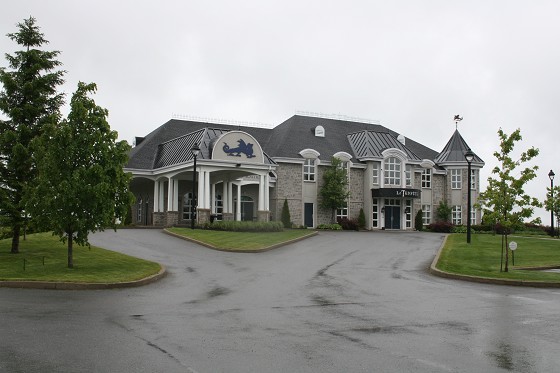 My final golf game would be at CLUB DE GOLF LA TEMPÊTE, an 18 hole course affiliated with the hotel. It was built 9 years ago and you can book your tee time months ahead if you stay at the Le Bonne Entente. A Skins game with Freddie Couples and Sergio Garcia has been held at this course. The grass is bent grass and the conditioning fabulous.
" There is a group of 50 owners who put in at least $120,000 each and they take great pride in the course. They put the money in to make the conditioning good. We have a package of stay and play with breakfast and dinner." said Ms. Pascale Banville.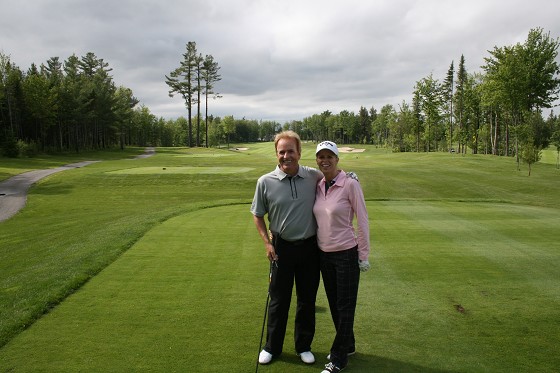 It was fun to play with Ms. Pascale Banville and her husband Mark, as well as Quebec touring professional Mr. Yvan Beauchemin. Yvon was just off a Quebec professional win, has played in PGA Tour and Champion tour events and finished his round with a 3 under par score! This course was beautifully conditioned and features a fabulous clubhouse and learning academy complete with indoor hitting bays with trackman technology.
My trip to Quebec City included three great golf games with passionate golfers, stays at two special hotel properties and a fun tour of Old Quebec City. This is a place I am sure you will enjoy!
Special thanks to everyone who helped make this trip so memorable.