Port of Thunder Bay Expect Better Year
by Scott A. Sumner
I sat down with Tim Heney, CEO Port of Thunder Bay to talk about how the 2021 season was for the Port and what we can expect for 2022.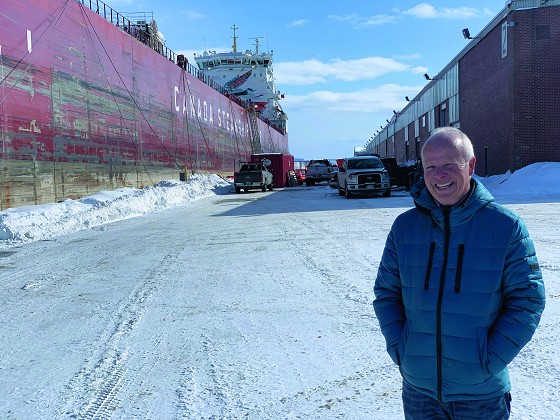 Tim how was the 2021 season for the Port of Thunder Bay?
" 2021 was kind of a mixed year for the Port.We had a significant downturn in grain shipments, although we didn't suffer as much as some of the other Western Canadian ports. It was certainly down from prior years due to the harvest which was the worst in 14 years so that was a bit hard on the grain tonnage. However we had some pretty good success at Keefer.We have been working on this fertilizer initiative and have had three shipments of that and another one coming in April which is inbound material which is unusual for the Port."
"We also had had a lot of increases of steel from Europe, rail materials and quite a bit of dimensional cargo (modular buildings, transformers and big pieces of equipment going west) So it was a positive year for us at Keefer."
"The port did pretty well overall because of the diversity of cargo. Grain will always be the most important as we are basically a grain port but we do others things to compliment it on an inbound basis. We are mostly export."
How do you feel things will go for the 2022 season?
"This year is going to be better as we have continued fertilizer shipments, more pipe coming and wind turbines components which we haven't seen for awhile. The fertilizer goes to the prairies. There are potash phosphates which come from Morocco as well some in the US. We have developed a supply chain from Morocco to Thunder Bay. It used to come up through the US. This year we will start to see a surge in potash coming because Russia and Belarus are usually high in potash exports which will be affected this year. Canada is right up there with potash as well so we will be making up the losses from Russia. We are the only potash load Port on the Great Lakes. The potash comes from Saskatchewan."
What are expectations for grain shipments this season?
" I think the grain will still be down because each harvest affects two years. There wasn't much left to ship so the spring and the summer could be a little slow. The drought conditions with little moisture on the prairies caused low grain growth."
" Grain will be down at the start of the year but we will have to see how the harvest goes. Hopefully it will be a better year than last year. There will be a lot of demand and prices will be high because of the Ukraine conflict as they are big producers of grain, wheat and corn.They say they (Ukraine) feed 600 million people.The majority of the black soil or most fertile soil in Europe is in Ukraine. They have said they are not exporting this year as they need to feed themselves and are at war and the ports are all blocked. More grain is being planted this year in Canada as well."
How could the Russia Ukraine conflict affect the Port?
" The price of oil is high which could affect the ships. On the other hand without shipping from Ukraine there may be a surplus of ships which could drive down the shipping rates which could offset the fuel prices."
" The Port is affected by world events, no doubt about it. The world economy is in some trouble as high priced oil is a huge drag on the economy and can create stagflation which is inflation with no growth. Inflation usually happens with growth. There could be affects on the world economy especially in Europe."
Do you think Canada could export oil or energy products say to Europe?
" Liquefied Natural Gas ( LNG ) can be transported by ships. They have gas trains which means the ships arrive everyday and are filled with LNG and can carry a large amount. They run these out of the US now but I'm not sure if we in Canada have an LNG plant of that capability with a pipeline. I think you will see all of our oil and gas go to the US, it always has. There may be more pipelines built as well to the US who are getting off Russian oil."