PORT OF THUNDER BAY ANNOUNCES CEO RETIREMENT AND TRANSITION PLAN
by Scott A. Sumner
Tim Heney, CEO of Port of Thunder Bay recently announced his retirement after 32 years of working at the Port. He has made many positive contributions to making the Port self sufficient and a strong part of our economy. I sat down with Tim to discuss his career and future direction.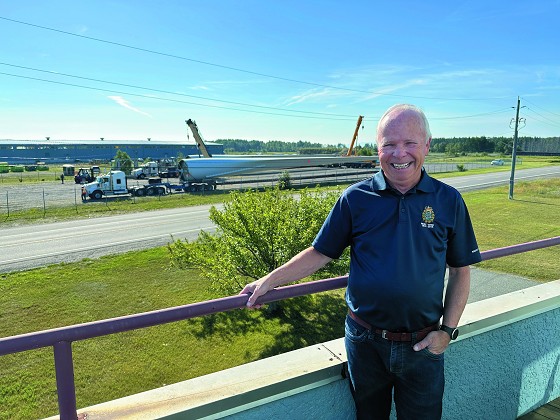 Tim you are a local Thunder Bay person?
" I was born and raised in Thunder Bay and from Westfort - I have the bumper sticker! My dad ran Heney's Drugstore which was at the corner of Frederica and Brown. His dad started it back in I believe the 40's."
Tell me about your early education and work.
"I went to Western University and Lakehead University and got a B.Comm. Then I decided to become a CA, Chartered Accountant working for Clarkson and Gordon at the time. I didn't want to be a public accountant, so got a job at Great Lakes Paper which has changed names many times since from- CP Forest Products, Bowater, Avenor, Resolute and now Thunder Bay Pulp and Paper. I was at the mill for 10 years and when the head office left Thunder Bay, there was change there and I decided it was time to move on. I took a job at the Port with the thought of not staying forever, but a place to get out of the mill at the time and it kinda ended up being a career I guess."
When did you begin work with the Port?
" I started with the Port in 1991 as Controller and Corporate Secretary. It was a small organization then. I became Director of Terminal Operations shortly after that. In 2004 I became CEO, so it will be 20 years in that position. I am the longest serving CEO of the Port which only started in 1950's I believe, so not that old of an organization. Our current office building was built in 1985 as a white building and it is now blue."
What was the Port like at the beginning of your work there?
"The main cargo had declined. The purpose of the terminal then was packaged freight which only came to Thunder Bay by ship at one point. The Trans Canada Highway over the North Shore of Superior was only built in the early1960's as one of the last sections. Prior to that all the material that came to Thunder Bay including cars, groceries and all kinds of things was by ship and put on box cars at Keefer for furtherance West. That all changed in 1983 when trucking took over. That was also the end of the side loader ships that brought material up.This terminal was originally built for side loaders."
" In 1991 when I got here there was very little cargo other than grain, so the buildings were basically empty. I brought forest products to the terminal in terms of storage. At that time all of the business was done in Duluth, so we brought it back to Thunder Bay. That was the start of becoming financially self sufficient. Prior to that the organization ran on Harbour dues- the amount charged per ton of grain. We haven't raised them since 1989."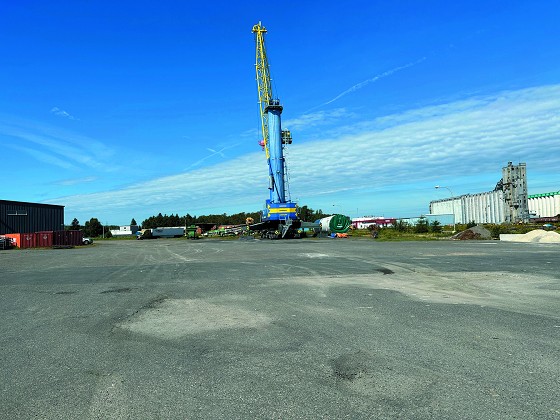 " Now our main source of revenue is Keefer Terminal with marine cargo, starting out with heavy lift cargo like reactors headed for oil sands. We made a name for ourselves in that and diversified to pipe, steel, rail, structural steel and various projects that were going west."
" In the mid to late 90's we started a strategic plan because we didn't have one and the interest was to diversify and increase marine cargo.
" The Port has been around since the 1800's but we were only mandated in the 50's and we were mandated to be self sufficient.We could have just kept raising our grain fees, but the problem is competitiveness where everyone was charging too much. We decided we didn't want to relie on high grain fees but we made our own way as a terminal and have not relied on harbour dues. We actually lowered our harbour dues 10% in 2012 to be the lowest in Canada. We set records each year now with cargo.We now have multi year pipe contracts so it is becoming more and more consistent, which is what we always wanted. The Keefer cargo revenue is higher than grain revenue now."
"The Wheat Board change in 2012 was a big thing that happened as previously they controlled all the sale and transportation of wheat and barley as an government agency. Now the grain companies do the work themselves- they buy the grain, they ship it and we are represented here by seven of those grain companies. They have a lot of capacity still available."
There have been some significant investments at the Port?
" We invested the money we made into infrastructure to make the terminal more efficient for project cargo. This included building two 50,000 square foot buildings which are heated. Heat is a desired option. We did a lot of travel to Alberta, Manitoba and Europe to become the supply chain from Europe and the west. In the past a lot of the pipe was going through Houston, and then by truck to Alberta, so this is a shorter route and we are more competitive. We now have 600,000 square feet of covered space and large out door lay down areas. We run the Port as a business.
"We are run by a Port board- a seven person board with appointees by the Federal, Provincial and Thunder Bay city government and also use >user group input as well."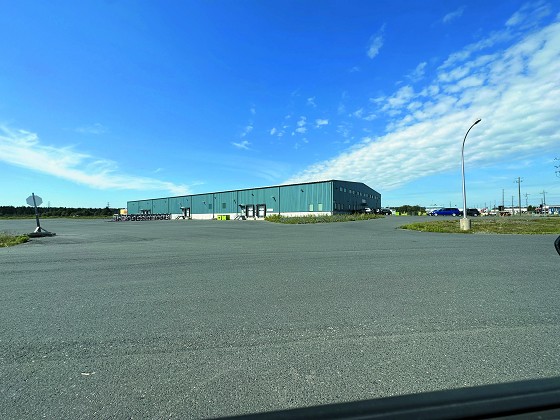 So you were out in the world doing sales calls for the Port?
" We traveled a lot, marketing the Port and it was effective. Once you got a couple of people to try it, it worked. We have large lay down areas and with both railways having tracks to the Port it was good. Quite a bit of the cargo is outside now so we have been improving the laydown area."
"We bought a large crane to be competitive. Duluth had two large cranes, but they were older. We were going to buy a new crane but found one on the internet in Stockton,California that had never been used and was in storage. We ended up getting a ship from Thailand going to Detroit that stopped and put the crane on deck and delivered it to us."
"It was very interested as you are meeting people from all over the world and negotiating with them.That was challenging and interesting, so you could go out and see the world and still be working in Thunder Bay, a unique position.We are remote here in Thunder Bay but yet in the centre of Canada."
Tim what made you decide to retire?
" I am close to 70 years old and enough is enough, that's a good career. We have a small motor home and like to go to Florida in the winter time. I enjoy travel so would like to go to Portugal. I also like skiing so will do that with my boys. We have seven grand kids to visit. Also I like to motorcycle and play pickleball."
"The board is searching for a new CEO which we hope to have them in place prior to September 30th."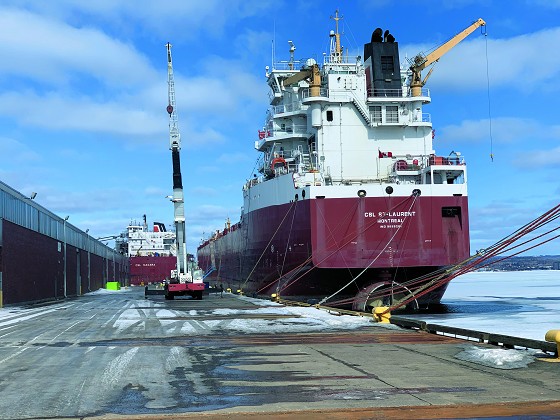 You have left the Port in a pretty good place?
" The Port earns it's own money which isn't from the government. The Seaway kind of determines your opportunities, both because of the ship size and the costs associated with that route. Our goal has been to bring ships to Thunder Bay with cargo and then load grain or potash for the return trip so it always loaded. It has worked quite well but still most of the ships have a one way cargo. The Seaway has potential, they have spent a lot of money on it."
"If you talk about the green future shipping by marine, there is no better way as it will burn the least fuel. In Europe they are already mandating cargo to go on marine more and more percentages. We aren't doing that in Canada or North America yet but if it gets to that point we win. Over the time I have been here the lake fleet has renewed itself. Previous they hadn't built a new ship since 1985. The system is in good shape. Iron ore and coal freight is declining, which is challenging, so we have to look at what else can move on the system. Grain has always been there. Diversifying the system is important."
" The Ukraine war, which is sad, has effected us as they are the bread basket of the Europe. Potash has increased because of the Ukraine market. Usually conflicts have a positive effect on the Port."
" Part of the art for the CEO is determining what activities will actually work here. Ships provide a lot of cargo. They are a business of scale so being sucessfull in one type of cargo can have a pretty big impact on the city.You have to know what opportunities are out there."
The Port has a large impact on the economy?
" We are involved in supporting all the major industry's here, like forest products for storage, Bombardier for storage of their parts, mining equipment which are all a big part of the regional economy. There are close to 900 direct jobs working at the Port including the elevators, railways, transport companies, agents, etc. The Port is a big asset to Canada.We are a East West system and we can compete with the South North. It is about a way of thinking, what can we do and provide. An example is fertilizer that largely came up from Mississippi from Morocco. Now we are bringing it directly to Manitoba and the prairies.There is opportunity out there."
The Port of Thunder Bay announced recently that Tim Heney, Chief Executive Officer since May 2004, has informed the board that he intends to retire as CEO, with a target effective date of September 30, 2023. To ensure a smooth transition, Mr. Heney will continue to serve as CEO until the Board has identified and appointed a successor.
"On behalf of the Board, I want to thank Tim for his longstanding leadership and significant contributions to transforming the Port of Thunder Bay," said Bonny Skene, Chairperson of the Board. "Since his appointment as CEO in 2004, Tim has been instrumental in establishing Keefer Terminal at the Port of Thunder Bay, as a major break bulk hub for Western Canada and developing key transportation infrastructure that ensures the efficient and effective movement of cargos."
"It has been an honour and a privilege to serve the Port and I will cherish the friendships that I have made across Canada and the United States in my time as CEO," said Heney. "Our strategy is clearly working, we are pleased with our accomplishments and we are even more excited about the future of the Port of Thunder Bay, the farthest inland Canadian port on the St. Lawrence Seaway system. This critical transportation system is well positioned to offer carbon reduction solutions while generating economic returns well into the future."
The Board has initiated a search to identify the Port's next CEO and >has engaged a leading executive search firm to assist in the process. Ms. Skene continued, "The Board and management team are committed to ensuring a smooth transition, and we are grateful that we will continue to benefit from Tim's experience and perspective throughout this process. As the Board conducts its search for a successor, we are focused on identifying a strong leader with a proven track record of operating successfully at scale while defining and executing a growth strategy driven by operational excellence and outstanding talent development.
The Port of Thunder Bay is the Western Canadian terminus of the St. Lawrence Seaway System, the largest inland waterway in the world. The opportunities are largely determined by the Port's strategic role as it relates to the Seaway corridor. The Port was built to provide access to European markets for Western Canadian grain producers through the longest grain supply chain in the world