PINEHURST AREA GOLF WORLD CLASS!
by Scott A. Sumner
If you are an avid golfer there are certain golf destinations you just have to visit. It had been several years since I had played some golf in North Carolina and this spring would be my opportunity for a return visit. A golf friend from North Carolina, who now has his own communications company based in Raleigh, put together a quintessential Sand hills golf experience encompassing Pinehurst/Southern Pines area and Fayetteville. I didn't have to play the Pinehurst Resort's eight courses to enjoy high quality golf crafted by many of the game's leading architects across this iconic region.
The North Carolina region is really quite accessible for Canadian's and Ontarian's in particular. My trip included two short 1 hour plus flights leaving Thunder Bay, Ontario and arriving in Raleigh at 11 am. It was off to the rental car company and a 1-hour plus drive to Pinehurst to play my first golf game, that same afternoon, at Mid South Club in Southern Pines.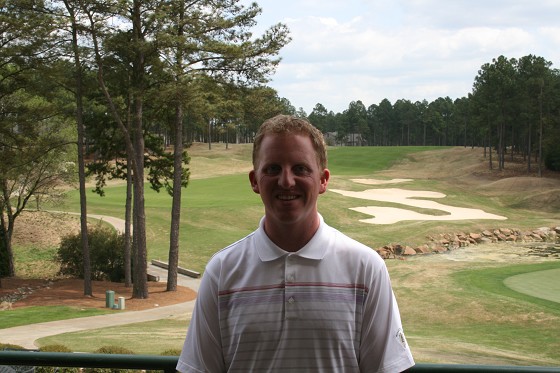 Brian Anderson is the Head Golf Professional at Mid South Club in Southern Pines, North Carolina and originally from Sioux Falls, South Dakota. The course opened in 1992 as the Plantation Club and then became Mid South because it kind of describes the location of the course. The clubhouse was built in 2007 and offers some spectacular views of the course. It is an Arnold Palmer design that has a lot of his traditional design forced carries, a lot of pressure on the tee shots and your second shots can be over water. How you position your tee shot will determine what kind of a shot you will have into the greens. The greens are large with breaks but not overbearing. Bermuda rough and a little bit of rye overseed for the winter months helps to keep the fairways looking green before the summer heat arrives.
" Our bent grass greens are in great shape right now. Maintenance does a good job here and we can develop some speed on the greens. That makes for some interesting member events," said Brian Anderson. " We are open 364 days of the year closing only on Christmas day. The weather can be very nice in January and February in the 70's. In North Carolina they like to say if you don't like the weather one day just wait a day and it will be fine."
Mid South is a private club but will allow outside packaged play. You can stay at their Talamore property and local packagers will set you up. The green rate is from $125 and up although you can get play three rounds and hotel for a great rate. " I like that the course has good elevation changes and you don't really see two holes that look the same. Every thing changes and your view point changes. There are over 150 yards of elevation changes with large bunkers, forced carries over water and different pin placements. Your eye is never just focused on one thing throughout the course. Also the wind seems to be always in your face on 16 of the 18 holes even though they may run beside themselves. It is a very challenging course but very playable. It is friendly to all skill levels." smiled Anderson.
After leaving Canadian snow conditions it was fun to be in 85 F heat and I was on my way to my base of operations here, Homewood Suites by Hilton at Pinehurst. This all suite hotel is perfect for the golfer and includes daily breakfast and dinner from Monday to Thursday at no charge to its guests. The central location meant I would be in the middle of the over 40 courses in this area, known as the home of American golf.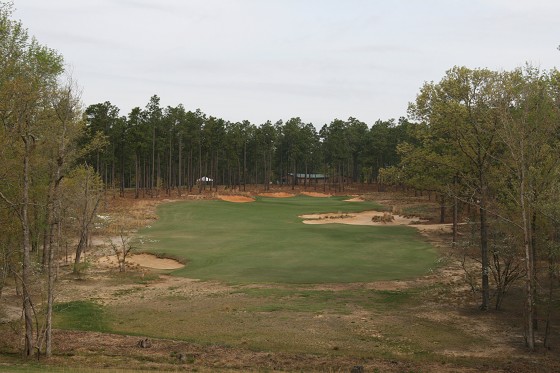 My next golf game would be at the Dormie Club, which opened in 2010 as a Ben Crenshaw and Bill Core design. The clubhouse was originally a house that was converted to a clubhouse. It was moved from another part of the property to its current location. Dormie Club was ranked number 2 course you can play in North Carolina in 2012 by Golf week magazine, only behind Pinehurst No 2, which can features a $400 green fee rate.
" I like the variety you have, say a par three that is 127 yards and one of 247 yards. Some par 4's you can drive at just over 300 yards for long hitters and some par fours that are almost 500 yards. It is a very good variety of holes. You have to go a long way to find a course like this with all the natural areas. Everything plays as a waste bunker and we have no rakes on the property. It is very unique property," said Dean Allgeyer, Director of Golf at Dormie Club. " Originally it was going to be a walking only course with caddies, but we now have some power carts. We can have a caddie here to help you within 1/2 hour. We want to preserve the originally of the property, the setting." The green fee on the weekend at Dormie in peak season is $215 and in the summer drops to $130. They deal with all the packagers and the hotels, which will allow for some better rates. In 2012 Dormie did 8000 rounds, in 2013 will do 12,000 to 13,000 and in 2014 be pushing 20,000 according to Allgeyer.
" There is a lot of maintenance here as raking bunkers takes manpower. We want people to feel they are in a natural setting. Once you leave the clubhouse the nines don't return here so it is very quiet with no roads, traffic and houses. There are plans for home sites but they are to be set back with no roads through the course,"said Allegeyer. " The weather in January and February can be between 30 to 70 degrees. Typical the high is about 55 degrees. In the summer it is hot, at least 90 degrees."
I really enjoyed my game at Dormie. To me, setting in golf is very important and Dormie is on a spectacular piece of property that makes you feel alone with nature for your time there.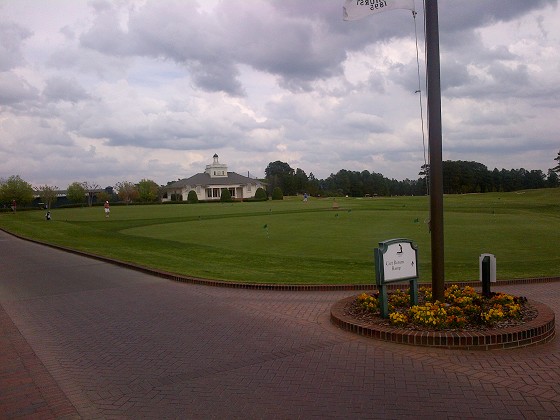 The famed Pinehurst Resort was located 1 mile from my home base while in the area and it was fun to tour their iconic property and have dinner in the historic Holly Tavern. " We are at Pinehurst, the home of American Golf where in 1901 the first courses opened at this resort. In the region known as Moore County we have 40 courses in total. You can have all kinds of courses here to include all levels of skill, price point's and architects,"said Claire Phillips, Director of Marketing and Public Relations for the Moore County Visitors Bureau. " The Pinehurst No 2 will host the US Open, both Men's and Women's championships, in 2014. We are getting quite booked for that already. Many golfers come down on a package and after they are down here, determine which courses they prefer and then they will make their own packages."
To find more about the area go to www.homeofgolf.com and you will find information on lodging, course contact information, area events and attractions. You can contact the packagers they're as well according to Phillips.
" It is very mild here in North Carolina. In January and February we can have 72 degree as well as frost warnings but snow is very rare. I love the seasons here, being surrounded by golf courses, the people that come here to visit and stay, the quality of life and value of property. It is a very good place to call home. We are a little bit sheltered from the economy because we have a big influx of retirees who have moved here and are strong financially. We want Canadians to come down and visit. You can buy a nice little condo and have it for your friends to come down anytime. You can retire here if you want." said Claire Phillips.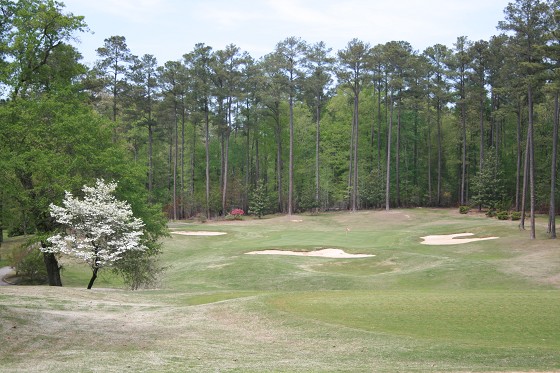 Midland Road in Pinehurst features some of the best golf courses in close proximity you will find anywhere. Talamore Golf Club is a Rees Jones design and the sister course to Mid South Club. This course can play up to 6800 yards and is a very high quality layout that was fun to play.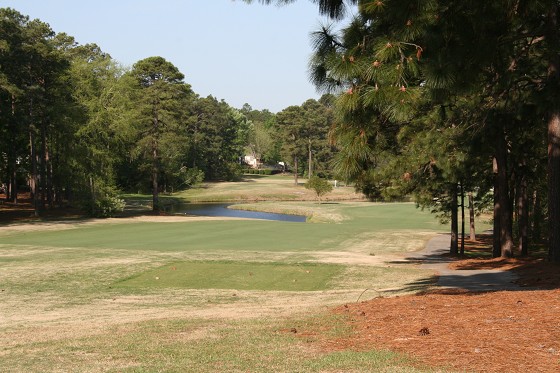 My next journey would be to Spring Lake that is home to the famous Fort Bragg air force base with over 50,000 troops. It is also near some very good golf courses as well and my next game would be at Bayonet at Puppy Creek in Raeford. All of the courses I played were in quite close promimity and it was nice to play this course with John Meroski, CEO of the CVB of Fayetteville. Our game at Gate Four Golf & Country club in Fayetteville featured the best greens I have seen in years. The greens were absolutely like a carpet and made the golf experience here an excellent one.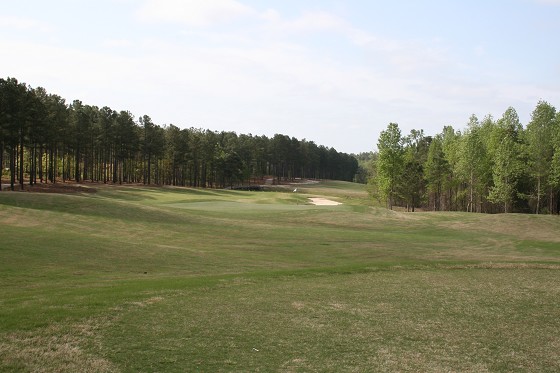 My last golf game, for a total of six in North Carolina during this trip, was at Anderson Creek Golf Club designed by Davis Love III. Anderson Creek is an entire gated golf community and featured many new homes under construction. The course, which I had played before, is a large layout that reminded me of long hitting Love. It was a fun course to play and a great end to my North Carolina golf experience.
I packed up my clubs and began the 1 hour drive back to the Raleigh Durham Airport for my return home. I enjoyed spending some time in the brand new terminal building and having dinner at 5 Guys before my return to Canada. My golf trip to North Carolina featured fantastic quality golf at every course I played, great weather and very friendly people. It really is a must play destination for every golfer.