A SPECIAL VISIT TO THE OUTAOUAIS AND LAURENTIAN REGIONS OF QUEBEC

by Scott A.Sumner
It has always been fun to visit all parts of Quebec for me. I think it is the excellent hospitality you receive from the enthusiastic people.The french language is fun to hear and make attempts to try! Of course the setting is beautiful and an important part of Canada!
This trip involved a Porter flight to Ottawa with their new direct service. You land at the Toronto Island airport but stay on the plane and are off again very quickly.
My trip would be visiting two Quebec regions, Outaouais and the Laurentians. Outaouais is near Ottawa so my time began in Ottawa.
The trip included a visit to the Canadian Museum of History located
in Gatineau, Quebec.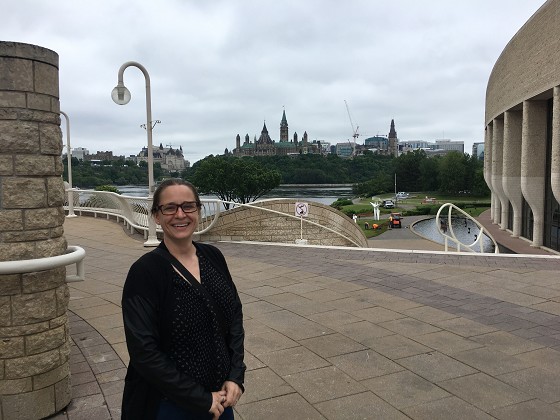 " We are just in front of the Canadian Museum of History and overlooking the Ottawa River and Parliament Hill. The Parliament building will be closed for 10 years for renovations starting next
year," said Anne Chardon, Media Relations with Outaouais Region. " Our region is 33,000 square kilometers in size and surrounded by Ontario, Abitibi and the Laurentians. We are an outdoor area and the main city is Gatineau"
There is lots to do in Outaouais with food, culture, outdoor activities including hiking, biking with 800 km of trails in the region and 600 km of cycling between Gatineau and Ottawa, walking and in winter cross country skiing and snowmobiling.
My first overnight stay was at The Doubletree by Hilton which was very nice.
Located on site of the The Doubletree by Hilton is the Chateau Chartier Golf course. It was built in the 1930's with a change of layout in the last few years with the building of the onsite condos. Some holes are original. There is a hotel and 2 phases of condos and another phase this fall of 150 units more to come.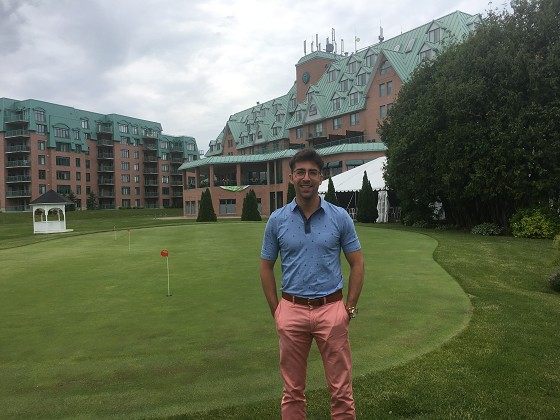 " There are some members from the condos of the course but we have many corporate outing. Our key to success is the tournaments play,"said Alexander Rouseeau, Chateau Chartier Golf Course Director of
Golf. " The course is very simple, well manicured and in good shape and not complicated so user friendly to anyone from beginner to low handicap. The main attraction is the holes next to the river that
have a view of Parliament Hill and the Ottawa River, our signature holes. We focus on corporate events."
Chateau Chartier Golf will get 25,000 rounds per year and the season is mid April to first week November. The fee is $39 walking during the week $55 with the cart and $45 walking and $59 with a cart, tax included.
The next phase of my trip was a trip to Le Sorcier Golf Course located some 15 minutes from Ottawa. This course was built in July 2004 and is currently owned by David Bradley who is an entrepreneur
previously involved in mining and diamond drilling.
The Sorcier Golf Course land is on a site some 353 acres in size with lots of hills and is very undulating. It is a fun place to play. Since the purchase the new owner has invested a total of $9 million with new
clubhouse carts, new garage and maintenance buildings, all cart paths paved, new bunkers, new tees and more.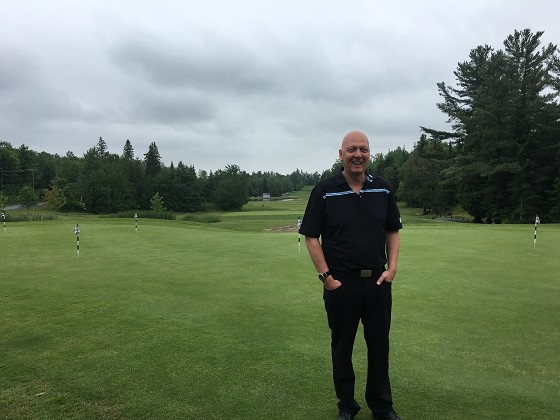 " We have maple trees on our property and have a deal with a local producers to buy everything from them for our fancy sugar shack menu." said Guy Libodooe, GM PGA Class A, Le Sorcier. " We open year round except three weeks in January with weddings, christmas parties and do have a catering division."
" We get about 21 to 24,000 rounds each year and cater to the public, including corporate tournaments, especially with our kitchen capabilities. We wanted to get recognized through out Quebec and in Ottawa."said Guy Libodooe. "We feel our course is a step above, a quality product which helps. Our course in well manicured and we invest in the client experience to make sure our staff is well trained. We have a team of 6 people that welcome the golfers, with starters and ambassadors. All are trained in health with defribulators. Today we have an event with Ottawa Senators hockey players to raise money for the local hospital."
Prime time the green fee is $65 plus taxes including the cart. Fairmont is a brand I always enjoy and my next stop would be at the famed Fairmont Chateau Montebello, with a golf game to start.
The course was built in 1931 just after the hotel in 1930. It is a Stanley Thompson design with elevated tees with nice scenic views. It was a private course at the beginning called Seignory and then CN
bought it and it has been Fairmont since then.
" You have great views and no holes side by side, so it seems like you are playing by yourself. Thompson has built over 100 courses in Canada, " said Sylvain Courcelles, Director of Golf at Chateau
Montebello. " We open early May to mid October and get 17,500 rounds a year with people playing here from Montreal, Ottawa and around the world. Fairmont has been a great company to work for. We have a booking system on our web site where you can book right online."
The cost to play during the weekend is $85 with rates lower after 3 pm.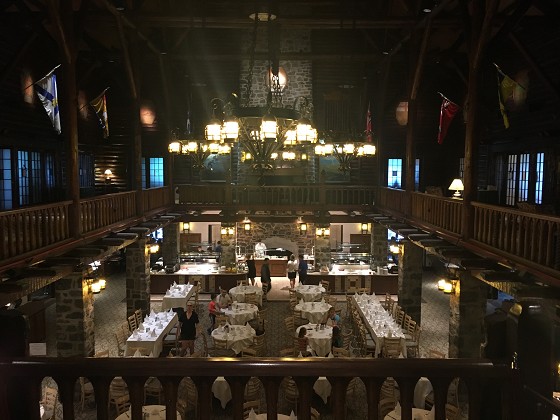 The Fairmont Chateau Montebello hotel is the biggest log construction in the world and built in only 3 months in the 1930's. It is a very unique historic structure with 211 rooms and exceptional dining
facilities both indoors and out.There are many onsite 5 Star amenities to try including a spa, pool and the Land Rover Driving Experience. It is certainly a great place to stay!
Located not far from the Fairmont Chateau Montebello is Kenauk Nature. It too was previously owned by the Seignory club and then managed by Fairmont but is now in private ownership.
" You can rent a chalet on your own private lake. The lakes are stocked and we have 66,000 acres with 17 chalets on the property, many on a private lake. You get there by vehicle,"said Celinne who has
worked for 12 years at Kenauk Nature and is passionate about nature. "
We have canoeing, kayaks, fishing hiking and are working on a 100 km walking trail. We have sporting clays for those that like to shoot, as well as hunting and fishing.
" People come here for the love of nature and we are part of the Nature Conservatory of Canada. A big part of the property is protected. We have many studies on going. All the private lakes are for use only
with electric motors. The big lake have 9.5 HP max engines for boats. There are no ATV's,"said Celinne.
" The cabins rent from $229 to $1000 per night with up to 20 people able to stay in the largest. There is no electricity, only solar panels and propane. It is peace and quiet, you hear the loons. You unwind
here."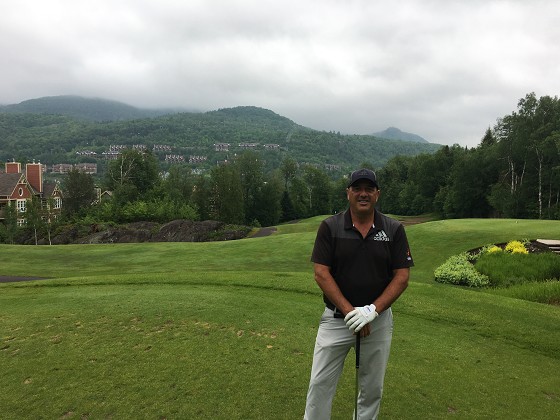 My next destination would be Mont Tremblant some 125 Km's away by car. I have always enjoyed Mont Tremblant both in the winter and summer. My car had GPS which allowed me to arrive directly to the
traffic circle near Les Suites by Tremblant right in the village square. This is a real hub of activity even in the summer and showcases some excellent food to taste at Le Diable and the Pizzateria.
After short stop it was off to Le Diable Golf course for a round with 3 nice Montrealers here for the weekend. The next day it was off to play sister course Le Geant to play with Daniel Biledeau, Head Teaching Profession at Mont Tremblant. Both courses are ranked highly in Canada.

" At Le Geant you have great views and undulation. It is a scenic golf course. You have the feeling of being in nature with deer crossing the course frequently. The conditions are good and we offer a good
product. The Diable is more like a players course with a lot of sand with waste bunkers on 7 or 8 holes." said Daniel Biledeau, Head Teaching Profession at Mont Tremblant. In the winter he teaches skiing
and also golf in the domes in the winter in Montreal. " Mont Tremblant is a great golf destination and remember what ever your skill level there is always a tee box adapted for you."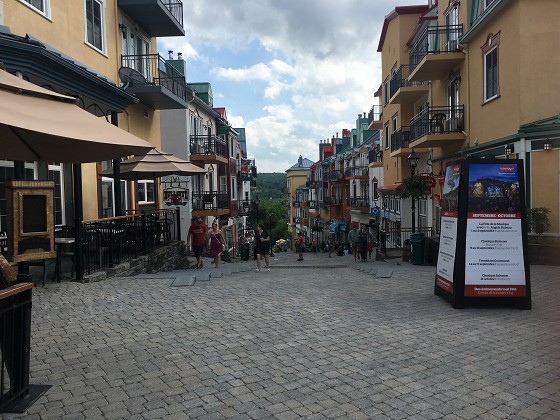 There is so much to do in Mont Tremblant.There are great accommodations with a lot of activities say with Bluefest here free for 10 days shortly. You can play golf, go do Zip Track, be at the beach where the water is warm and the kids can swim. There is fishing, mountain bikes and two ironman happening, play tennis. They even have a casino and and a racetrack with driving schools!
My trip would end with a 1 1/2 hour drive to Montreal for the return Porter flight home. For many times of the year you can get a Porter flight from Mont Tremblant to Toronto which is nice.
You should visit Mont Tremblant any time of the year!

Special thanks to Anne Chardon of Tourisme Outaouais and Pierre Bessette of The Laurentians