THUNDER BAY YOUNG PROFESSIONAL TAKES A SWING AT FORMER GROCERY STORE LOCATION AND UNVEILS ON THE LINKS VIRTUAL GOLF & SPORTS BAR

A new virtual golf training simulator and sports bar will soon replace the former Quality Market grocery store located on Golf Links Road in Thunder Bay. Today, young professional and entrepreneur, Chris Ferguson unveiled the On the Links Virtual Golf & Sports Bar, which is the first of its kind in the city, offering golf, food, drinks and sports.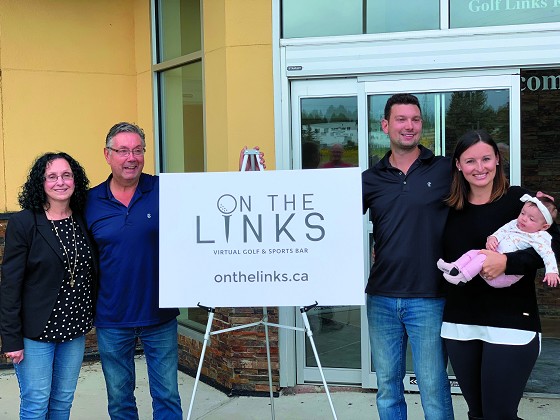 The new facility will feature four top of the line golf simulators supplied by High Definition Golf and will operate seven days a week, enhancing the opportunity for indoor sports in Thunder Bay. Owner, Chris Ferguson explains that the concept is in high demand in the city. "We have so many people in Thunder Bay who enjoy the sport both recreationally and professionally. After a few years of research and traveling to several manufacturers and golf facilities, my family and I decided to put this idea into motion. We are excited to remodel the site, and provide more sporting activities for the community, especially when winter freezes over. Growing up and seeing my family operate a successful business for over 40 years, I've always had that entrepreneurial spirit." >
On the Links Virtual Golf & Sports Bar will create an indoor golf experience that allows golfers to virtually play dozens of the world's top courses. Golfers get to swing their golf club and putt a ball in an enclosed area while the simulator does the rest. "Golfers looking to improve their game throughout the season have a new option. The realism is actually jaw-dropping as you see the entire game exactly as you would outdoors," explains Ferguson.> Several well-known golf professionals from around the globe attribute success in part to golf simulators. On the Links Virtual Golf & Sports Bar, is a family-friendly location that will be available to everyone expressing interest in the sport. Ferguson expects to see pros, course members, and even those that have yet to swing a golf club. He even anticipates corporate team building sessions and birthday parties.
Thunder Bay Golfer Hank Wilke, President of the Thunder Bay District Golf Association says the new site allows people to continue their golf game year round and not be interrupted by the weather or seasons. "It's the perfect setting for training and practice. Beginners can learn the game at ease without the intimidation of strangers observing, and the pace of play will always be comfortable. Virtual golf also helps maintain your swing and perfect your golf game. Planning a trip to Pebble Beach? This is a way to learn the course before you play it." The new location will also feature a sports bar that will serve up Thunder Bay craft brews and drinks, complimented by lounge snacks and local food. It will be the first of its kind to also host indoor leagues, tournaments, and competitions. "The location and building are perfect in my opinion. It's central, right off the highway and easily accessible. The facility is also neighbouring a golf course, which we hope to collaborate with, a university, college, and hospital. For virtual golf, the building itself is ideal, with high ceilings and a lot of space. Although On the Links Virtual Golf & Sports Bar will only utilize fifty-percent of the building, we are hoping it acts as a catalyst and attracts more businesses to locate at the site," continues Ferguson
. Chris Ferguson Chris Fergusan is the President of On the Links Indoor Golf facility combined with food and beverage in a sports bar setting. The building is near 11,000 and they are dividing it up to 5000 square feet and will hope to attract other businesss to the site as well."I played golf for about 25 years. My parents got me a starter set when I was 8 years old. I try to get out 20 times per year every summer."The simulators are provided by Hi Definition Golf the worlds best and most accurate. Serious golfers want an accurate system." The golf community of Thunder Bay will really benefit from this. It's not just golf we are going to have a sports bar setting, big screen TV's, bar top tables and a fully serviced bar with some snacks."" My family has been in business for over 40 years. We plan on opening later this fall, that is the goal." On the Links Virtual Golf & Sports Bar is expected to open later this fall. www.onthelinks.ca> About HD Golf: • HD Golf simulator is the most accurate indoor system when it comes to analyzing shot data. It is endorsed by PGA Tour pro's like Bryson DeChambeau, Bubba Watson, Fred Couples, Zack Johnson, and many more. • HD Golf high-speed cameras are more accurate indoors than radar launch because its camera's are "Smart Cameras". HD has microprocessors in the cameras that analyze the shot data before it gets to the computer…zero lag time. • HD Golf has a dedicated Spin Module that actually measures back spin and side spin. All other
simulators calculate spin numbers using ball speed and launch angle.