On A Happier Note…
By Sherry Hanes (May 2020)
In the wake of COVID-19, most places of business are either shut down, or conducting minimal services for their customers but we, here at North Superior Publishing Inc., are happy to say, we are still here and able to provide you with some good news about what's going on in our city and our region, as far as commercial construction is concerned.
For the past 35 years, Thunder Bay Business Magazine has presented articles about what's positive in economic growth, under the commercial construction sector, in Thunder Bay and region. Even in the midst of the current world situation, there is progress moving us forward in construction, along with other initiatives, such as transportation and energy services, that support our growth as a community and our economy.
As far as construction is concerned, Thunder Bay has grown considerably over the last 30 years, especially with the newest additions and reconfigurations with the addition of the CASES Building at Lakehead University, Thunder Bay Regional Health Science Centre, our Salvation Army Centre and a few others that will be mentioned in this article. Not everything is as bleak as it appears…We still must practice due diligence but, we must also keep doing what is possible and only take different approaches when they become 'impossible'.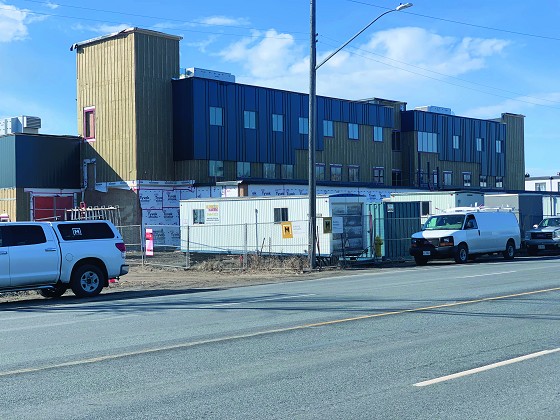 In an interview with Penny Kok, Director Building Services, Chief Building Official Development & Emergency Services Department, City of Thunder Bay, Penny had this to share with us:
Sherry: "In connection with the Covid-19 Virus and of course, just in general…
what is the current status for The Thunder Bay Art Gallery? Has it been completed?"
Penny: "Preliminary, review of the plans has taken place and correspondence has been sent to the consultants. We are awaiting they're response."

Sherry: "What about The Thunder Bay Country Club Condominiums Construction.?"
Penny: "The full permit was issued last year (March 2019)."
Sherry: What is the status of the St. Joseph's Care Group, with their $60 Million
Dollar Mental Health Wing?"
Penny: "This project is complete and occupied."
In a continuum of the conversation with Penny Kok, we discussed further developments in our city and what is on the table for 2020 and moving forward. For example, The New Salvation Army Building on Cumberland St.? We learned that "the project is ongoing and currently the exterior cladding and the interior gyproc is being installed. This project was exempt from the Provincial Government's Emergency Order and permitted to continue."
Currently: "What new business, in construction, is, or will be, taking place in our city this year?"
Response:
· TBCCC – Permit was issued and thus far, the foundation only has been constructed.
· Proposed Long Term Care Facility – The application was received.
· Hillcrest Condos on High St N (Former Hillcrest High School) – Phase 3 - the permit is currently under review.
· Conversion of former Grandview Lodge on Lillie St for Matawa Education and Care Centre – is currently under construction.
· For the Dome on Golf Links Road – The foundation application is under review.
· A new 24 Unit Apartment on Crossbow – is slated and currently, the permit was issued and construction is commencing soon.
· Also, a 2 – 28 Unit Apartments on Weiler Blvd – is currently under construction.
· The impressive Cargo Facility at our Thunder Bay Port Authority is under Construction.
· Temporarily, the Shipping Distribution Centre on Premier Way – Construction has been postponed, due to the Emergency Order.
· The School on Churchill Drive – Construction has ceased temporarily, due to the Emergency Order.
· We have 2 – 4-plexs on John St Rd – which are under review and…
· We also have 2 – 4-plexs on James St S – which are also under review.
· Also, building permit applications are expected for various hotel and multi-residential projects this year.
Also, Penny Kok, Director Building Services, Chief Building Official Development & Emergency Services Department, informs us that they continue to receive and process building permit applications and issue permits during the Emergency Order and that they do advise the permit holder of the Emergency Order.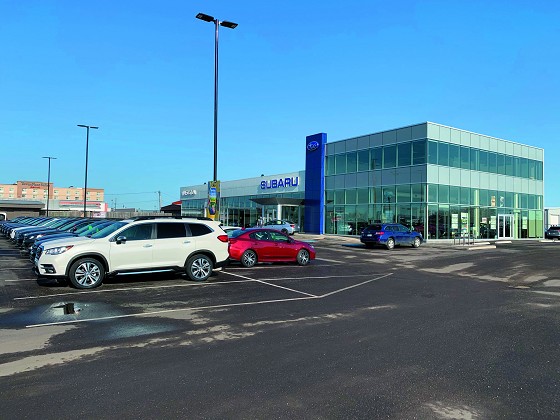 In the past few years, especially, the city of Thunder Bay has worked diligently with investors, government agencies, contractors, engineering/architectural firms, community leaders and everyone in between, to encourage sustainable growth and economic development for all. Millions of dollars have been contributed and generated, to ensure the growth of our community and our region and we should be proud of the unbelievable efforts of the collective bodies that put forth hours and hours of precise, methodical engineering design and processes, that see these projects to completion. Yes. Those involved are paid to do this but what is more important is, that there is immeasurable passion in their efforts and commitment to creating a better environment for all. After all, they live here to and that is what makes their contributions for growth even more special.
So. Here is a recap of just some of the achievements we have reached that working together has afforded us all:
The Student Wellness Centre at Confederation College: that was completed and officially opened in September, 2017, attaches to the main campus building. The new centre is a student-driven facility, dedicated to supporting our students in their learning and in leading a healthy lifestyle while studying at the College. The new facility is a full-service Wellness Centre that incorporates fitness centre elements as well as the potential to provide space for college services that support students. The new centre is designed primarily to support student needs and our College community. It is supported by the Student Union both in concept and through financial allocation.
A NEW $20 MILLION REACH BUILDING UNDER CONSTRUCTION AT CONFEDERATION COLLEGE: health and community services programs (2003): The first major new building construction project at Confederation College since the Aviation Centre of Excellence building in 2003 is now underway. The 37,000 square foot addition and 10,000 square floor renovation to the Shuniah building will be a major expansion for the college. The new addition for our students enrolled in our health and community services programs and are committed to increase our enrollment by almost 500 students so this is our growth in that area. The idea came from business and industry and the health care sectors and social services sectors across NW Ontario which indicated a need for more workers in those fields. The provincial and federal governments provided us with over $20 million for the project. The addition was on the north side of the Shuniah building and included new lab and classroom space. Today the Shuniah building is 300,000 square feet in size so this represents significant growth. In the new facility will be all of health care, police foundations, community child care workers, early childhood education and new programs in addictions and mental health. In the health and community care program, the graduates of Confederation College have a high employment rate.
Our Thunder Bay International Airport, saw its renovation completion, in 2019. The, $9 million upgrade, which was cited for the expansion, included $5 million dollars from the Northern Ontario Heritage Fund Corporation. (NOHFC), through the (then) efforts of Michael Gravelle, Minister of Northern Development and Mines, and Bill Mauro, Minister of Municipal Affairs and MPP for Thunder Bay-Atikokan, when it first began in September of 2017. The Thunder Bay International Airport was first built 80 years ago, as the Fort William Municipal Airport in 1938, partly as a means of relieving unemployment and during World War II, the Thunder Bay (then Fort William) airport was home to No. 2 Elementary Flying Training School, part of the British Commonwealth Air Training Plan. The airport was also used as a base for test flights of fighter aircraft being built at the nearby Canadian Car and Foundry factory. Before the two cities of Fort William and Port Arthur merged, it was called the Canadian Lakehead Airport. The airport went under major renovations in 1994 with the construction of a new airport terminal building, including two jetways, a large food court, a gift shop and an arcade. The airport was handed over from the government in 1997 to the Thunder Bay International Airports Authority, a non-profit organization. The airport handled over 600,000 passengers in 2006 for the first time since 2001.As of February, 2019, the airport is, one could say, getting better with age. The primary reason for the much, needed addition and upgrade to the Thunder Bay International Airport, was to expand the secure departure lounge and entryways, giving the airport the ability to accommodate the extra growth in traveler traffic and to help for any changes in the aviation systems now, and into the future.
Lakehead University CASES Building: Thunder Bay Lakehead University, Centre for Advanced Studies in Engineering and Sciences, CASES Centre, developing and promoting inspiration, innovation and ingenuity. CASES plays an extremely important roll, for attracting researchers and top students from all over the world and boasts a list of programs and facilities that have been in the making for a very long time now. And they are: The Centre of excellence for Sustainable Mining and Exploration, The Aboriginal Mentorship Program, The Biomass Utilization Laboratory, The Prototype Development Facility, The Nano-Material and Advanced Technologies Innovation Centre, The Laboratory for Integrated Freshwater Science, The Community Ecology Energetics Laboratory, The Human Origins Laboratory, the Office of Sustainability, and INGENUITY a business incubator space, which will allow students to develop their own start-ups in Northern Ontario, possibly the next origin of world, technological advancements in computers or the worlds next on-line retailer?
2013: Two brand new fire stations located at 2065 20th Sideroad and 1710 West Frederica Street, as well as a renovated and expanded station at 501 Churchill Ave. These projects were completed over a period of about 1 1/2 years. a cost of about $7 million. The construction project included two brand new fire stations, No 6 and 7, as well as the James Street station renovation, EMS addition and truck bay enlargement.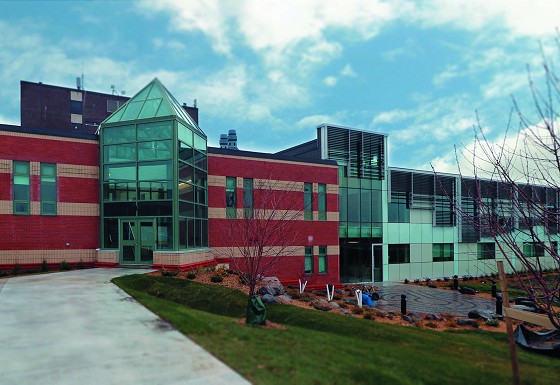 (2016) New home for the Carpenters' and Joiners Local Union 1669. Located at 1306 Capitol Way, Thunder Bay, Ontario. The new headquarters for the Carpenters' and Joiners Union is 12,750 square foot and is well versed for its' members and trainees. It is constructed in the new developing area for industrial business in INNOVA Park. The new building lends way to an additional 7,000 more square feet of space which provides the much-needed training space.
$35 million 149 room Delta Hotels by Marriott Thunder Bay (article 2019 by Scott Sumner) "The room inventory up to this time has been open as of May 12th and there has been incredible interest in the property both from conferences and individual travelers. They have been getting phone calls on a daily basis asking if there open yet. Some conference groups in 2020 and 2021 have already been booked. The Delta has a signature restaurant called the Anchor and Ore which is true to the area the hotel is in and engaged in the local flair with our cuisine. They proudly serve Starbucks which is grab and go at the Harbourside Cafe. Their conference facilities will allow a seated dinner with up to 380 people. Currently the Delta has 70 staff but soon will be closer to 95 with full compliment."
The Reconfiguration for Port Expansion Project: (2020) Port of Thunder Bay: is proud to partner on this $15 million dollar project with the National Trade Corridors Fund and the Northern Ontario Heritage Fund Corporation. In July, 2018, The Honourable Marc Garneau, Minister of Transport, and the Honourable Patty Hajdu, Minister of Employment, Workforce Development and Labour, announced a major investment of $7.5 million for improvements to our port's infrastructure, that will address helping businesses move their goods to market. With an investment of $1 million through the province's Northern Ontario Heritage Fund Corporation (NOHFC), Thunder Bay Port Authority is building on its Keefer Terminal operations.
Despite the COVID-19 having such an impact on country and community, advancements are still going forward in certain sectors of industry, such as construction. Everyone is practicing all the necessary measures for prevention and spread of the virus, so it is important to know that all is not lost. A lot of people are working from home these days, as we here, at North Superior Publishing Inc. currently are.
We are happy to bring you current information about what is happening in our city with respect to construction and also to provide encouragement for post-covid. We also would like to pay paramount tribute to our Front Line Health Workers and Science Health Research Workers for all they do, risking life and limb in the interest of mankind and to all who remain working, despite what services you provide…City workers, construction workers, grocery store and department store workers, pharmacy workers….and everyone else who provide the necessities of life!
Also, in conclusion, it would only be fitting to say that, construction of any kind, cannot take place without the skilled professionals that we have the great fortune to have in our fine city. Contractor companies who grow their companies and takes financial and physical risk in providing construction services here in Thunder Bay, and literally, everyone involved in the process of construction, deserves great respect and applause for making all these magnificent structures come together. We thank the investors, the private businesses, who see Thunder Bay and region as a place that is worth the investment of their hard-earned dollars. Also, it would be remiss on my part, not to mention that. Get on board and be part of the great changes in the construction climate, here, in our great city, our region, our country … We can always make things better…Together!
Together, WE can build the future we want!