The NWMO sought feedback from siting community residents on their vision for the design of the Centre of Expertise
A Centre of Expertise will be one of the first large-scale physical features of Canada's plan for the safe, long-term management of used nuclear fuel and an important landmark for host communities.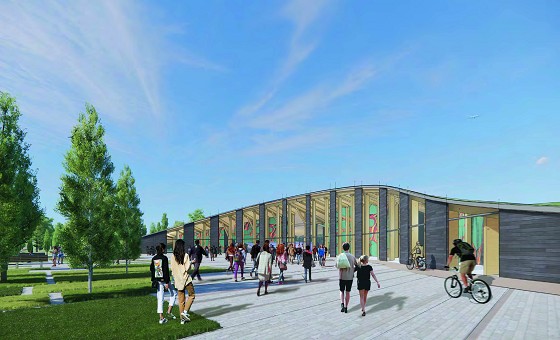 The Nuclear Waste Management Organization (NWMO) invites residents of the two remaining areas in the site selection process to host a deep geological repository to imagine what is possible for their community by providing feedback on the latest conceptual architectural drawings of the Centre of Expertise.
"The Centre of Expertise will be an important landmark for local residents and visitors, and we want to make sure it reflects the unique character of the communities," said Lise Morton, Vice-President of Site Selection at the NWMO. "By hearing the aspirations of local residents we will learn what they envision for their community and can reflect that in the design."
The Centre of Expertise will be a multi-million-dollar investment making it one of the most tangible benefits and most exciting commitments made by the NWMO as part of the project. A place for world-class science and innovation and enriching social services identified by residents of the host communities, the Centre will also bring new, high-value jobs to the area including scientists and experts from a wide variety of disciplines for generations to come.
The current drawings are based on continuing conversations with the communities about the design and use of the Centre.
Public feedback will be reflected in updated concepts of the facility which will be shared with the communities as part of the NWMO's ongoing journey of learning and dialogue with siting communities.
About the NWMO


The Nuclear Waste Management Organization (NWMO) is a not-for-profit organization tasked with the safe, long-term management of Canada's used nuclear fuel inside a deep geological repository, in a manner that protects people and the environment for generations to come.
Founded in 2002, the NWMO has been guided for 20 years by a dedicated team of world-class scientists, engineers and Indigenous Knowledge Holders that are developing innovative and collaborative solutions for nuclear waste management. Canada's plan will only proceed in an area with informed and willing hosts, where the municipality, First Nation and Métis communities, and others in the area are working together to implement it. The NWMO plans to select a site in 2024, and two areas remain in our site selection process: the Wabigoon Lake Ojibway Nation-Ignace area in northwestern Ontario and the Saugeen Ojibway Nation-South Bruce area in southern Ontario.