New Name and Logo for Bay Credit Union
Members come together to announce a modern new brand rooted in local history
Bay Credit Union today introduced an updated corporate name and new logo to reflect the Credit Union's community roots and growth. Moving into the future, Bay Credit Union will be known as BAY Credit Union – an acronym for Banking About You.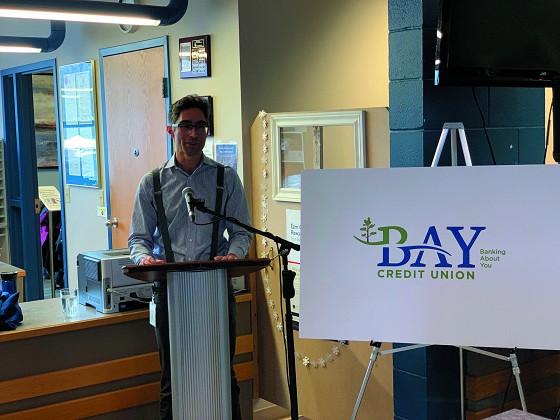 Founded in 1946 as People's Co-operative Credit Union Limited, BAY Credit Union originally served the large Finnish-speaking population of Port Arthur. In 1975, it became Bay Credit Union serving all of Thunder Bay. In 2015, Bay Credit Union merged with Apple Community Credit Union.
Today's new brand announcement aims to consolidate the credit union's strong local history, while evolving for the next generation of community growth. With the new brand, BAY Credit Union announced a new brand positioning focused on the statement, "Where you're growing." The positioning reflects the commitment of BAY Credit Union to serving residents and businesses of Thunder Bay, and the Credit Union's role as a financial services neighbour invested in the success of local people.
Says Lorne Kellar, Chairman of the Board of BAY Credit Union; "As a Board, we wanted to modernize our brand and create a relevant financial services proposition that would appeal to local people who are emerging financially. The challenge was to update our image without losing the long-standing sense of belonging that our members value. Listening to the community through this process, we have learned what matters most and this is why we are here. Above all, we offer banking services that focus exclusively on the financial well-being of people, businesses and communities in Thunder Bay. We are always here and where local people are growing."
BAY Credit Union currently serves approximately 5,000 members and holds over $65 million in assets. The Board intends for the rebranding to attract new members and overcome outdated misconceptions that the credit union only services specific neighbourhoods or employee groups in Thunder Bay.
Says Lynne LeGros, CEO of BAY Credit Union; "BAY Credit Union is open and welcoming to everyone. We offer competitive financial products and services that local people need to succeed in their life pursuits. Whether you are a student, young family, new entrepreneur or senior citizen, BAY Credit Union has the services you would find at a bank but at a lower cost to members. Because we are 100% homegrown, we design our products and services for local people and for the benefit of the local community. We are proud to reinvest our profits exclusively in Thunder Bay, and we know this sets us apart."
The new BAY Credit Union brand, which was developed locally by Firedog Communications, will be rolling out over the next several months. Both the Algoma and Cumberland Street branches will be undergoing significant brand transformations, as well new digital enhancements and online banking upgrades are part of the longer-term plan.
Says Lorne Kellar; "As our community and brand continues to evolve, our commitment to Thunder Bay remains steadfast. At BAY Credit Union, we are the friendly, enthusiastic and can-do people who are invested in the success of Thunder Bay and what matters most to local people."