New Burger King Restaurant Coming for Thunder Bay!
by Scott A. Sumner
Local construction company M Builds is finishing off a new building that will soon house Thunder Bay's third Burger King restaurant across from the Intercity Shopping Centre. I asked Graham Belluz, Project Manager at M Builds some questions about the project.
This building will house a Burger King restaurant on a high profile street in Thunder Bay. Tell me about the building size, type of construction and finishes that were used?
MBuilds is constructing a 5100 sq ft building, consisting of shallow concrete foundations, structural steel framing, heavy gauge steel studs walls, and a 4 ply built up asphalt roof system. The use of structural steel for the building structure has allowed specialized canopies and multiple types of finishes to be applied to the exterior of the building, which is of course the latest architectural craze. This building exterior is finished with multiple unique materials such as: EIFS (Exterior Insulation Finish System commonly known as stucco), masonry brick and block, precast concrete sills, aluminum composite panels, fiber cement siding, corrugated metal cladding , aluminum store front and glazing. The exterior is complimented with landscaped areas and a coloured concrete patio area.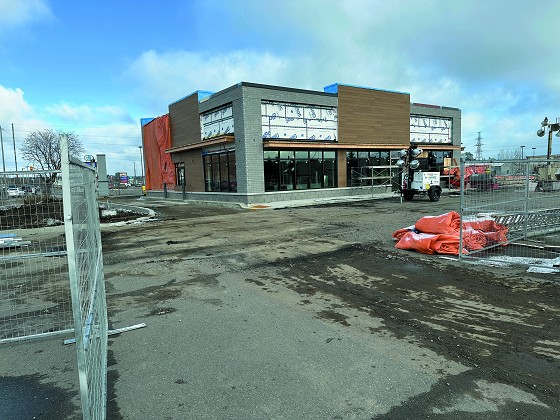 Overall how has the project gone and are you almost complete? How did the build process go? What were the stages of construction of this facility? Were you affected by any issues such as supply chain of materials, approvals or any services needed for the project?
The project followed typical new build construction schedule sequencing. M Builds and our subcontractors completed all procurement activities and shop drawings as early in the process as possible to avoid any supply chain issues for materials for this project. We did experience some delays early in the construction season, and these were due to a late spring thaw as well as the labour disputes and strikes that were prevalent in the industry this Spring, and this did not allow us to start as early as we anticipated. Overall this project has progressed well and we are looking to wrap up at months end. Our Site Superintendent Tony Tesolin and all of our subtrades have provided a very high quality product, that the Owner and Consultants are very happy with.
The site is large and includes other adjacent buildings already complete or ready for further development?
Under this contact M Builds completed the foundations for a future building we call "B2" and we have an option for this work which will be built in the foreseeable future, as the owner is in the process of finalizing the agreements with the new tenants. M Builds has already provided all of the servicing and site work to ensure minimal disruption to the area once the tenant agreements are finalized. We are currently working with other Tenants to finalize all of the agreements required for Buildings C and D as well.
What is your feeling on the current construction market in Thunder Bay and area?
The current construction market in NWO has been keeping M Builds and our valued sub-contractors in area very busy. The Covid 19 supply chain issues, which have resulted in unprecedented increases in the cost of new materials have been the largest impediment to our industry this past year. Due to these issues, it seems that the budget for the project is not adequate, and this has resulted in tenders and projects being deferred, and in many cases, cancelled. We are looking for a moderation in the supply chain issues, and with the experience of the past year, for the project budgets to catch up with the material cost increases that we have seen, and the value of the finished real estate that the Owners or Developers enjoy once the project is completed.
The new Burger King restaurant will be operated by Redberry Restaurants who are proud to be one of Canada's largest restaurant operators.
Redberry is a perpetually curious, agile, and determined restaurant company. Leveraging a combined 80-plus years of business experience from our executive leadership team has given us the confidence to move quickly and achieve results. Our deep understanding of how to successfully operate and grow restaurants in a vast Canadian landscape has made us one of the country's leading restaurant operators.
Redberry has 160-plus locations across Canada, with signed agreements for almost 500 additional restaurants over the next few years.
Sovereign Asset Management owns this development at 905-911 Fort William Road. It is a vertically-integrated property development company focused on delivering quality retail space to our tenants through the use of our in-house expertise in site selection, planning, design, and engineering. We are a privately held company looking to aggressively grow our portfolio through the acquisition and development of raw land and underdeveloped properties. We focus on high-traffic, single-user and multi-tenant retail locations across Canada. Some of our recently completed projects include a 40,000 square foot grocery store in Hamilton Ontario, retail plazas in Barrie and Collingwood Ontario, and single-use buildings in Moncton, New Brunswick and Charlottetown, P.E.I.
Thanks,
Scott Sumner
North Superior Publishing Inc.