MIKE SCHULTZ TAKES A BAD SITUATION AND MAKES IT GOOD!

by Scott A. Sumner
www.slednews.com
In 2008 life was good for Pro rider Mike Schultz of Pilager, MN. He had just signed with major snocross team Warnert Racing as a racer and was doing the sport he loved as a professional athlete. Mike had starting riding snowmobiles at 8 years old. He became so good at riding and racing sleds that he turned Pro in 2003/ 2004 season and competed until 2008. " I raced with Team Avalanche and had good success with them finishing 4th in stock and 6th in Open season championships. I got some podiums and did get a Pro Stock win at the Eagle River Derby. In 2008 I signed with Warnert Racing and did my first race at Duluth with them and began the second round at Ironwood, Michigan." said Mike Schultz.
It was at Ironwood that his life would change forever.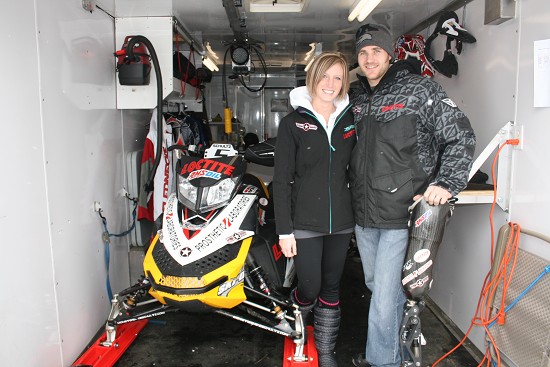 " It was the first qualifying race of the weekend at Ironwood.I was battling for a transfer spot and coming down a hill when the machine starting swaying side to side and I had to jump off landing feet first. The problem was when I hit, my knee was locked straight so it crushed the knee joint and hyper extended it. I tore apart the knee joint really badly with a compound fracture of the tibia and fibula. I was in very bad shape. My foot was lying up across my chest so it was a painful situation,"said Mike Schultz. " The day was cloudy with low viability. The EMT's got to me, zipped open my pant leg and the blood gushed out. I was bleeding out and it was a life or death situation. They put me back together as much as possible and got me to the hospital 1 mile away. They didn't have a orthopaedic doctor on staff. Thank God my wife Sara, a RN was with me and was able to kind of stick handle the situation. They made plans to transfer me to Duluth but the helicopter couldn't fly because of a snow storm so we took the ambulance to Duluth which was a two hour ride. I had no pain medication, as my blood pressure was so low. It was horrible. It was a long ride. It was a disaster in Ironwood. When we got to Duluth there was a whole team of 12 doctors and staff waiting for me and it felt
like I was in good hands after that."
They did two or three exploratory surgeries on Mike Schultz to figure out that amputation above the knee was what had to be done. " I agreed it was best to take it off. At that time I was in really bad shape. My kidneys were starting to shut down, circulation was not good
and my blood pressure low. We couldn't really go on much further so on December 16, 2008 my leg was amputated above the knee."
After the amputation it was rough for a few days for Mike. " I stayed at the hospital for 13 days and came back home on Christmas Eve Day. I bounced back quickly after that because I was in such good shape before the accident. The doctors were confident I would be back doing things as I did before. 13 weeks later I was in my first prosthesis. Since then I have kept myself busy and didn't sit there and say why me. My whole thought process was I decided to be a professional athlete and knew there was possibility something could happen. I said it is what it is and stayed busy with my race team coaching them,"said Mike
Schultz. " I got back on the sled in the spring after the accident with my first prosthesis which didn't work very well for snowmobiling. What propelled me forward was I heard of adaptive sports at the summer X Games in Motocross. That's when I decided to design my own leg. I
knew what I wanted to do and took that information and based it around a FOX mountain bike shock. It has a FOX mountain bike shock that is the main resistance for the knee joint. I have one in the foot as well. The complete leg is 13.5 pounds in weight which is 1.5 pounds heavier that my everyday walking leg with a microprocessor knee. The doctors said your normal human leg weighs 15 to 18 pounds."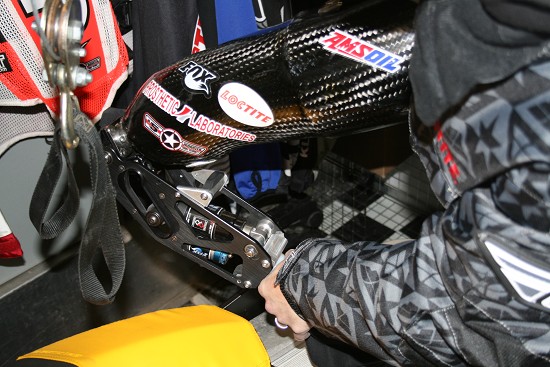 Last winter at the inaugural adaptive snocross Mike Schultz won the Gold Medal at X Games Snocross and the summer before that raced the X Games Supercross and got a silver medal. This year Mike will race the 30 plus division in 5 ISOC races. He stands up as he did before in Snocross. If the track is rough Mike can't come back as easily as
before and is more cautious now to ride within his range. " I want to keep it rubber side down for sure. My speed racing now is about 75% of what I did before . In a smoother track I am good. In dirt bikes I am also a lot closer to my old speed. The body languages on the snowmobile is more aminated, side to side and up and down a lot more." said Mike Schultz.
" Our new company is Biodapt Inc. It revolves around the knee to get people back into sports. I have some feet for high impact stuff as well. I am putting a ton of my money into it. The community and race community helped me out when the accident happened and donated. This is a great thing to do with the money I think and it is what I used to start the process. I am definitely moving forward. It has opened a lot more doors for me. I am looking not at what I can't do but what I can do and meeting a ton of new people and trying to take the situation and go off the good possibilities. It has changed my outlook. I believe in people and having good people around you is what drives me forward." said Mike Schultz.
" I think it is awesome Mike is racing again. He raced last year at the Winter X Games and was able to get a gold medal. I saw him race supercross at the Summer X Games where he got a gold medal so he has had a lot of success. It is great to see his drive and attitude to
continue racing and not let his injury slow down." said Tucker Hibbert.