Magnus Theatre kick off their 50th anniversary season with HOME: A BLUEGRASS CELEBRATION
by Scott A. Sumner
Magnus Theatre artistic director Thom Currie was excited about the first show of their 50th Anniversary season!> Magnus was founded this month 50 years ago in 1971. " I think the isolation of Thunder Bay is one of the things that make Magnus successful.We are now one of a few professional theatres in Canada that have passed the 50 year mark!" said Thom." I think the arts community and the community of Thunder Bay has always been very supportive of Magnus."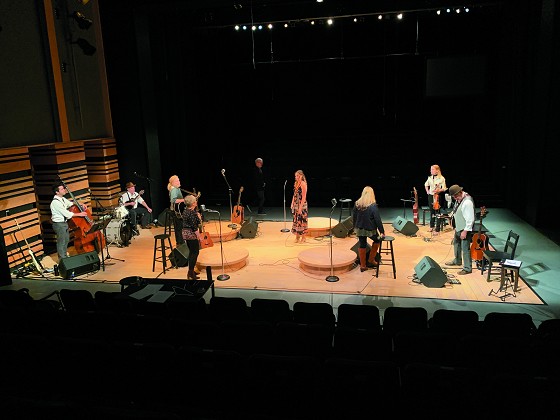 " Since Burt Lancaster got off the plane in 1971 and founded this heatre Magnus has had a special place with the community. He was sitting in London, England, pulled out a map and placed his finger on it randomly and said we a moving to a place called Fort William," noted Thom. " The community enjoys having a professional theatre,the same way they like having one of the few professional orchestras in town. That says a lot about the community and the region that we can support not just a fully professional orchestra but a fully professional theatre."Magnus used local talent at the beginning but have branched out across Canada since then. " We have always maintained 25 to 50 % local people. It has been thrilling to dip our toes in 100% local talent with this play, HOME: A BLUEGRASS CELEBRATION," said Thom. " We have had a huge number of people that have returned to Thunder Bay during the pandemic since we have done so well here with our case counts - so this has helped us. The rest of the season will be quite local as well."
The first play of the season, HOME: A BLUEGRASS CELEBRATION is essentially a reflection on 18 months in isolation written by Jo-Ann Waytowich."Jo- Ann was sitting at home in isolation and started thinking about what life was now. She was listening to bluegrass music as well and just started incorporating the two elements together - her great story telling abilities and this great bluegrass music from the last 100 years." said Thom. " In the isolation we have focused on three women in their mid 20's, 40's and 50's and talking about what they have been through. A guy is added as well. There are moments that are very funny and very touching moments. It is the home of great bluegrass music from the last 100 years."This is an elaborate play to begin the Magnus season with 8 people on stage all, socially distanced and masked when they enter and then they start to play.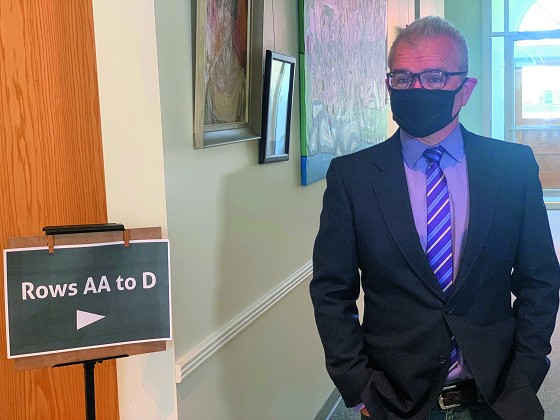 "As per provincial guidelines we are only allowed 50 % capacity in the auditorium which will be 132 people.We converted the auditorium to a traverse stage, which means people surround the stage and the action but maintain 2 meters distance. If you are not relaxed in the audience there is no way you can enjoy a show so our thinking here at Magnus is we want people to feel relaxed so there is enough space.The audience must be masked at all times."noted Thom. " I have a thought, an idea and do it for myself but if you come along on it with me it is joyous!"said Jo-Ann Waytowich.who has written the play and is one of the singers and characters." During the pandemic, as all of the planet experienced, I was feeling a lot of isolation and loneliness and at time despair. How can I keep >myself from sliding down. You know depression is not far from any of us. When I listened to this type of music in particular, bluegrass, I defie you to not tap your toes, to feel something.When I put on this music I would be soaring and what a juxtipostion this is to talk about- Covid with this type of joyous music. We are making it happen to find joy."said Jo-Ann.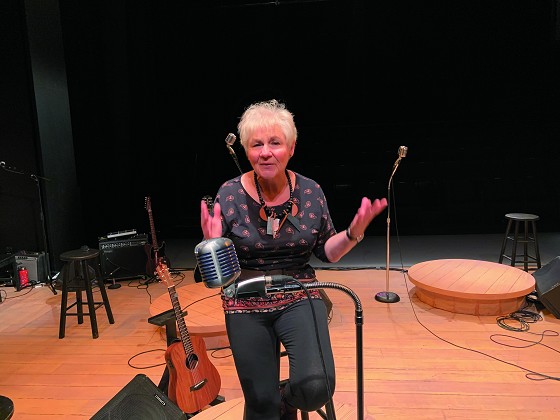 " I spend a lot time in my basement as I write, play guitar and sing. My poor husband had to live with the bluegrass music for months and months. In my head I heard and saw exactly this but after I shared this with the people here at Magnus it has gone way beyond what I thought it would be. To be able to sit in a room with people that can sing and play this well is amazing.""The excitement for me is the collaboration between all of us and all of our artistry that comes together as a solid team.That is so thrilling. The audience has known me for years as Ivanka and Ivanka is not going to show up in this play- so that is kinda scary."said Jo-Ann."As soon as we walk out here on stage we drive with music, the nerves disappear and we are just people connecting and loving music and each other. None of us have worked for two years, our livelihood was gone,so to be creating together is all what we dream to do."smiles Jo-Ann." I keep saying I am going to retire, and have burned my sets and >costumes, but am always pulled back in. The worst thing to get for me is an idea because I can't stop myself from following it with no end in sight! I want to see where it goes and if it becomes something great. If it doesn't I just have to follow my path,"says Jo-Ann. " I also just want the audience to know that it is a safe environment again- we can all gather to enjoy live music and the joy of music.That is what we want to bring to people. It is thrilling. I think the audience will be taking on a joyous ride with us!"
Audiences can expect to see some familiar local faces hitting the stage this week in Magnus Theatre's inaugural production of the 2021-2022 Mainstage season. HOME: A BLUEGRASS CELEBRATION opened on September 16th to kick off the theatre's 50th anniversary season. The original music revue was conceived and written by legendary Thunder Bay playwright and actor Jo-Ann Waytowich, well known to audiences far and wide for her iconic Ivanka character. The inspiration for the latest show came during the pandemic lockdowns, when Waytowich was sequestered to her home and embraced her creative outlet to pass the time meaningfully. The result is anoriginal show that features bluegrass music for a funny and relatable look at the year in isolation from the point of view of three women at different stages of life. Directed by Magnus Theatre artistic director Thom Currie, with musical direction by celebrated local musician Danny Johnson, the production features an ensemble of local actors and musicians.
"Coming back from the pandemic, we have to reexamine how theatre is done," said Currie. "This means prioritizing equity and diversity in the cast and creative teams, but also showcasing as much local talent as possible. It's important that we continue to reflect a national talent base as well as a local talent base and put those performers shoulder to shoulder on the stage." The cast is made up of Jo-Ann Waytowich, Danny Johnson, Susie Campbell, and Fae Alexander and is accompanied by a four-piece band including Robert Balabuck on banjo, Martin Blanchet on bass, Olivia Korkola on fiddle, and Dan Zadkovich on mandolin. Waytowich has appeared in over a dozen Magnus Theatre productions panning over two decades, most recently in 2019 for IVANKA: PASTA, SALAMI AND A GUY NAMED PASQUALE. Magnus Theatre will be observing all public health and safetyprotocols, and patrons will be required to wear masks at all times while indoors. The auditorium has been reconfigured into a traverse stage arrangement to keep audiences safely spaced out, but tickets are limited as performances are restricted to 50% capacity in accordance with provincial regulations. Beginning September 22, 2021, and in accordance with the provincial mandate, all Magnus Theatre patrons will need to provide proof of full vaccination status to attend a performance.
For more information about tickets, show times, and health and safety protocols, please visit www.magnustheatre.com. Magnus Theatre enjoys the ongoing support of the Canada Council for the Arts, the Ontario Arts Council, and the City of Thunder Bay. Magnus Theatre's 2021-2022 season is also generously supported by the Ontario Cultural Attractions Fund of the Government of Ontario through the Ministry of Heritage, Sport, Tourism and Culture Industries, administered by the Ontario Cultural Attractions Fund Corporation.