Living On A Hobby Farm, Slate River
by Scott A. Sumner
Caleigh Campbell & Brent Parres own the Wild Sage Farm, Slate River. Many times I had noticed the unique Alpaca animals roaming on the fields on Hwy 130 when driving past. On some of my past trips to Duluth to cover snocross racing I met a Polaris race manager who had a large Alpaca farm near Minneapolis so it was fun to find out more about these animals.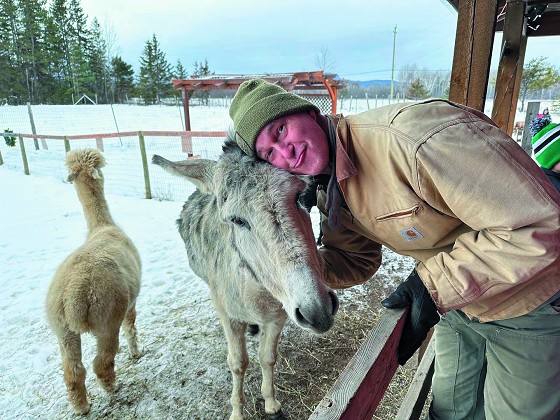 " We are a new farm taking over this place over about 1 1/2 years ago.We started with 6 alpacas- three seniors and three juniors, but the seniors passed away. Last December we added Nitro, the donkey, the fastest donkey on the farm. He is a rescue donkey from Manitoulin Island. Donkeys are good guard animals, "noted Brent.
The Wild Sage farm has about 38 acres including 3 1/2 acres of hay, 25 acres of barley or rye and the rest is grass. Last year the farm stored 140 bails of hay and sold some hay after buying a tractor. Now we are a real farm smiles Brent.
" This is a hobby farm- at best we are a break even operation. You could sell the Alpaca wool after you sheer them each spring to keep them from getting hot.Their fibre is superior. We haven't gone to the next process of turning the fibre wool into yarn and make socks etc yet."said Brent. " I call myself a reluctant farmer because of my wife's desire to live out here near her parents and sister."
There is a a B & B barn guest suite at the farm where many Americans come and stay to be close to the animals, enjoy county life and relax. Also people come from Thunder Bay for a stay cation.
There is a seasonal Alpaca Boutique open where you can but socks, insoles, winter gear and local goodies.