Levi Lavallee Starts New You Tube Channel: Livin Lavallee
by Scott A. Sumner
I always enjoy sitting down with Levi each year at Duluth. This year his wife Kristen and kids 2-year-old Lavin and 4-year-old Liv livened up our discussions!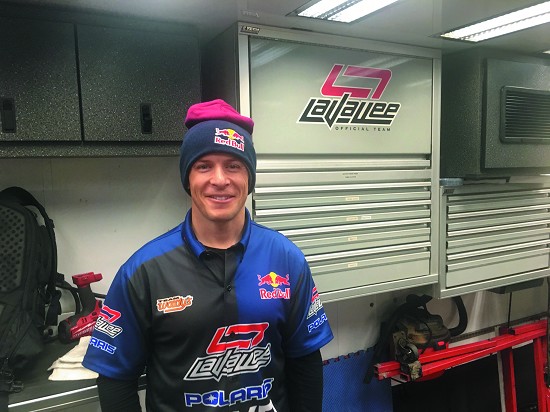 How do feel this season will be without Tucker Levi?
" It has been crazy to think there is no Tucker Hibbert at the races this season. For so many years he has been the icon of the sport of snocross and to have him retire is hard for the sport to accept. But for him working as hard as he does he was probably ready to move on and take a little break."
You retired form snocross several years ago?
I started off snocross and stumbled into freestyle and then I started to think I could do anything, double back flips, distance jumps and it took off and snowballed into my career. It has been amazing being able to do all these things and look at projects and X Games. We have done many media events such as the Super Bowl jump, long jump record in California and Jay Leno! I live in Longville, MN a town of 156 people and there I am in California on the Tonight Show with Jay Leno. "
This year big news is your new You Tube Channel Livin Lavallee?
" We decided we wanted to show everyone our life and what we do so we are starting our You tube channel Livin Lavallee. We are planning on doing videos all winter long, one a week is what we a re shooting for. It will be an exciting winter for us doing 8- 12 minutes long on average.
My personal goal is to get and ride my snowmobiles. It will also show boating, dirt bikes in the summer time. We have some pretty cool plans for Livin Lavallee."
" How can we help snowmobiling using my influence and also I can ride my snowmobiles!
Will you be doing any special events this year?
" I hope to be at the X Games this year In Freestyle, although the weekend is the same as Deadwood. We want to be prepared well to do X Games."
" We have Kyle Pallin, Evan Daudt, Zak Mason and Adam Peterson as snocross racers on our team."
How is the 2019 Polaris race sled?
" Polaris came out with a new race sled, 136 inch track, new rear suspension and many positive shock changes.