Lakehead University Student Union Open The Study
by Scott A. Sumner
The Lakehead University Student Union have completed a complete rebrand of their student space on campus near the bookstore to a very welcoming The Study.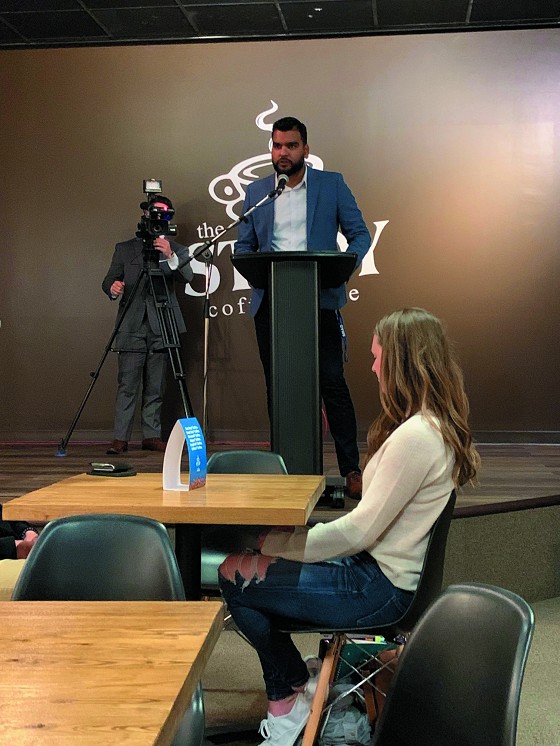 " The LUSU contacted us to help bring the brand to life on site. We gave them some options and choose a sensory experience which was homey, relaxing and comfortable.Many students are away from home so they wanted a space that gave them a feel like home," said Stephanie Ash, Firedog Communications. " In the space they can study read a book or meet with with friends.The overall budget was $175,000. All of the proceeds from this business goes back to the students."

The space is open to the public to come for a coffee or to book the space for external meetings or functions. Their next phase is marketing to the community. All of the food etc is locally sourced.
" This place has been around for a while and run by LUSU but we wanted to change it up with more seating and capacity, better connectivity and create a space where students can hang out or study. If there is an event you want to do here you can now," said Farhan Yousef Vice President Operations & Finance LUSU.
" At the end of the day it is all about the students. This is about reinvesting back into students. This is in additional to three other spaces we recently renovated across campus. It is our long term goal to improve and increase these studies spaces."
LUSU changed everything here from carpet to furniture, it previously looked like something from the 80's to now modern."The students pay a fee to the student union and we take the money and use it for students. We run 6 different areas on campus including the Campus Pub, we have scholarships bursaries and student positions that work for us." said Farhan Yousef.