KAANAPALI, MAUI OFFERS PARADISE VACATION

by Scott A. Sumner
www.golfingnews.ca
When you are a Canadian living in Thunder Bay, Ontario and you are invited to attend the Wendy's Champions Skin Game in mid January in Hawaii you suddenly get a big smile on your face. The opportunity to travel to such as beautiful area in the heart of the winter and meet the golf idol that you had growing up, Jack Nicklaus; was a dream come true.
The first think I notice about going to Hawaii is the excellent value in airfare to get there. Whether you are in central or eastern Canada, you can travel to the island of Maui for $800 or less. That is quite a deal in my opinion when you consider a trip to Europe would probably cost you $1600 plus. Your trip to Maui will involve a 5 hour flight to the west coast; Vancouver or Los Angeles and another 5 to 6 hours to Maui. Today's aircraft allows you to sit back, watch some movies and before you know it you are at the Maui airport picking up your rental car. You will have a 40 minute drive on a freshly paved highway to Kaanapali where your adventures will begin!
Melissa Ludwig is the Sales and Marketing Manager of the Kaanapali Golf Resort where the 2010 Wendy's Champion Skins Game will take place. She grew up in Boston area and now loves Maui having been a resident for almost 8 years. "I think what draws me to Maui is the fabulous weather for golf, hiking and swimming. There is so much to do outdoors and you can do it all year round. I also like the diversity of the people here. Hawaii is a blend of people from all over the world. People come here from all over Asia, Japan, China, the Philippines and we get a lot of snow birds from Canada. Many call it their second home in the winter season. You get such a blend of people and their culture." said Melissa.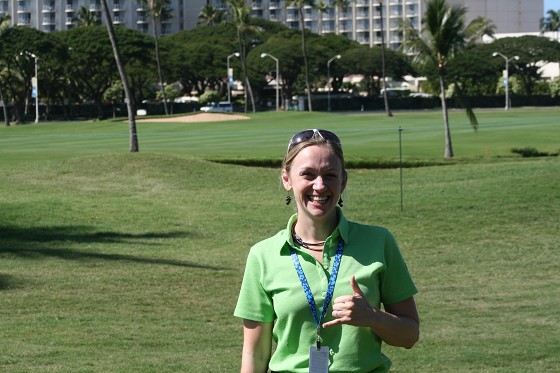 Melissa Ludwig is the Sales And Marketing Manager of the Kaanapali Golf Resort
There are 11 different hotels at Kaanapali right adjacent to the two Kaanapali courses, the Kai and the Royal. You can choose from high end luxury resorts to condos which are great for families and an extended stay complete with washer, dryer and barbecues. Depending on what you are looking for there is a property at Kaanapali Beach for you. The resort is the first planned resort destination in the state of Hawaii. "It was built in 1952 starting with 1 course and 1 hotel. Now we have the 36 holes and 11 different properties. The golf courses are unique because of the way the designers built the layout into the land. They use the surrounding water and ravines throughout the mountains that are woven into the holes. The elevation change creates some unbelievable views and great holes," said Ludwig. "Today we had some great views on the upper holes where you can see the neighboring islands. Both courses are resort friendly so whether you are a 2 handicap or have a 35 handicap, with four sets of tees you can enjoy the course with your game. A newer golfer or junior can still play and not feel exhausted at the end of the day."
During my stay in Maui, I am able to experience the Royal Lahaina Resort with some 550 rooms. It has a spectacular setting right on Kaanapali beach and adjacent to the golf course. My room is on the top floor right on the ocean complete with balcony. You could hear the ocean waves just like you were right on the beach. I also stayed at the Westin Maui Resort & Spa which has over 750 rooms. This 5 star property has a beautiful outdoor water area and is right on beautiful Kaanapali beach. I am a huge fan of Westin properties and especially like their "Heavenly Beds".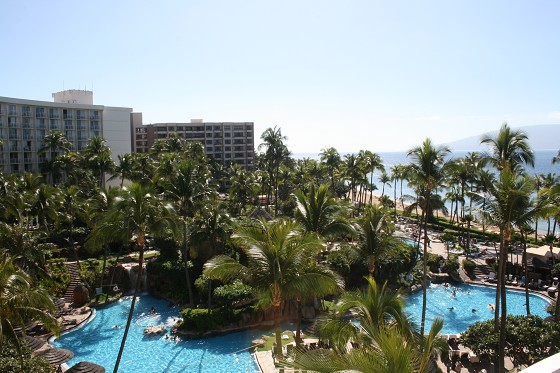 Westin Maui Resort & Spa
Anyone staying at any of the 11 resort locations will get a preferred green rate of $30 to $50 less. Kaanapali also has multi round packages so those that are staying, 7 days or 2 weeks can have a great value package. "We have a 7 day unlimited package, called the Royal package that includes cart, green fees, rental clubs and your shoes for $499. Just show up and we will get you out golfing. The normal green rate staying in the resort is $190 so if you play three rounds of golf you have broken even. You can leave your clubs at home," smiles Ludwig. "You can also find some great stay and play packages especially during the off season times. We will offer a mid day rate for golf plus spa or with a $50 dining credit to one of the resort restaurants. In the last couple of years, people really make sure the value is there for their guests. They want to make sure the guest leaves feeling they have a great experience with multiple activities with good value."
" There is some phenomenal hiking and exploring in Maui. You have grass lands, lava fields and rain forests - so many different terrains within one island. In a day, you can pretty much drive all through the island. This is what makes Maui so unique. In a 7 or 8 hour drive, you can see the landscape. I recommend exploring the lava fields on south Maui which are quite unbelievable and also the tropical rain forest. We are really spoiled with the weather." said Melissa. "The hotels here are all owned separately but is amazing how well we work together as a family. If we help each, other we can work better. The guests have a better experience when we all work together."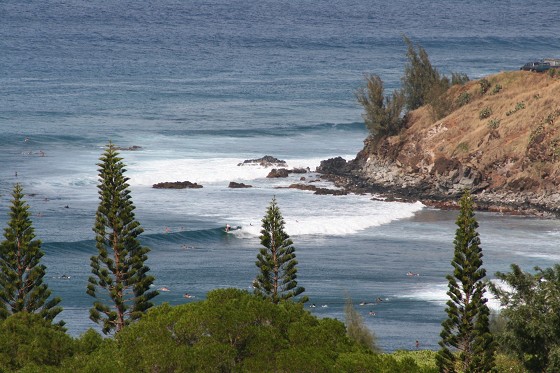 Beautiful Setting at Kapalua
The Royal course at Kaanapali was built to play with a little bit of trade wind approximately at 5 to 10 miles. This land used to be the vacation spot for Hawaiian royalty. One hundred years ago, you had to take a canoe from Lahaina to go up north. Hawaii is very special with a lots culture and history. The staff at the Kaanapali Golf Resort named each hole of the Royal course a name that tells the story of Hawaii.
The weather is very special at Maui. The scenery is picture perfect. From the time your plane lands on this island to the time you leave you will experience paradise!
For more information visit
www.kaanapaliresort.com