JOHNNY RUIZ WINS FIRST MACKENZIE TOUR TITLE AT STAAL FOUNDATION OPEN PRESENTED BT TBAYTEL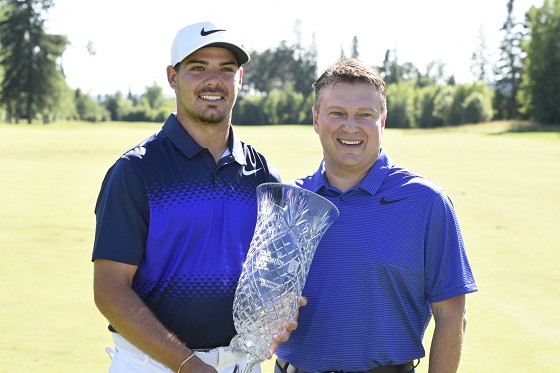 (July 16, 2017 – Thunder Bay, Ont.) – Camarillo, California's Johnny Ruiz shot a final round 5-under 67 on Sunday at Whitewater Golf Club to come from behind and win the Staal Foundation Open presented by Tbaytel for his first Mackenzie Tour – PGA TOUR Canada win.
The 23-year old made seven birdies on the day, including one at the 72nd hole, to reach 13-under for the week and win by one over Dallas, Texas' Kramer Hickok, Fulton, Mississippi's Chad Ramey and Edmond, Oklahoma's Max McGreevy.
The win moves Ruiz into second on the Mackenzie Tour Order of Merit, in position to earn a spot in the top three after next week's Mackenzie Investments Open presented by Jaguar Laval and an exemption into the PGA TOUR's RBC Canadian Open.
"It feels awesome. It's the best win of my career, and hopefully there are more to come, but it definitely feels good to get one under the belt now," said Ruiz.
Starting the day three shots behind Hickok and his fellow 54-hole co-leader Patrick Newcomb, Ruiz made the turn in 2-under, but still trailed as Hickok reached 14-under with a flawless front nine.
With Whitewater Golf Club showing its teeth and the Sunday pressure mounting, however, Ruiz's steady ball-striking and calm demeanor proved critical, as he made his way to the clubhouse with three more birdies, including a two-putt at the par-5 18th to reach 13-under.
"I was just thinking one more, one more. I kept telling myself it was my day, and every time I told myself that, I made another putt. Going into 18, I thought I needed one more at least for a playoff," said Ruiz.
Hickok, the winner at last week's Players Cup, gave himself chances to catch Ruiz coming down the stretch, but couldn't convert, missing putts inside of 10 feet at each of the last two holes that would have tied him at the top.
"Frustrating that I had the lead after nine and gave it up," said Hickok. "That's something I think I'm going to learn from, and figure out and go from there, but in hindsight looking back, they've been a great couple of weeks."
For Ruiz, the win marks a measure of redemption from a near-miss last month at the GolfBC Championship, where he held the lead coming up the 18th hole but made bogey and ultimately lost when Robby Shelton birdied the last to win by one.
"It feels good to finally get one," said Ruiz.
McGreevy, a rookie who helped the University of Oklahoma to a NCAA Championship earlier this year, joined Ramey in a career-best tie for second alongside Hickok, while a shot further behind were Mequon, Wisconsin's Jordan Niebrugge and Long Beach, California's Brett Lederer.
NOTES:
Johnny Ruiz
23-year old Johnny Ruiz was making his ninth career start on the Mackenzie Tour. Earlier this year, he earned exempt status for the first eight events of the season with a T2 finish at the British Columbia Q-School.
Ruiz had conditional status on the Mackenzie Tour in 2015 and missed the cut in all four starts. He did not begin playing golf until age 14 and notched his first pro win at the 2016 Monterey Open.
Ruiz works with noted swing instructor George Gankas, who also teaches PGA TOUR player Sung Kang.
HARLINGTEN TAKES FREEDOM 55 FINANCIAL TOP CANADIAN
With a total score of 8-under par in a tie for 15th, West Vancouver, British Columbia's Seann Harlingten finished as the top Canadian on the leaderboard, earning Freedom 55 Financial Canadian Player of the Week honours and a $2,500 prize.
The top Canadian on the leaderboard each week takes home the award, with the top Canadian on the Order of Merit at season's end earning the Dan Halldorson Trophy, Freedom 55 Financial Canadian Player of the Year honours and a $25,000 prize.
THEY SAID IT:
"I owe a lot to my family, and my mental coach and my coach George Gankas. Everyone back home. I went from coming up here two years ago, playing four events and not making one cut, to five events now and I haven't missed one, so a lot of things back home." – Johnny Ruiz, crediting people around him for his improvement over the last two years.
THE RACE FOR GLEN ABBEY
Despite missing the cut this week, Wilmer, Alabama's Robby Shelton held on to his lead atop Order of Merit through five events. The top three players on the Order of Merit after next week will earn a spot into the RBC Canadian Open July 24-30 at Glen Abbey Golf Club in Oakville, Ontario:
Robby Shelton $55,473
Johnny Ruiz $53,640
Kramer Hickok $47,719
--
Lee McCoy $36,250
Max Rottluff $32,454
Miscellaneous notes:
Weather: 26 degrees Celsius (feels like 31), cloudy, winds 13 km/h gusting to 20 km/h.
Ruiz received seven free daily rental vouchers for a rental car from AVIS for the win.
The Staal Foundation Open presented by Tbaytel announced a donation of $271,500 at the end of the week towards the Staal Family Foundation, with funds staying in Northwestern Ontario and going towards Camp Quality Northwestern Ontario, the Northern Cancer Fund and Smilezone Foundation.