INTERCITY AUTO CENTRE AND INTERCITY POWER SPORTS, WANTS YOU TO Experience that GREAT feeling of… 'Aaaaahhhhh!'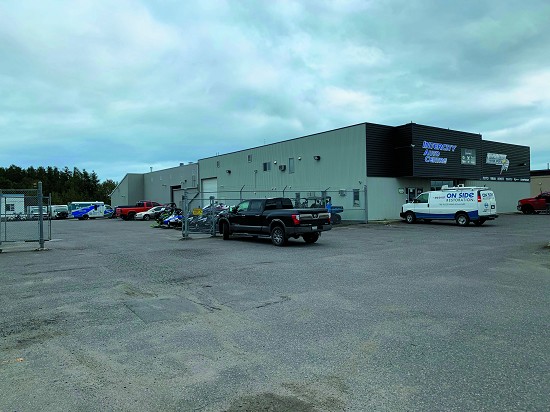 By Sherry Hanes
O.k. So, right about now you might be thinking, 'What do I have to do to experience that great feeling of 'Aaaaaahhhh!'?
Congratulations to Intercity Auto Centre/Intercity Power Sports, now located at 879 Tungsten Street, Thunder Bay, Ontario. They are excited to be holding a Grand Opening on Saturday, September 21, 2019, in celebration of their new, 17,000 square foot power sports showroom and automotive repair and parts shop, address. The new site, which actually opened on December 31, 2018, embellishes professional décor` and atmosphere, pleasantly displaying, bright and roomy aesthetics, where one experiences a genuine sense of a welcoming invitation, to come in and spend time browsing around. Bringing the family in, to see the wide assortment of power sport vehicles, is strongly encouraged, which will promote 'Family Fun' on a whole new level and asking questions, getting the dialog going is also generously encouraged.
The auto centre side of the business, has served Thunder Bay and Northern Ontario with outstanding repair services, products/after-market products and accessories, since 1997. Their professional services for any automotive repair, including transmission repairs and kits, and lift kits, to name a few, are second to none! They are also well known for fleet repair services, involving a number of prominent government and private sector businesses and they also are highly noted for their exceptional and prompt REMOTE repair services, which takes them just about anywhere in Northern Ontario. "I'll bet you didn't know that?"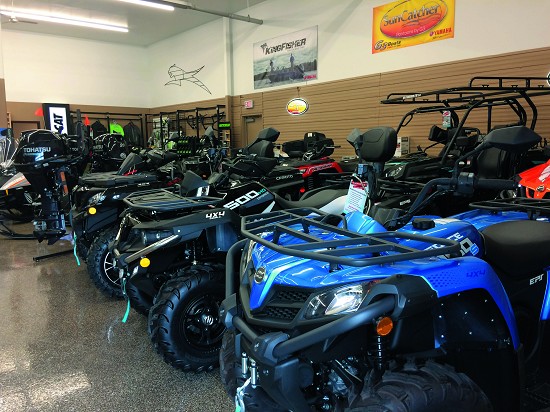 Historically speaking, in the beginning, the business itself, was comprised of Intercity Auto Centre only. For the first few years in business, there was the usual shuffle within the company, involving different partners, but eventually, through independent decisions, Bruce Miault, in partnership with Chris, Kaukola, forged forward, continuing on in pursuing continued success. The addition of the second enterprise, Intercity Power Sports Centre, in 2014, has been thriving and servicing Thunder Bay and Northwestern Ontario since that time'. The Power Sports Centre is the new 'go-to', for new and used power sports vehicles sales, services, repairs, equipment and accessories.
Superior customer service and operations in automotive, mechanical repairs, builds kits, auto parts and accessories, combined with excellent business strategies, administration, sales and direction, lent way to that perfect balance for the success of this home grown, business. The families and friends of both partners, have been and continue to be, inspirational and supportive, of the 'day-to-day' operations of the business. Long hours and major decisions are all part of advancing and sustaining viability and Bruce cannot say enough about the support he and his partner share and receive from family, friends and community!
Previously to relocating to 879 Tungsten Street, the business started out on Cobalt Crescent and then moved to 570 10th Avenue, for eighteen years. Today business partners, Bruce and Chris, have found, what appears to be, a permanent home for their business. As with creating any new business, there is always that one turning point…that one question of, 'Should we go for it?' and in this case, Bruce and partner Chris, supported by family and friends, helped direct the decision that propelled this venture forward.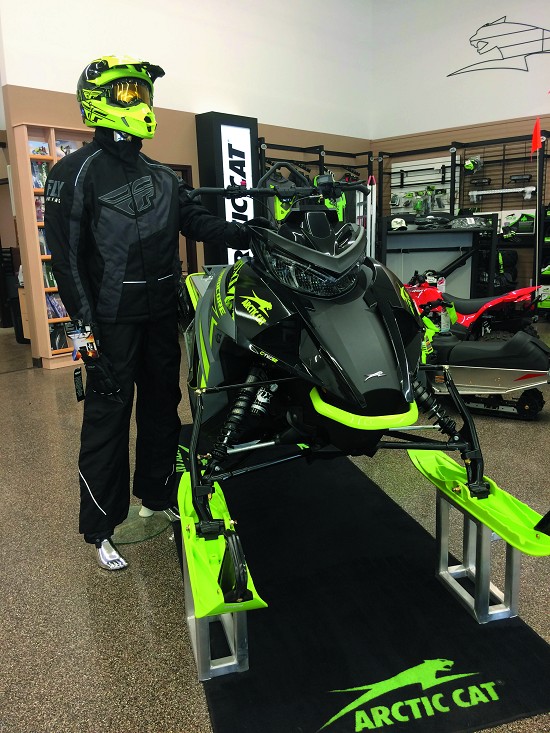 The Power Sport Centre offers nothing but the best in recreational power sport vehicles for your all- season fun, when it comes to the Great Outdoors!
This recreational sports vehicle dealership, proudly carries both new and pre-owned snowmobiles, ATVs, sidexsides, outboards, boats, trailers and personal watercraft. It does not matter if you are a well- seasoned or first-time operator/buyer, the expert sales team will have you quickly operating your power vehicle with confidence and safety. At Intercity Power Sports they will introduce you to the full line of Arctic Cat snowmobiles, ATVs and sidexsides, CFMOTO and sidexsides, Yamaha marine, Tohatsu Outboards, G3 Boats, KingFisher Boats and Kodiak Inflatable Boats. Along with having a wide range of products, they also carry multiple lines of aftermarket parts and accessories, for your snowmobile, ATV, boat and sidexside. In addition, they are also your local dealer for Hewitt Docks & Lifts, Yamaha Power Products and SnowDog. The fine team of experts, want you to know that "If you are ready to get out and enjoy the most of Northern Ontario's finest snowmobiling, hunting and fishing or just get out and tear up some snow, dirt or water – We want to help you find fun! At Intercity Power Sports our friendly and knowledgeable staff want to make sure your experience is outstanding from making your purchase to regular maintenance, we value our customers and strive to make a customer relationship for life."
Intercity Auto Centre and Intercity Power Sports, have a great team of experienced, hard-working individuals, where team work rules and dedication to providing exceptional customer service and quality of work is priority. This is one place you will definitely want to stop at, when considering purchasing any power sport vehicles or needing any auto repairs, lift kits, transmission repairs, body lift kits, suspension lift kits, oil changes, tire repairs, wheel alignments, all mechanical repairs, annual /safety inspections, air conditioning install, starting/charging system check, all electrical work or diagnostics.
Bruce and Chris invites everyone to stop in and see what they do and what they have to offer for services, parts, equipment and repairs and they would also like all of their customers to know that, without them, their business would not be the success that it is today!
At Intercity Auto Centre and Intercity Power Sports, you will come in as a customer and leave as a friend…but don't just wait until the GRAND OPENING…stop in any time during their regular business hours and experience that GREAT feeling of Aaaaahhhhh!
INTERCITY AUTO CENTRE/INTERCITY POWER SPORTS,
879 Tungsten Street, Thunder Bay Ontario P7B 6H2
Phone: (807) 767-8884
Hours of Operation:
Monday-Friday: 8:00am-5:30pm
Saturday: 10:00am-2:00pm
Service Hours of Operation:
Monday-Friday: 8:00am-5:00pm
Email: info@intercitypowersports.ca ?