Impressive New 2019 Chevrolet Silverado Truck is Here!
by Scott A. Sumner
The NW Ontario automotive market definitely favours trucks with a large sales percentage at some dealerships. The truck is also very important to the manufacturers.This past fall Chevrolet rolled out their new 2019 Silverado in 1/2 ton format and it is a very impressive machine!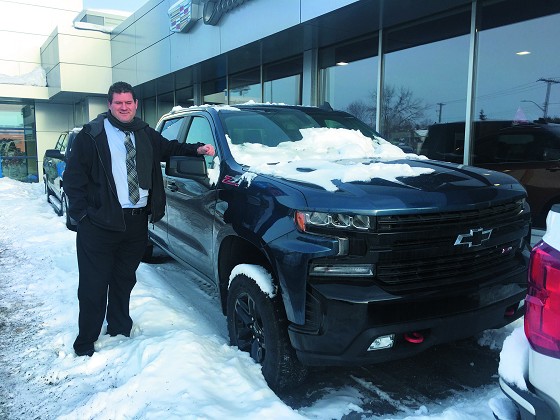 " The 2019 Silverado truck is completely different. It uses more high strength steel and more aluminum. The high strength steel is more costly but you can use less of it which makes the truck lighter. The
truck is similar to last year in size, maybe a few inches longer. The 5 foot 8 inch box this year for example has more room than last years 6 foot 6 inches box as it deeper and 6 inches wider in the box area. The
truck is about 400 pounds lighter depending on the model, overall which will help fuel mileage and everything you do. It is ." said Nat Kerber, Sales Consultant Badanai Chevrolet Cadillac.
There is still a V6, and 5.3 litre engine choice that can now run on anything from 1 to 8 cylinders and has a 8 speed transmission. The engine will adjust always. The 6.2 litre engine is new also and can run
on 1- 8 cylinders and is very similar to the Corvette motor in a truck version. There is a also a 4 cylinder turbo in the full size Silverado coming. The mileage will be better with good performance as well.
Finally a 4 cylinder diesel engine is on it's way for the 2019 Silverado in the 1/2 ton which they have not had before.
The interior is new, more modern with more high tech stuff such as automatic crash detection lane assists and heads up display. It is like driving a jet fighter with so much information. There is a power
tailgate, to open or close the tailgate, a first on the trucks.It is a completely new truck. The previous truck change was in 2014 with an update in 2016.
There are many models from basic to High Country with new models in between such as the RST, a sporty truck, the Trail Boss which for the first time has a factory lift in it and a very aggressive look.
" This is truck country and the biggest seller for us,"said Nat Kerber, Sales Consultant Badanai Chevrolet Cadillac. " We have a good selection of 2019's with good leasing back and good residuals. They drive and ride better than our last truck which was a great truck. There was more testing done on the new 2019 Silverado than ever before."