HALF MOON BAY IS A BEAUTIFUL SETTING

by Scott A. Sumner
NW Ontario Golfing News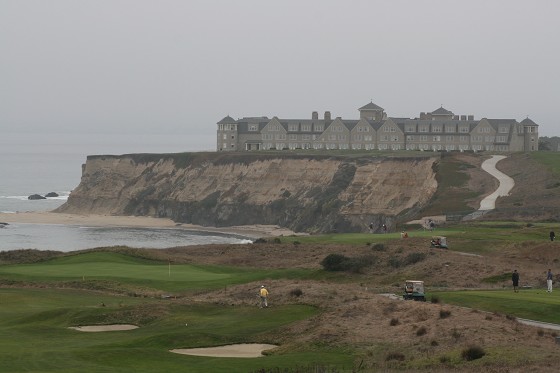 When you travel to San Francisco, you are only a 1 hour drive from one of the most beautiful areas you will ever find, Half Moon Bay. This area is is right on the Pacific ocean and offers so many activites in the spectacular outdoors. In my case I was looking forward to playing the Half Moon Bay Gof Links- The Ocean course.
If you want a pace to stay that is both relaxing and cost effective be sure to try the Half Moon Bay Lodge. This hotel has guest rooms with golf course views or garden views of the Old Course of Half Moon Bay Golf Links. Minako Maki is the Conference Manger of Half Moon Bay
Lodge, a great place for escape, a getaway. " The people come here from San Francisco and far away to escape the heat. Our rates are weekday $135 and weekend $199. We have a golf package which is a really nice package where we even add the golf ball.!"
Nick Colvin is an Assistant Golf Professional at the 36 hole Half Moon Bay Golf Links, Arnold Palmer deigned the Old course and Arthur Hills the Ocean Course which opened in 1997. " The Ocean course is windier and has spectacular views of the ocean with especially the closing holes which are on the cliff and allow you to see the waves, some 50 yards away. We are busy every day. The weather is consistent in he 50 to 70 degree range and we golf year round," said Nick Colvin. " The course green fees are week days $160 plus tax and weekends $185. Some people stay in the Ritz Carlton and come from everywhere. I like the Old Course the best as it is harder." The Ocean course is easier to score according to Colvin. Both courses do about 70,000 rounds per year with a 60 40 split on the Ocean.