GRAND COUNTY COLORADO OFFERS GREAT SNOWMOBILING ADVENTURES
by Scott A. Sumner
As an avid snowmobiler there have been some must destinations I have always wanted to visit. High on my bucket list was Colorado and in early March of this year I had the opportunity to fulfill my dream and visit Grand County, Colorado to experience first hand some spectacular snowmobiling.
My trip began with a quick flight to Toronto and connection to Denver arriving at 11 am. This is a pretty good connection from the east. The busy Denver Airport is one of the biggest in the US with over 50 million passengers per year and was fun to see in full action mode. After picking up my rental car I was on the road to Grand County. At the beginning you saw little snow and a large urban environment, but soon you start to climb in elevation and when you hit the Pass the snow is very evident. The roads are excellent and with 4 lanes going up the Pass it felt very safe.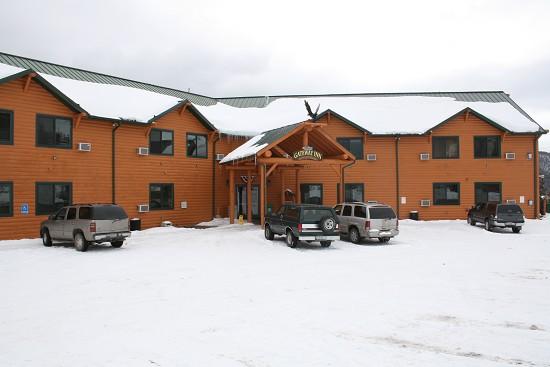 In about 2 hours I arrived at my place to stay in Grand Lake, the Gateway Inn. This very snowmobile friendly hotel offered a great stay with your room including a fireplace and western motive. Outside was a hot tub and the lobby area included a large bar where snowmobilers were discussing their day's rides.
It was fun to have lunch at nearby Sloopy's that is right on the trail and has a great fast food offering. The owners of this restaurant are very friendly and I enjoyed talking about the area with them.
My first day in Grand Lake began with some ice fishing on Grand Lake. This weekend the Grand Lake Ice Fishing contest was underway where anglers were participating in catch and release contests in different fish categories. It was fun to experience and see the area, which is home to such celebrities as Tim Allen and the founders of Hallmark cards. It was great touring around the lake by snowmobile and seeing the excited anglers.
That afternoon would be my first trail ride snowmobile experience. The day was brilliant sunshine, which meant we would be seeing some great views. Grand Adventures is a snowmobile rental company that offers four locations in the area and have over 200 sleds available. They carry all 4 brands in different types of models for trail riding, 2 up and off trail machines.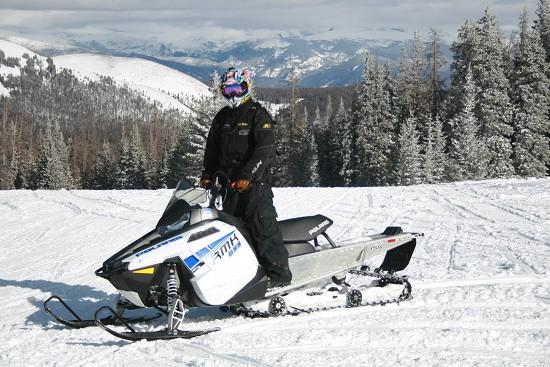 Lance Ward is the Head guide and Trail Manager on the Winter Park side of Grand Adventures. He grew up in Los Angeles and has spent the last five winters in Colorado." I love snowmobiling, the outdoors and the mountains. In the summer I ride dirt bikes- anything with handlebars and a motor is very cool," said Lance who would be my guide this afternoon.
Our ride began on the Grand Lake snowmobile trail system and went all the way out to Gravel Mountain. " This is the Mecca and snowmobile capital of Colorado. This trail system is bigger than any other trail system in the state and has the most varied trails. Where we rode today is just a small fraction of where you can ride here," said Lance. " We started at 8300 feet and climbed up to over 11,000 feet in a few miles. There are some areas that go to 12,000 feet here."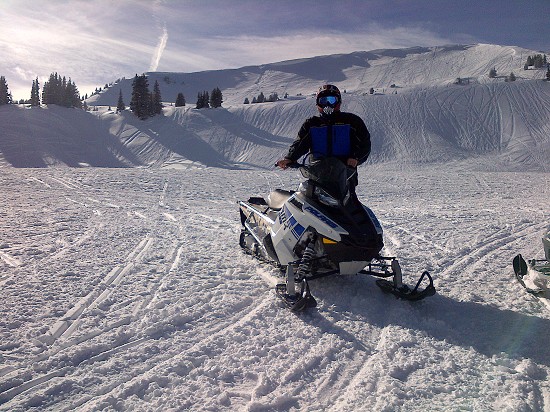 The snow conditions were great and got even better as you climbed the trail. We were able to see views throughout the county including the Mary Jane Ski area and the Continental Divide and Rocky Mountain National Park.
" We offer guides here to show you the area and to help you with your ride. There is every different type of terrain with meadows, powder and single tails as well as hill climbing. Some of the ISOC snocross teams come here before the X Games to get acclimated to the elevation and experience the snow conditions that are quite different from other areas of the US, say farther west. Our big hills are south facing rather than north facing which makes for less Avalanche issues. Avalanches do happen but may get triggered higher up."
Grand County includes the towns of Kremmling, Hot Sulphur Springs, Granby, Grand Lake, Winter Park and Frasier. The county is about the geographic size of the state of Delaware. Grand County from Winter Park is located about 90 miles from Denver or about a 1/1/2 hour drive.
" Snowmobiling is very popular because of the snow conditions and the towns are very snowmobile friendly. We also have Winter Park ski area, which is the fourth largest in Colorado as well as Granby Ranch Ski area. Grand Lake is the largest natural lake in Colorado and borders the Rocky Mountain National Park. It is resort town with interesting restaurants and shops," said Gaylene Ore of Ore Communications. " I like the outdoors with hiking, biking and fishing in the summer and snowshoeing, skiing and snowmobiling in the winter. There is so much to do. In the summer golfing is also bigwith 4 courses in the area. There are Dude Ranches as well with horseback riding. Fly-fishing is really great here because we are at the headwaters for the Colorado River starting in Grand Lake. We get people from all over the world including Colorado, Texas and Canada as well as England and Germany."
It was fun to have breakfast brunch at Fat Cats in Grand Lake. Owner Sally who is from England puts on a great spread complete with fancy pastry deserts and tea!
The next day of riding was near Granby at the Vagabond Ranch. Our trip began with being picked up at the highway entrance and snowmobiling in with a sleigh some 4 miles. Vagabond is a very unique backcountry setting that is off the electricity grid but offers luxury cabin lodging which can sleep up to 16 in one cabin. You can experience telemark skiing and snow boarding as well as snowmobiling. My guide today would be Jeremy who is an owner of Vagabond and offers brand new Ski Doo Summit 800 sleds that can handle any terrain. It was fun to experience some of the high elevation rising with Jeremy in this pristine setting.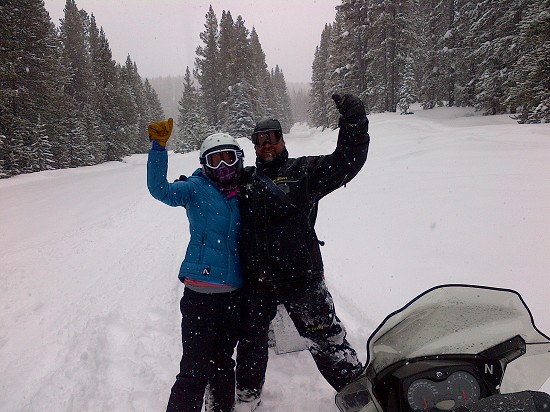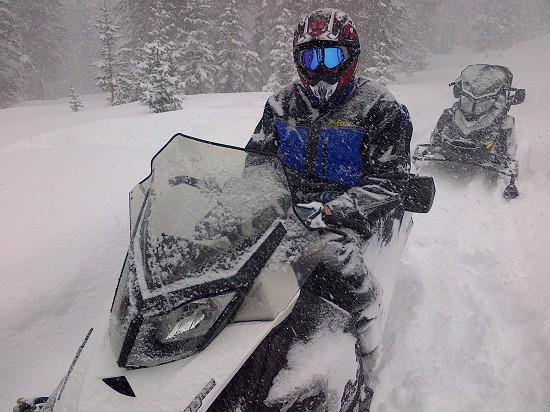 My third day of riding began with a fresh dump of 6 to 12 inches of snow and a trip to the Grand Adventures location at the Winter Park Lodge Ski Area. The riding would turn out to be my best of the season with guide Snowmobile Steve and Marketing Manger of Grand Adventures, Meg Mizell. Our ride began up the trail with fresh powder and included stops at elevation to see an historic tressel and spectacular views of the Mary Jane Ski are. The sun broke through, just for us it seemed. We carried on up to a great bowl area to play in the powder when the snow came back in and created almost a white out condition. As a snowmobiler this was fun for me and reminded me of earlier years in the east when snow seemed to be more prevalent.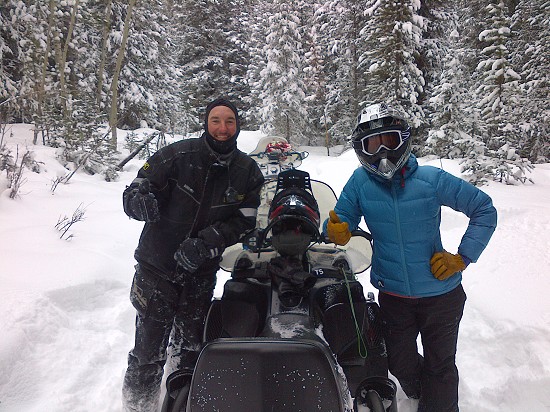 That afternoon it was time for my final riding experience withTrailblazer Tours in Fraser. This experience began in their historic cabin with wood stoves burning and included some great single-track trails. My guide was Josh and we rode with Meg again in some fresh powder though very beautiful terrain. Josh and his coworker, Mouse take great pride in their trail system here. Mouse makes sure the trails are well groomed and marked and you can really see the effort they take in their jobs.
For me it was fun to experience Colorado snowmobiling. I especially liked being with avid snowmobile enthusiasts and feeling their passion for the sport. I hope to come back to this area again and it is definitely one of the best snowmobiling I have everexperienced.
Special thanks to Gaylene, Jim, Meg, Lance, Jeremy, Snowmobile Steve, Josh and Mouse for their help on this trip!
http://www.grandadventures.com
http://www.grandadventures.com/index.php/snowmobiling/fraser-valley