Good Season For Tim Tremblay!
by Scott A. Sumner
Tim Tremblay races for Scheuring Speedsports on Ski Doo and is from Drummondville, Quebec, Canada located 1 hour from Valcourt. He finished second in the ISOC Pro Open points last season.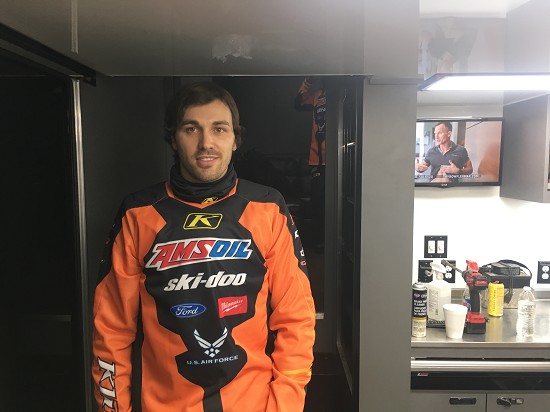 " Last year started really well. I won the Dominator again and my first National of the season. Over Christmas I got hurt pretty bad practicing with a bad crash. I didn't think I would make it for the
rest of the season but worked through it being injured until the last round, but was still able to get second in the championship,"said Tim. " This year I want to stay healthy and not do that mistake again."
The Ski Doo sleds are pretty good this year according to Tremblay, a little bit different than last year, a few things with the same motor but they are trying to make it better.

In the summertime Tim races 450 motocross including 1 AMA National and Regional and Canadian races for a total of 18 races.

The past season and again this year Tim will have Blair Morgan as a coach.

" Blair is helping me himself and with his old trainer. We are working together now ,talking to me to make sure I am ready including with the spirit, the mental part of it and some race lines. He had a such a good career and was such a smart rider so it is amazing to get some help from him."

Tim Tremblay moves back and forth from Aurora,MN the team headquarters, to his house in Quebec because he has kids at home and doesn't want to stay away from them too long. He flys back and forth.

" I just turned 30 and my fitness is the best ever. I feel really good. Your fitness program gets better every year, the only thing is when you get older your recovery time if injured gets longer with more time needed. I do feel like a young guy," smiles Tim. " I want to win everytime you go out. Tucker is tough competition but it would be nice to get a Championship again. Our team is the best Ski Doo team for sure and one of the best teams on the circuit. Everyone works hard and it should be good this year."