Flights bring more connectivity to nation's capital
by Scott A. Sumner
Porter Airlines launched three new routes between Ottawa International Airport and Boston, New York-Newark and Thunder Bay , providing convenient travel links for the region.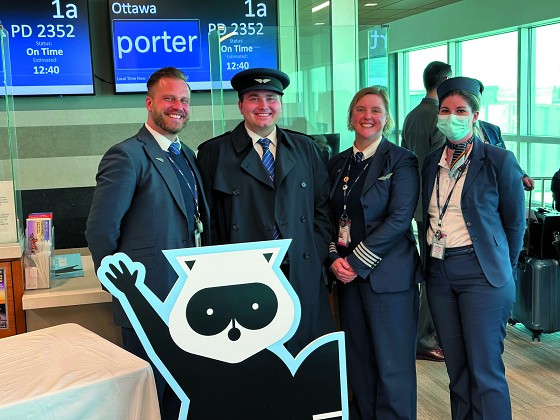 The new routes are part of Porter's broader expansion plan in Ottawa and its commitment to the region, including new maintenance hangars that are currently under construction at YOW. These will serve as a primary maintenance facility for the airline's new E195-E2 fleet.Porter is the only airline providing year-round daily direct flights to Boston and Thunder Bay from Ottawa.The new daily non-stop routes are served by 78-seat De Havilland Dash 8-400 aircraft. Passengers are able to experience Porter's genuine hospitality and elevated onboard service, including premium snacks, and free beer and wine served in glassware for all passengers.A number of one-stop connecting routes are also created with the introduction of these flights. Porter currently operates eight non-stop routes from Ottawa International Airport, with Charlottetown scheduled to become the ninth on May 17.
Detailed schedules can be found on www.flyporter.com.
Quotes"This builds on our already extensive network in Eastern Canada and substantially increases the number of destinations served directly from Ottawa. Porter connects passengers coast-to-coast, with the level of service and generosity that economy travellers deserve."• Kevin Jackson, executive vice president and chief commercial officer, Porter Airlines"
Porter Airlines continues to impress us with their commitment to Ottawa-Gatineau. No only was YOW Porter's first turboprop destination back in 2006, in February we were also first to host Porter's inaugural commercial jet service. As Porter's YOW-based hangar construction is well underway, this new air service is yet another step forward as Porter airlines embraces the National Capital Region's potential."• Mark Laroche, president and CEO, Ottawa International Airport Authority"
Thunder Bay Airport is thrilled to see Porter is again confirming its confidence in our market, this time by adding a new destination. It has been almost 20 years since direct, non-stop service to Ottawa has been offered. We are sure that Ottawa and Porter will be a winning combination."• Ed Schmidtke, president and CEO, Thunder Bay International Airports Authority"
Brad Cicero, Director Communications & Public Affairs Porter Airlines
" It is always exciting when you can launch a new route. Thunder Bay has been a great market for Porter for many years, since 2009. All of the service has been to Billy Bishop Toronto City Airport which has always been popular.We currently have 5 round trips per day on that route. Ottawa is in addition to that with 2 flights per day."
" Ottawa has been our most popular connecting market that we go through Thunder Bay and Toronto, so having a couple of options a day that are non stop will be good for many people. They can also make it work with a connecting flight through Billy Bishop as well. The plane on the Ottawa route will be the Q 400."
" We have firm orders for 50 Embraer jets and options for 50 more. Early this year we got the first group of those and are using them on a number of domestic routes including Calgary, Edmonton and Vancouver as well as a few eastern markets. As we get more we will expand throughout North America. It is a big step for the airline and those planes are going to be an important part of our future. We have 8 Embraers now and expect 25 to 30 by the end of this year and 50 by early 2025.We currently have 29 Q 400's. There is a lot of excitement in the whole company."
"We have no plans to fly the Embraer out of Thunder bay yet but once we have 100 of them we will be considering many routes. The capacity of the aircraft with 78 on the Q 400 and 132 on the Embraer is relevant as well to take into consideration. Thunder Bay has always received Porter well, value it's air service and always been one of our busiest routes."
Porter has 2500 employees having hired about 1000 over the last year. Every week there are more people coming and by the end of 2024 they expect to be in the range of 4500 employees with the new aircraft.