First COVID-19 vaccine administered in Northwestern Ontario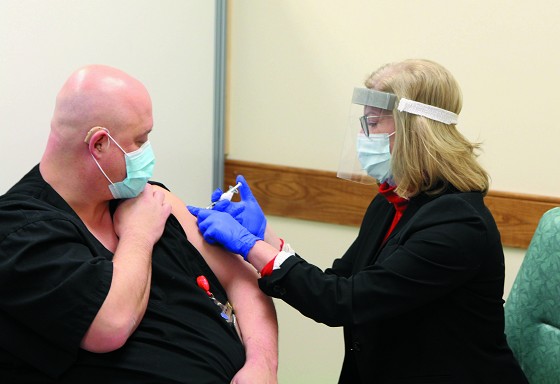 (Thunder Bay, ON – December 22 2020) Today, Northwestern Ontario's first COVID-19 vaccines were administered at Thunder Bay Regional Health Sciences Centre. The first person to receive the vaccine in Thunder Bay is Sean Bolton, a dedicated Personal Support Worker at Hogarth Riverview Manor.
"This is a historic milestone and a turning point in the COVID-19 pandemic. Today I reflect on the extraordinary contributions that brought us to this moment. I am beyond grateful to health care workers – both on the front lines and behind the scenes – health system partners, scientists and political leaders for their unprecedented sacrifices, expertise and commitment. In addition to administering vaccines for Long Term Care staff, our Hospital will play an important role in preparing for the next phase, which means ensuring those who will deliver the next vaccine to remote communities are themselves vaccinated when the time comes. Planning for the next phase is still underway as the process and logistics are complex. We will share more information as it becomes available," said Dr. Rhonda Crocker Ellacott, President & CEO of Thunder Bay Regional Health Sciences Centre and CEO of the Thunder Bay Regional Health Research Institute.
Thunder Bay Regional Health Sciences Centre (TBRHSC) has been designated to administer the Pfizer vaccine. Since there will be limited doses available at first, the province is rolling out the vaccine in a phased approach with a focus on the most vulnerable populations first.
For this phase, TBRHSC is working in partnership with the Thunder Bay District Health Unit (TBDHU). "With the arrival of the vaccine, we are entering a new phase in our battle against this novel coronavirus," said Dr. Janet DeMille, Medical Officer of Health, TBDHU. "While the vaccine is a reason to be hopeful, it will take time to roll-out. It is very important to continue with public health measures such as physical distancing, wearing a mask, and staying home if you are sick."
COVID-19 has had a disproportionate effect on people working in long term care homes and their residents, and it is understood that staff are at higher risk due to the nature of their work. That is why this phase will focus on direct patient care staff from long term care homes throughout Thunder Bay.
"We are very pleased to have our frontline Long-Term Care staff prioritized to receive the first doses of COVID-19 vaccine in our community. The vaccination brings an added level of protection in our ongoing efforts to stop the virus from entering our long-term care homes," said Tracy Buckler, President & CEO of St. Joseph's Care Group. "This is the beginning of a new era as we work collectively to bring the pandemic to an end."
TBRHSC and TBDHU are working with partners in long term care to identify and schedule those who are eligible to receive the vaccine. First doses of the Pfizer vaccine will be administered over the course of the next few weeks. Those who receive the vaccine will return for a second dose after 21 days. For security purposes, details regarding the amount of doses received and storage location cannot be provided.
For more information about the COVID-19 vaccine, how it works, and how it's being rolled-out, please visit https://www.tbdhu.com/covidvaccines and https://covid-19.ontario.ca/covid-19-vaccines-ontario#about-covid-19-vaccines.
Photo caption: Sean Bolton, a dedicated Personal Support Worker at Hogarth Riverview Manor in Thunder Bay, was the first person to receive the COVID-9 vaccine in Thunder Bay. The vaccine was administered by Jackie Park, Manager of Pandemic Community Collaboration, Screening & Assessment at Thunder Bay Regional Health Sciences Centre.