EXCITING FREESTYLE SNOWMOBILE SHOW AT THE FORT WILLIAM HISTORICAL PARK: WILLIE ELAM AND SAM ROGERS
By Scott A. Sumner
A beautiful sunny day on the Kam River adjacent to the Fort William Historical Park in Thunder Bay was ideal for an extreme freestyle snowmobile show. Veteran riders Willie Elam and Sam Rogers put on a great show after some initial problems with the jump set up. Elam's brother-in- law, Drew Latimer suffered a knee injury during a practice jump and wasn't able to continue.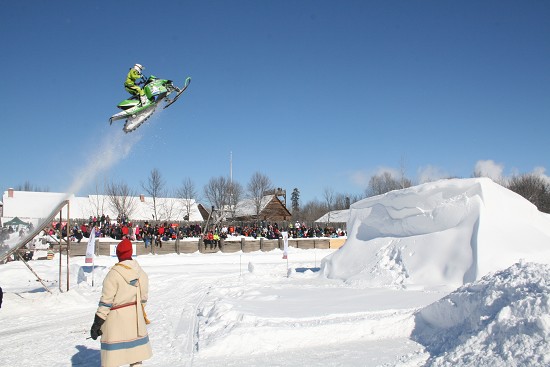 " I have raced the national snocross series for 5 years starting when I was 13 and am 27 now. Teams I was on were Blair Morgan Racing, Warnert Racing, a Polaris team from the Western US and Scheuring Speed sports," said Willie Elam.
Elam made the switch from traditional snocross racing to freestyle after some summer snowmobile riding one year. " We have set ups at home where you can ride in the summer and I thought it would be good to ride snowmobiles in the summer to keep on it. I started riding the ramp with Heath Frisby and then just started doing shows. We use foam pits to practice and jump into," smiled Elam.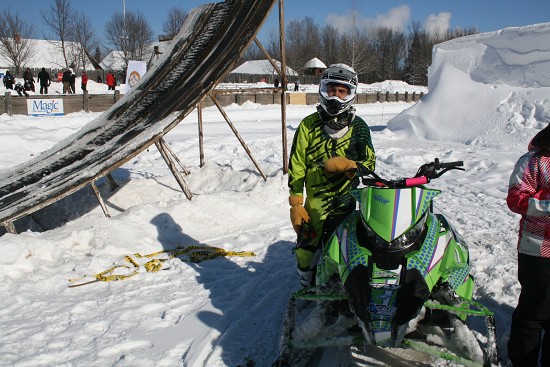 This year Elam raced two events at the Winter X Games including snocross. In freestyle he got 7th which was a good result. The team drove 26 hours to get to Thunder Bay from Idaho to do their freestyle show.
"It is a pretty cool set up here, sweet. We have never done this before on a river. There is a good crowd out. The ramp was set up for us with a team out of Southern Ontario." said Willie Elam. " There is slush coming through at the landing area and a big hole on the landing which makes it hard. Drew hurt his knee. Its is pretty scary doing the jumps. You have to practice all the time. We wear Leat Brace and chest protectors. The landings are usually steeper and this is flatter."
Willie Elam has had his fair share of injuries over the years including breaking his right leg three times, his pelvic, collar bone and so on but the injuries doesn't stop him. Elam grew up riding snowmobiles in the mountains and is from Twin Falls Idaho.
Sam Rogers from Bozeman Montana has been snowmobiling since he was a baby when his parents took him out in a backpack. As soon as he could walk Sam was riding a Kitty Cat.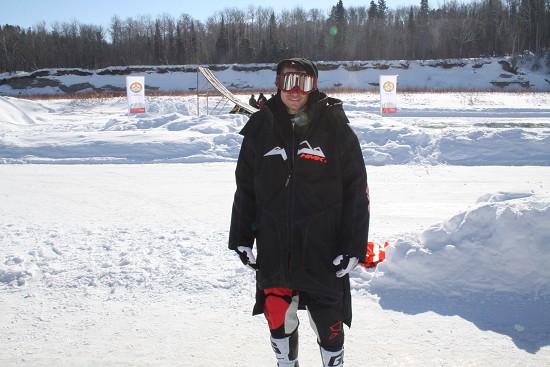 " I grew up in a place called Cook City, Montana which is a pretty popular snowmobile place. My Dad started the largest west snocross circuit called Rocky Mountain and I actually met Willy then. At 14 or 15 I wasn't getting the financial support I needed and it costs a lot of money to race so I ended up getting freestyle ramps and excelled there," said Sam Rogers. " My first X Games was at age 17 or 18 and I got a silver medal. We learned the back flip when I was 16 and was one of the first 5 people to do it. This year I got 5th at the X Games after I crashed during the second run. I got to hang out with my buddy Colton Moore that was great. I first met Caleb and Colton Moore and helped get them into snowmobiles." (Caleb Moore died at the 2013 Winter X Games during a Freestyle Style competition)
It is an interesting life for Sam Rogers who will go to France next weekend for two weeks and perform up in the Alps similar to this show.
" It is then back to Montana, Sweden and kind of all over the place. Former X Games Gold Medal winner Daniel Bodin is going to provide sleds for us.
In the Alps they don't allow snowmobiles on the mountain so will be interesting to be there," said Sam Rogers.
This is the first year in a while that Rogers has been pretty healthy. Last year he damaged his right ACL, the year before tore both rotator cuffs in his shoulders, which required surgery. The year before that he tore his left ACL and right rotator cuff. He has also broken his neck, back and all his teeth are fake.
" I love the sport and it is all I have ever known. I have a deep passion for it and am not going to quit until I have to. It is a dangerous sport.," said Sam Rogers.
If Sam is healthy he likes to ride dirt bikes and when has the time likes to ride snowmobiles in his hometown, Cook City, Montana.