Electric Vehicle Owners Enjoy Driving Electric!
by Scott A. Sumner
I talked to three electric vehicle owners at the Electric Vehicle Show September 24th at the CLE Coliseum building.This show was organized by the City of Thunder Bay, Electric Vehicle Association of Northern Ontario and Earth Care Thunder Bay.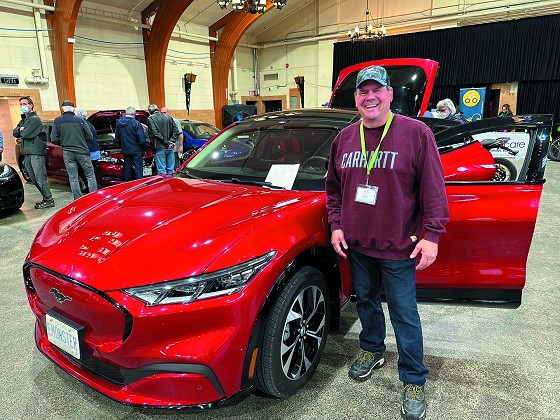 Jim Moffat from Manitouwadge is self employed operating a snow removal business, convenience store and does property management. He owns a 2021 Mach E extended range Mustang fully electric.
" We have had the car for 1 1/2 years now and it has gone excellent. We drive it all year round with all wheel drive and studded tires- it is a everyday driver."
" It charges with a 220 amp plug- equivalent to a stove plug. It takes 7 to 8 hours to charge which lasts us 3 weeks in the summer around town for the highest range of 440 Km for 100% charge. Winter time you are going to lose up to 40% of your battery capacity because of the cold. When you run the heaters, etc in the winter it takes more energy- just like a gas or diesel truck in the winter you are gonna burn more."
"The car is amazingly quick-I say it goes like a scared rabbit! 0 to 60MPH in 5 seconds and this is the regular version with two motors. The >whole undercarriage is a battery which has a 7 year warranty."
"We liked the car because it was more comfortable to get in and out of than my previous gas Mustang. It is all wheel drive so you can drive it all year. Once we got it we just love it. It is much cheaper to run. My purchase price was $72,000 last year. It is silent power and you only hear your air conditioning run."
Paul Berger is a LU Professor and Climate Change Advocate in Thunder Bay. He owns a 2022 Hyundai Kona fully electric purchased a few months in June with it now having 5000 km.
" I'm not someone who follow cars a lot or cares too much about them- it is something to get me somewhere. I absolutely love being able to look up at the price of gas and not stop. More than that I like not putting carbon dioxide into the atmosphere. That is really why we bought the car, being part of the great transition now to cleaner way of doing things."
" I teach climate change in the Faculty of Education at LU and am quite terrified in what we are doing to our planet. It is like we are on a suicide mission because we aren't tackling climate change like we need to. I would like to have fantastic public transit and have less people feeling they need cars but for me being to drive on electric is really quite amazing."
" The car range is over 400 km and charging at night costs under 15 cent a kilowatt to charge, so really cheap. The whole range of 400 km would cost something like $9-10 dollars about 25% of gas cost. The vehicle is more expensive with capital cost after rebates and with taxes at $48,000 to buy, about $15,000 more than a gas version. All the reports say over the life of the car it is cheaper to own the electric version with no oil changes etc."" I am trying to raise awareness on climate change to act more strongly to a quieter and cleaner future. People should feel safe biking here as well. Solar, wind and battery technology is coming along so quickly. We need to get going on change - change is hard for us.We don't want Canada to be left behind on climate change."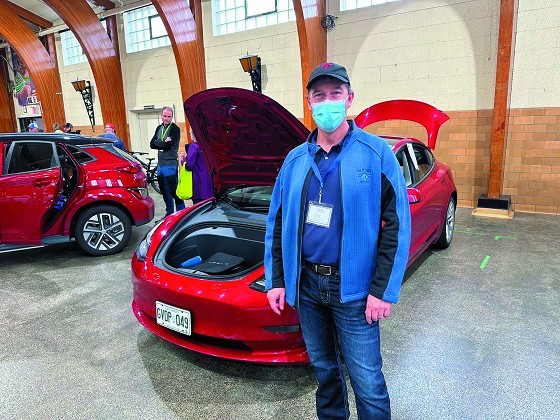 Eric Tribe is a Tesla owner and started the Facebook group Thunder Bay Tesla owners with 40 members.
" I have been driving a Tesla for about 6 years in Thunder Bay.This is my second one. In the cold winter you lose some battery power as the car is actually using the batteries to keep the batteries warm.The rule I use is when it is minus 30 you lose 30%. This car has a 570 Km range in the summer and 400 km in the winter. It charges off peak automatically. I have a stove type outlet in my garage which is 240 volt 40 amp and it charges 40 to 50km a hour."
" This is the standard performance factory Tesla model that does 0 to 60 in 4.2 seconds, which is pretty quick. The handling is great because it is a pretty heavy car but the weight is all low in the vehicle. The battery is under warranty for 8 years so that doesn't worry me. The battery life is related to the charge cycles. If you bring it all the way down and recharge everyday that is hard on the batteries. That 8 years is based on that use pattern so I expect to get longer on these batteries. I won't own the car that long in any case."
" The car is really a computer with 4 wheels. I set the charge to be about 70% and that extends the battery life. The lithium battery has really improved. The reason I got the Tesla at the beginning was the cool factor but the second one was the features like instant heat in the winter, no waiting for an engine to warm up,the handling and it is good for the environment.You just go on line choose it, configure it and pay for it. They take a deposit and then you pay when it comes in."