Boobie Candles Spark Awareness: New Mom Diagnosed with Breast Cancer has Important Message to Share with Young Women
Last year, Kailey Elvish was happily living her life as a newly wed with a baby on the way, then her world turned upside down. At only 33 years old, and in the third trimester of her pregnancy she discovered a lump in her breast.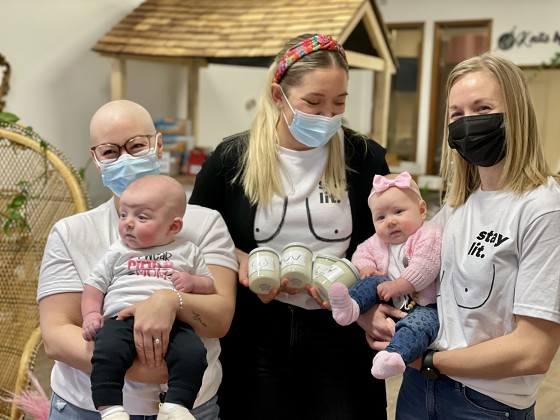 "I figured it was related to my pregnancy but as time moved on, I knew something wasn't right," says Elvish.
Elvish soon found herself sitting in the Linda Buchan Centre taking on several tests to investigate exactly what was going on. Her son Griffin was born in November of 2021 and on December 27th she was diagnosed with Triple Positive Breast Cancer. "It was a lot at once. I was the mom of a newborn, and then the cancer."
Since her diagnosis Elvish has been encouraging young women to check their breasts regularly and to take action if they sense something isn't right with their body. "I was always under the impression I was too young for this, but in reality cancer doesn't care how old you are. It affects younger people too," Elvish continues. "None of my family has had breast cancer. I'm healthy, so this was something we never expected. There is definitely a need to break the stigma that breast cancer is an older person's disease."
Although she would describe herself as a private individual, Elvish knew she had to duty to tell her story and started sharing her cancer journey on social media. "Even if I could just help one person, it would be worth it. Early detection means early prevention."
Elvish was completely overwhelmed by the amount of messages she has received from younger local women with similar stories, along with the outpour of community support which included a customized candle created by Waxxed Candle Co.
Today Elvish helped the local candle boutique present a $4,000 cheque to the Northern Cancer Fund. Waxxed Candle Co. created pink champagne scented Boobie Candles for Kailey with a goal to help raise awareness and funds. Owner and candlemaker Kate Strange explains the cause hit close to home.
"Boobs, breasts, boobies, hooters, knockers, melons…what ever you call them, we want you to check them. I have family that have had mastectomies and had a recent scare myself. This was an opportunity to produce something that supports others and shed light on a young woman's cancer journey," says Strange. "Waxxed sold 200 Boobie Candles in a week!"
Strange describes the Boobie Candle as an 'in your face approach'. "The candle labels all feature different types of drawn breasts, including the option to sketch your own. We want to make this a comfortable subject for young women to discuss and this is a way to connect. People really care about this stuff, but a lot of the time we're afraid to talk about it."
Elvish goes for her fourth round of chemotherapy on March 15th and will have surgery later in the spring. She remains motivated by her four-month old son. "This is a part of Griffin's story too— and one day I'll tell him all about it. He helped me find the cancer and continues to help me fight through it."
"I hope the candles and my story will encourage other women to get screened for breast cancer, learn how to do proper self-exams at home and also let those who have been diagnosed know that they aren't alone in the fight."