Bob Watts, Vice President of Indigenous Relations at NWMO speaks on reconciliation
by Scott A. Sumner
Bob Watts, Vice President of Indigenous Relations at NWMO was in Thunder Bay to be keynote speaker at the Thunder Bay Chamber of Commerce's "Aboriginal Partnership Exchange" (APEX) Speaker's Series.
I asked him some questions just before his remarks began.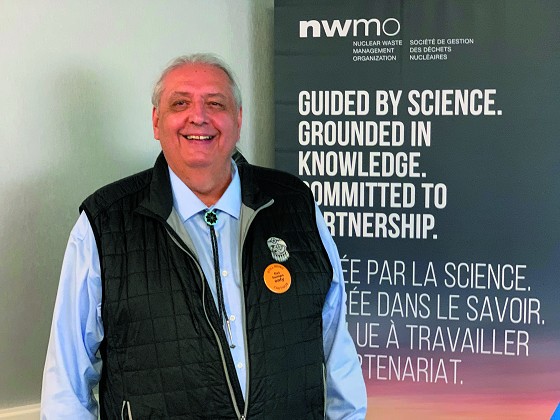 How are things going with reconciliation in Canada?
" I wish some things were happening at a faster phase but generally things are going well. I think corporate Canada has a huge opportunity to play a role in advancing reconciliation and will have a hard time advancing their own work if they are not serious about reconciliation with indigenous people."
"We see some changes in government with investment in education which has been strong in recent years. You see signs of progress. Looking back at Covid we have done extraordinary things we thought we could never do and it makes me think why can't we do this well on some of these pressing indigenous issues."
" I have seen a lot of change in my lifetime- sometimes leaps and bounds progress and sometimes so slow it can make you cry."
How does a nuclear organization and reconciliation work together?
" Early on the NWMO reached out to indigenous people in the first year and have continued. We have a council of elders that help guide the work we are doing from an Indigenous knowledge, values and principals perspective which has been tremendously valuable in our work. We take pretty strong pride in how we work with indigenous communities and communities more generally.We say no community should be no worse off for having worked with us, so we make sure they have the capacity to work with us and to make decisions moving forward to participate with our work."
How is it working with the NWMO organization?
" The organization is a little bit different that your typical nuclear organization.We educate all of our staff on reconciliation and assess all of our policies. Some people look at us and say we are a bit of a role model in some areas. I know we can do better but we are pushing to do even more."
" It has been a good experience for me coming from working in the indigenous world to a corporation, a nuclear one, but it has been really good."
Bob Watts Background
Bob Watts is a much sought after expert in Indigenous policy, negotiations, training and conflict resolution.
He is the former Interim Executive Director of the Canada's Truth and Reconciliation Commission, which examined and made recommendations regarding the Indian Residential School era and its legacy. Bob led the process, supported by an excellent team and many organizations from across Canada and internationally, to create the policies and processes in order to firmly establish the Commission.
Bob also served as the Chief of Staff to the National Chief of the Assembly of First Nations Phil Fontaine, where he was a member of the team that negotiated the Indian Residential Schools Settlement Agreement, the largest class action settlement in Canada's history.
His public service includes Assistant Deputy Minister for the Government of Canada and Senior Executive in Ontario. Bob is a graduate of the John F. Kennedy School of Government, Harvard University and >Fellow at the Harvard Law School where he researched and lectured on
the role culture plays in conflict. Bob has had the benefit of excellent Indigenous mentorship and western learning which allows him to work well in both worlds. Some of his Indigenous learning has focused on medicine plants, traditional songs, traditional environmental knowledge and leadership. Bob has led the negotiations of co-management agreements, helped build strong corporate partnerships and has lead processes focused on strategic plans and community development.
In 2019 Bob served as Chief of Staff to National Chief Perry Bellegarde and played a key role in historic budget allocations and the passage of Bills C-91 and 92.
Currently, Bob is the Vice President of Indigenous Relations at the NWMO and an Adjunct Professor and Distinguished Fellow at Queen's University, Kingston Ontario where he developed one the first graduate level courses on Reconciliation in the country.
Bob is a Board Member with the Consensus Building Institute, Cambridge MA and with the Indigenous Advanced Education and Skills Council. He is also the Chair of the Downie-Wenjack Fund and Chair of Reconciliation Canada. Bob is a recipient of the Inspire Award for Public Service and recently received an Honorary Doctorate of Laws from McMaster University. He has taught, debated and lectured at a number of universities in Canada and the United States.
He is from the Mohawk and Ojibway Nations and resides at Six Nations Reserve, Ontario.