BEN GRIFFIN WINS STAAL FOUNDATION OPEN IN SIXTH PROFESSIONAL START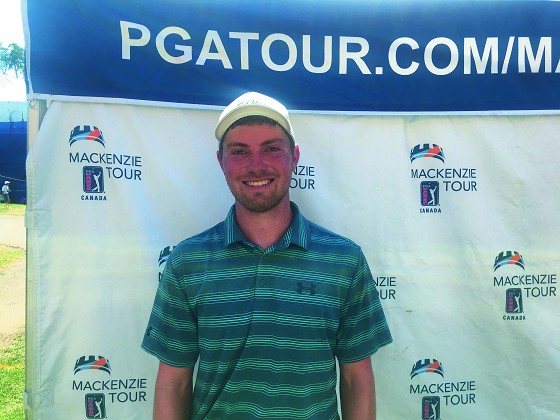 Teeing it up for the sixth time in his professional career, recent North Carolina Tar Heel graduate Ben Griffin birdied his last three holes in a row to win his first Mackenzie Tour tournament at the Staal Foundation Open presented by TBayTel.
"It feels incredible," said Griffin, who moves up to the third spot in the Order of Merit with the win. "In only six weeks, too, I didn't expect it to come this soon, but I'm beyond thrilled at such a great venue."
After a casual front side, Griffin made three birdies in a row from 10-12 to put his name at the top of the leaderboard, a spot he and Riley Wheeldon battled for on the homestretch.
"I didn't do anything special on the front nine. I was two-under after eight and had about 60 feet on nine for birdie. I left it 10-feet short and made that," said the Chapel Hill, NC native. "That was a momentum putt; I went into the back nine feeling confident with the putter."
Wheeldon put himself in position after four birdies in a row from holes 2-5. More circles on 12, 14, 16 and 18 gave him a brief one-stroke advantage at the top of the leaderboard.
The lead was short lived, as one group back was Griffin, who quickly made birdie on 17 to equal the Canadian.
"Down the stretch, I definitely felt some pressure. That tee shot on 18, I knew if I put that one in the fairway I'd be in a good position to make birdie," said Griffin. "After I hit that one good I let out some excitement under my breath, but if you're not nervous there's something wrong."
Griffin's blast on the 18th tee put him in position A to make birdie and claim the tournament. However, the 22-year-old pushed his second shot near the grandstand right of the green, leaving himself a tricky chip to a back pin.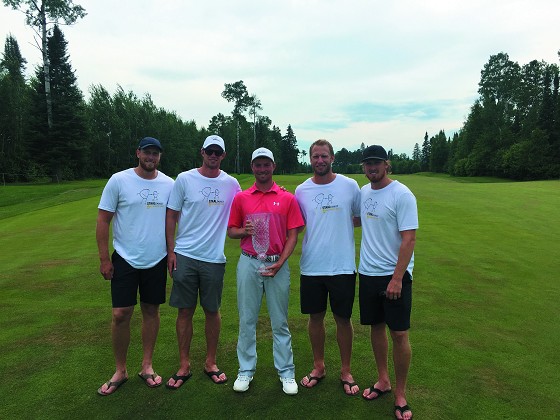 Griffin showed off his finesse on the following shot, delicately placing the ball within five feet of the pin – a spot he would soon-after tap in from to join PGA TOUR player JJ Spaun as a winner in Thunder Bay.
"This Tour is the gateway to get to the PGA TOUR," said the 22-year-old. "After this win, I think it puts me in a good position to get on the Web.com Tour next year, so the win isn't so much about the money as it is about my playing status. I'm really blessed to have won and I'm ready for the future"
With the second-place finish, Riley Wheeldon collects his second Freedom 55 Financial Canadian Player of the Week award of the season, and the $2,500 that goes with it. The solo-second finish is Wheeldon's best showing on the Mackenzie Tour since he joined the winner's circle in 2013. The final round 64 also matches his lowest career round on Tour.
A Father's Welcome
Sitting at 2-under on the day through the first nine, Griffin trailed Wheeldon on the 10th hole when he heard a familiar voice outside the ropes.
Griffin's father, Cowan, flew from North Carolina to Minneapolis, rented a car, and made the 8-hour drive to Whitewater Golf Club to watch his son in contention.
"I turned to the left and saw him," said Griffin. "That was a lot of emotions, but it's cool having him here to celebrate with me.
"He drove 8 hours to get here, which is… like… I can't believe he did it, I love it."
Key Information
Ben Griffin is the youngest winner on Tour this season at 22 years, 2 months and 9 days old.
Griffin's 64 is the second lowest score of the year for him. Earlier this season, at the Freedom 55 Financial Open, Griffin shot a final-round 63 to place 4th

in his first Mackenzie Tour event.
Recent Alabama graduate Lee Hodges moves all the way from 50th

to 16th

spot on the Order of Merit with a third-place finish. Hodges made eight birdies on the day, and three in a row to close out the tournament on his way to a 65.
Coming into the week as the 12th

ranked player on the Order of Merit, Andrew Dorn shot a final round 63, his best career round on the Mackenzie Tour. Dorn finished the tournament with a four-day total of 17-under, jumping 25 spots up the leaderboard to place T6.
Cole Miller, who recently competed in the U.S. Open, made three eagles this week and closed the tournament with two-consecutive birdies to draw into a tie for fourth at 19-under.
Greyson Sigg continues his successful 2018 Mackenzie Tour campaign with a T15 finish in Thunder Bay. Heading to the 13th

hole even par on the day, Sigg made five birdies in a row to shoot a final-round 67.
30s were wild on the back nine on Sunday. Ben Griffin, Danny Walker, Alex Chiarella and Andrew Dorn all fired that number to close out the week.
The top-3 players after next week's Osprey Valley Open will receive an exemption into the RBC Canadian Open. As of the Staal Foundation Open, those spots are held by Zach Wright, George Cunningham and Ben Griffin.
For the second consecutive week, Canadian Michael Gligic places in the top-10 thanks to back-to-back 66s on the weekend in Thunder Bay to place T6.
Quotable
"I had no mindset except it was a normal left edge putt, I just had to trust it. I didn't look at the scores, so I had no idea it was to win. I think it worked out better that way or I would have been shaking a bit more, but when the crowd reacted, I had a feeling I either won or was very close."
– Ben Griffin On his tournament winning putt
"To go ahead and get PGA TOUR experience like that in a couple weeks would be pretty cool. I think I'm in third, so I'm right on the edge. A good week next week will lock that one up, but it's incredible to move up the Order of Merit how I did and I'm excited to see what's in store for the future."
– Ben Griffin On a potential RBC Canadian Open Exemption
"Dawson is a good friend of mine, and it's awesome to have another player who has the same mindset as me and knows a lot about the game with me. To have him on the bag, it helps a lot, and we had a pretty fun group today, we were joking a lot throughout the day. I might've been quieter towards the end, but it was a lot of fun."
– Ben Griffin On having Dawson Armstrong on the bag on the weekend
"He must have had a hell of a finish, hats off to him. I did everything I could, so I'll take it. There's always shots you leave out there, but you can't 'shoulda, coulda, woulda' it. I cleaned up the scorecard and had no bogeys. I had a couple bogeys and a double early in the tournament that I cleaned up today, so that was nice."
– Riley Wheeldon
"It was my best event this year, best event in a while, so I take a lot of positives out of it. I thought I played good enough to win but there's a lot of good players out here. It's a great bonus every week for Freedom 55 to give Canadians that opportunity, and there's a lot of good Canadian golfers, so you have to play good to beat the Canadians as well as everyone else out here."
– Riley Wheeldon
Fourth-Round Weather: Partly cloudy, High of 28. Wind 5 KM/h.