BC GOLF COURSES FUN TO PLAY: FURRY CREEK

FURRY CREEK GOLF COURSE
by Scott A. Sumner
www.golfingnews.ca
Furry Creek is located in Squamish BC about a 35-minute drive from downtown Vancouver up the Sea to Sky Highway. The course was started in 1995 and Golf BC overtook the golf course in 2000. On the drive to number 1 you go over Furry Creek, which is on your right on Hole 1 and
flows into Howe Sound.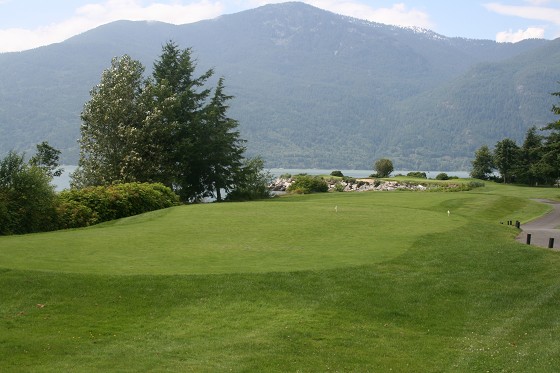 " It is a very unique course with the front nine including to 12 through the mountain and 14 to 18 in the woods. The Howe Sound is the inlet to the ocean. The ideal view is the top of tee deck number 11, a par 5. 14 is our signature hole and they filmed the Adam Sandler golf movie here. It is one of the most photographed holes in all of Canada," said Paul Nijjer, General Manager of Furry Creek Golf and Country Club. " I love golf and started in the industry as a dish washer. I
picked up a golf club at age 19 or 20 when I worked in banquets and then the back shop. I went for my CPGA card and missed it by a shot. It was a lot pressure when you know you have to shoot a number. I got offered a job in sales and stuck with that for 8 or 9 years and became
GM last year in June."

" On a personal level I like the challenge of being a mid to high handicapper and playing here as it will build your game. The shots you need to make are strategic and make you think. Playing here I realized the more I played here the better I played at other facilities because
the shots weren't as demanding there. For a mid to low handicap we have a lot golfers try to break the course record of 65. There have been some lower scores but we don't have a signed scorecard. One of our professionals shot a 63 from the whites recntly," said Paul. " The
course is a thinking golf course, you have to think you way around. If you have a bucket list of golf Furry Creek is a must play. It is known as BC's most scenic golf course. The challenge is here and it is so green and perfect most of the year. We open in the second week in March
on the weekends only and in April all week. We typically close the third week of October. We do get snow here but lately we have been having late summers. Snow sticks around from mid November to early January."

At Furry Creek the green fee costs $99 including GPS cart from July to September. Opening rates are $59 in March, $69 April, $79 in May, $89 in June and $59 in October. They will do about 24,000 rounds per year with the members doing about 1500 rounds of that total. The
clubhouse is 33,000 square feet and a beautiful building built into the setting.

" Once you are over the Lions Gate it is quick getting to Furry Creek. We are seeing some drop in play the cause of a mix of many things. The US destination golfer was not evident the last few years," said Paul. " We have banquets with three rooms for meetings and weddings. We have an outdoor ceremony site where guests get shuttled up. It is above the 11-tee box and has tripled our weddings each year. We have a restaurant with a lot of comfort food and nice dinners."

" We have golfers from all over the world including Europe, Asia, Australia, the US and Canada as well as being a local favourite. This golf course is something everybody should play once in a season if you get the opportunity and are coming to BC. You can build your game. If
you play well here you will play well anywhere."said Paul.
The pace of play at Furry Creek is about 4:20 minutes. If you go to www.golfbc.com you get many promotional specials. They offer some discounts with promotional codes. The course designer of Furry Creek is Robert Muir Graves.