BANK OF NOVA SCOTIA -Scotiabank
Moves from the Victoriaville area to Arthur Street Marketplace

By Sherry Hanes

Tom Jones Corporation and the Bank of Nova Scotia, are proud to announce the completion of the newly constructed Bank of Nova Scotia building, in the Arthur Street Marketplace Shopping Centre.The project, which began in October of 2018 and was completed in August, 2019, and has quickly brought increased business and activity to the already busy centre. Parkdale Subdivision and neighbouring residence and businesses, now have the added convenience of another banking service, almost at their doorstep. The new building comes on the heels of the Bank of Nova Scotia's decision to move their Victoriaville operation to the Arthur Street Marketplace. The site offers the convenience of plenty of free parking, 24/hour ATM drive-through, along with the 'one-lot-shopping', concept in mind, for families and working people, on the go. The marketplace site itself, is home to other main stream venues, such as Metro Grocery, Wal-Mart, LCBO, Dollarama, Canadian Tire, just next door and a variety of other little shops, such as lottery outlets, women's fashion and sport paraphernalia.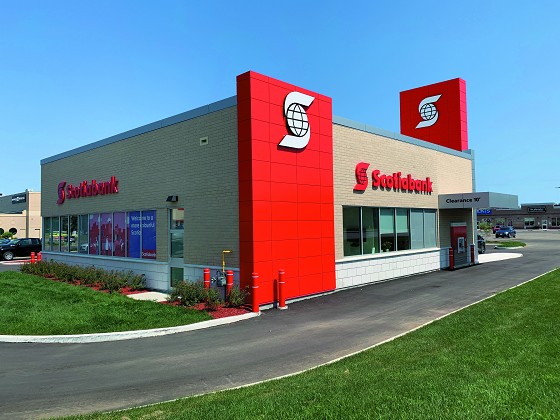 The modern, visually appealing, exterior and interior, 3,000 sq. ft. structure offers its customers an updated and modernized banking environment with the latest technology and longer hours. The familiar Scotia Red colour, on the exterior of the new building and can be seen easily from across the parking lot and also from the street. Project Manager – Erwin Kuzmich and Job Site Superintendent – Riley of Tom Jones Corporation, saw the multi-million-dollar project through, on-time and on-budget. People are always interested in 'what's new' in Thunder Bay and even though Victoriaville has lost a banking facility in their area, patrons benefit from a more accessible and convenient location to perform their daily business in banking.The exterior of the building is vibrant and inviting. It makes one just want to go in and open a new account! The interior is open concept with ample natural light. The staff and customers alike, are impressed with the functionability layout of the floor plan and also the comfort of the aesthetics. Tom Jones Corporation, conjointly worked together with the Architectural services of Dutra Architect Inc. Toronto, Ontario, achieving excellent results, as anyone can see.
The Bank of Nova Scotia or as it is called, Scotia Bank, is the third largest bank in Canada by deposits and market capitalization. It serves more than 25 million customers around the world and offers a range of products and services including personal and commercial banking, wealthmanagement, corporate and investment banking.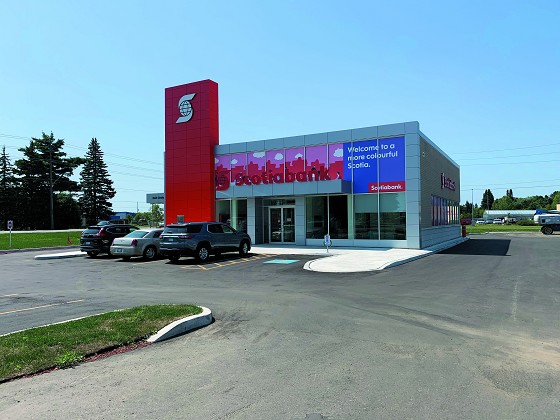 " and New York Exchanges (NYSE: BNS).The financial institution was founded in Halifax, Nova Scotia, in 1832, and in 1990, Scotiabank moved its executive offices to Toronto, Ontario. Scotiabank has billed itself as "Canada's most international bank" due to its acquisitions primarily in Latin America and the Caribbean, and also in Europe and parts of Asia. Through its subsidiary ScotiaMocatta, it is a member of the London Bullion Market Association and one of five banks that participates in the London gold fixing. The bank launched its branch banking system by opening in Windsor, Nova Scotia. The expansion was limited to the Maritimes until 1882, when the bank moved west by opening a branch in Winnipeg, Manitoba. The Manitoba branch later closed, but the bank continued to expand into the American Midwest. This included opening a branch in Minneapolis in 1885, which later transferred to Chicago in 1892. Following the collapse of the Commercial Bank of Newfoundland and Union Bank of Newfoundland on December 10, 1894, The Bank of Nova Scotia established on December 15, 1894, in Newfoundland. In 1899, Scotiabank opened a branch in Boston, Massachusetts. The bank opened a branch in Kingston, Jamaica in 1889 to facilitate the trading of sugar, rum, and fish. This was Scotiabank's first move into the Caribbean and historically the first branch of a Canadian bank to open outside of the United States or the United Kingdom. By the end of the 19th century, the bank was represented in all of the Maritimes, Quebec, Ontario, and Manitoba. expect from Scotiabank. Features of this branch include full digital screens, multi-denomination ABM machines and a 24 /hour drive-thru. Our Thunder Bay branch opened its doors on July 15, 2019. We look forward to serving our customers at this new location, with increased hours of operation. Our hours of operation at our new site are, Monday to Wednesday 9:30 AM to 4:00 PM, Thursday & Friday 9:30 AM to 6:00 PM and Saturday 9:30 AM to 4:00 PM."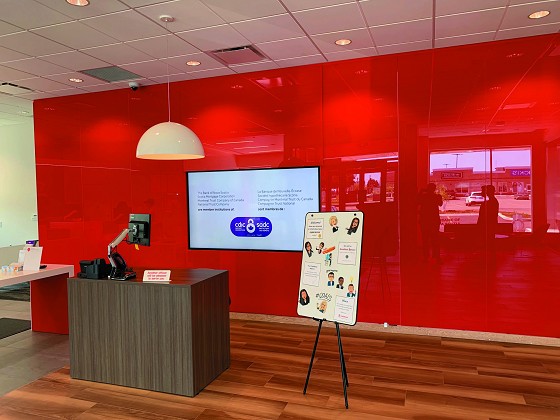 office@tomjonescorp.comnbsp;'Congratulations!' to Tom Jones Corporation, on another successful project, the Bank of Nova Scotia, (Scotiabank), Arthur Street Marketplace, 1195 Arthur Street West, Thunder Bay, Ontario.>