WANT TO START YOUR OWN BUSINESS, BUY OR EXPAND AN EXISTING COMPANY?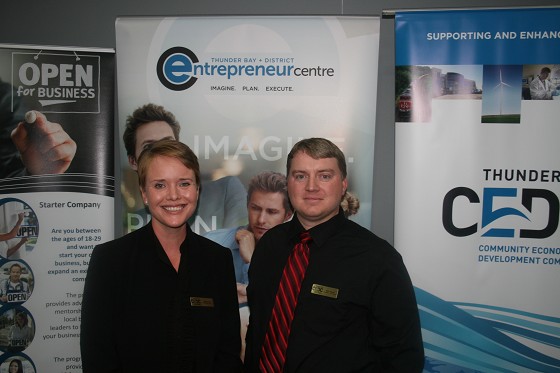 Then Starter Company is for you!
If you've got a winning idea for starting a new business and are not a student you should consider applying to our Starter Company program.
How it Works Starter Company is a training program for enterprising young people between the ages of 18-29 who want to start, and/or expand a business in their community. The program provides training sessions on aspects of running a successful business; mentorship from local business leaders to help get your business up and running; as well as gain additional experience running a successful business that may help you obtain more traditional financing such as bank loan if you so require in the future.
Successful applicants may then apply for the Starter Company Grant to receive up to $5,000 to kick off a new business or expand your current business.
Successful applicants must provide matching funds worth 25% (in cash or equivalent) of the grant. This requirement will be waived in exceptional circumstance (including but not limited to individuals with special needs or those that have faced personal set-backs).
Am I eligible for Starter Company? You are eligible for Starter Company if you are: • between 18 to 29 years of age • running a business, proposing a new company, expansion of a company or buy an existing company from a retiring entrepreneur • not currently a full time student • a resident of Ontario • a Canadian citizen or a landed immigrant • prepared to commit to a minimum average of 35 hours a week, for running your business • prepared to attend monthly meetings for at least six months after the start of the business • You cannot apply if you have received a Starter Company grant in the past. What type of business can I start? Almost any type of business is eligible, as long as it: • is a sole proprietorship or either a partnership or corporation where the applicant will be the majority shareholder • is an independent business venture • fits the Canada Revenue Agency definition of being self-employed • operates at arm's length from family business ventures • operates in Ontario • operates full-time as defined in the business plan • maintains its own books and records • maintains a separate business bank account • follows government rules and regulations for operating a business
How do I apply for Starter Company? Selection Process 1. Meet with the Entrepreneur Centre to discuss your business or business idea. 2. Agree with the Entrepreneur Centre's development officer on your business goals and participate in training sessions. 3. Submit your business plan and milestones to your local grant committee to apply for business funding
Stacia Kean Development Officer Thunder bay District Entrepreneur Centre
" We are very excited to see these programs announced. At the Entrepreneur Centre I see quite a bit of interest from youth, particularly in the 18 to 29 age group, to start their own businesses. Many of those businesses want to contribute to the development, culture and diversity in Thunder Bay." " To receive the funding they must first participate in the training and mentoring program which is free to apply, a month long 2 x a week program. We then work with the students to complete a full business plan which they can submit to a funding committee to receive a grant. After they receive the funding we continue to be involved with that entrepreneur for a minimum of 6 months which involves visits and reporting from the business on how they are doing." " We have had a positive response to the program of 10 businesses with little advertising and now with this launch we anticipate more applicants." " Youth are a very important part of the future of Thunder Bay so providing them with the right training and resources to start and grow their own businesses and create jobs is a really important investment we need to make. These types of businesses contribute well to Thunder Bay."
Ryan Moore Coordinator of Youth Programs at the CEDC " We had to build this program from the ground up with the basic structure from the Ministry for the Thunder Bay region. I worked on a series of seminars to provide information on how to develop their businesses, the business plan and most revolved around plugging into the different networks available in Thunder Bay. I brought in 2 banks, accountants, bookkeepers, the City of Thunder Bay purchasing people, the Chamber with networking and the Shift organization."