Vector Construction Ltd.: 50 Years of Success
by Scott A. Sumner
A large building off Fort William Road on Burbidge Street in central Thunder Bay is home to the local division of Vector Construction Ltd.. This Canadian owned international company is happy to celebrate 50 years in business this year. Vector was started in Winnipeg as a earth moving type business doing road building by Don Whitmore. He stills come in to the Winnipeg head office quite often. Today Vector has offices in Toronto, Winnipeg, Saskatoon, Edmonton, BC s well asthe US. The company employs around 500 staff in total that can vary based on work level. The Thunder Bay location can go from 20 to 60 to 100 staff depending on projects. The Thunder Bay office was opened in 1986.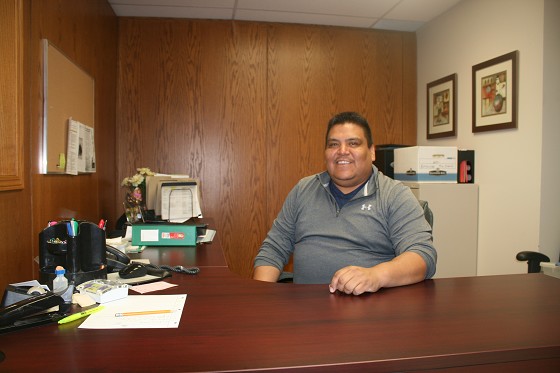 Jason Thompson is the Division Manager of Thunder Bay, Vector Construction Ltd. "I am originally from Nipigon and the Lake Helen Reserve. In the early part of my career I was in the forestry industry and then moved over to the construction side about 6 years ago when I joined Vector in a safety human resources role. Ken West, our previous manager, was looking to retire and started grooming me and I took over Division Manager Thunder Bay role about two years ago." Vector has concrete restoration or civil as the back bone of the business. Vector as a company has grown and spent money on research and development to also move into more areas of work including corrosion mitigation to extend the life of concrete. They also offer carbon fibre reinforcement products and services, chemical lining, protective coatings and can do bridge restoration.
" At the start we did a lot of work in the mills with the pulp and paper boom. We still do a lot of work there but can do all sizes of work including a small base repair for a client. It can be little to small repair work. We enjoy it when our customers will call up, tell us the problem they are having with their concrete structure and we share ideas with them." said Jason Thompson. " Vector noticed that if we are to continue to grow in Thunder Bay there wasn't a large enough market just for concrete restoration so we needed to expand our service offerings. At that point several years ago we started the masonry division. We also offer refractory services - lining in furnaces etc. Ultimately the areas we work in are related with concrete." Concrete restoration usually involves a lot of chipping, patching demos and replacing according to Thompson. " You try to provide the ultimate product or service for the restoration. We stand behind our work andsuggest what should be done because we want the client happy and the work to last a long time."
Thunder Bay is the only division within the Vector group that offer masonry and refractory service. They are believed to be the largest masonry contractor in NW Ontario and deal with many general contractors.
" We have a good group of quality trades people that give all they have and that sets us apart. The guys here work hard and it is a good team mentality," says Thompson. " The company has a family type atmosphere. As a division manager you are given a lot of atonmity to run it as if it was your own business. We get support from head office but are not micro managed. The ownership treat you like an individual not a number, showing interest in your personal life. The human asset is the greatest asset you have in the business. The equipment needs to be operated."
Jason Thompson is happy about the progress of Thunder Bay! " I see lots of opportunity in Thunder Bay. I am quite active on some boards here. Ultimately I think the future of Thunder Bay is great. We are looking at different focus in the future moving away from just forestry and mining to health and the education area. We are exploring different markets and outside the box, which is awesome. I see potential.The location of Thunder Bay is excellent as well in the middle of Canada and we have tons of opportunity."
" Our company Vector is a very diversified company. I think I am one of the few First Nation construction managers in Thunder Bay, that I know of, on a larger scale. I have been fortunate through education, training and experience to grasp and understand business. We have a good team here to work with as well from a technical and business side," said Thompson. " Vector has given me the opportunity to grow in my career- to grow personally with lot of training and the automnity of running this office. Being on boards and committees we also want to enhance the First Nations opportunities to get into trades and see the pathway. The trades background is a viable career with good compensation. I remember a time when I first joined the Vector team and going to a maintenance shut down at one of the plants. You were not seeing a whole lot of First Nations folks going through the gates. In recent years you see a lot more First Nations tradespeople even from my own community, the Lake Helen Reserve, working in trades which makes me happy. We know there is definatey a skill shortage in Ontario and Canada. For us as a business it makes sense to have local skilled work force that love the area here."
Richard Peltola, Operation Manager Vector Construction for last 10 years. " I work in estimation for bigger projects. We are problem solvers. It is a challenge with the harsh climate, the hot and cold which affects concrete differently. Vector has been a great company to work for. They treat you with respect. We have some big quoates right now which are important. Estimation is done by past experience. We have lot of experience that helps us to produce the quotes. Our staff can then run the job. We want to be efficient and cost effective. By having a lot of eyes look over your quoates it helps us be successful."
" The other branches can help us out a lot with their expertise. At Vector we have been pricing lots of work and spent a lot of time marketing who we are.We are looking at the transportation, grain industry , power generation. We may have been a hidden gem for 30 years. Many say they weren't sure of what we do. "
Vector Construction – A Force Dedicated To:
Solving tomorrow's unique challenges and today's concrete and corrosion problems CORPORATE GOALS To research, develop and implement cost-effective quality products and services. To promote and encourage a safe workplace. To foster effective and open communication. To establish and uphold corporate policies and procedures in a professional and ethical manner. To develop and maintain strategic alliances with industry organizations. To assure prudent management of all corporate resources.
CORPORATE VALUES
CLIENTS Our priority is to provide outstanding client service. INTEGRITY We do what is right. TEAMWORK We value, trust, respect and support each other. SAFETY The personal health and safety of each employee is of primary importance. PERSONAL SATISFACTION We enjoy what we do. ENVIRONMENT We conduct our business in an environmentally responsible manner. ACHIEVEMENT AND RECOGNITION We encourage effort and recognize achievement. EXCELLENCE We are committed to quality and excellence in everything we do. …innovative solutions to concrete problems.