Top Hat Ceremony Celebrates Opening Of The Shipping Season!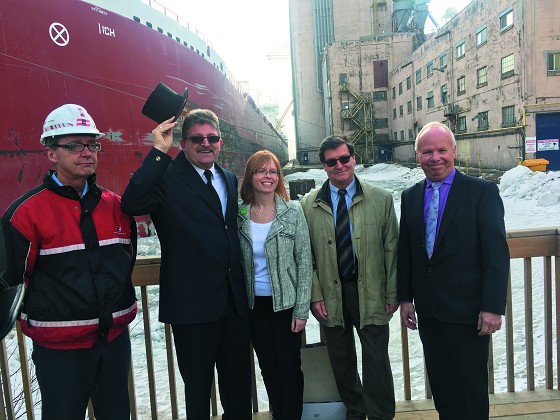 M.V. CSL Welland is the first vessel to arrive in the Port of Thunder Bay during the 2018 navigation season, and received the traditional Top Hat in a ceremony today. The CSL Welland arrived in Port on Tuesday, March 27, berthing at noon at G3 elevator. The vessel is taking on a load of grain.

The CSL Welland holds the record for the largest single shipment of grain loaded in the Port of Thunder Bay. On August 16, 2016 the vessel departed the Port with 31,064 metric tonnes of grain. Built in 2014,
the CSL Welland is one of dozens of new ships transiting the Great Lakes – St. Lawrence Seaway System thanks to a wave of fleet re-investment by Canadian shipping companies in recent years.

CSL Welland Captain Wilson Walters and Chief Engineer Jean-Louis Girard received welcoming remarks and tokens of appreciation for opening up the navigation season from the Port of Thunder Bay, the City of Thunder Bay and the Thunder Bay Chamber of Commerce.