Tony Roma's Comes To Thunder Bay
by Scott A. Sumner
Thunder Bay has an impressive new restaurant to enjoy with the opening of the 8400 square feet Tony Roma's on Memorial Avenue near the Harbour Expressway! Former Thunder Bay residnets Gord and Leean Lem have moved back to Thunder Bay from Calgary where they managed 7 Tony Romas in Alberta for the past 16 years. Previously they were involved
in the opening of the Pizza Huts and Applebees in Thunder Bay for their former employers. Gord and Leanna have three key staff moving here from Calgary to work in the new Thunder Bay Tony Roma's.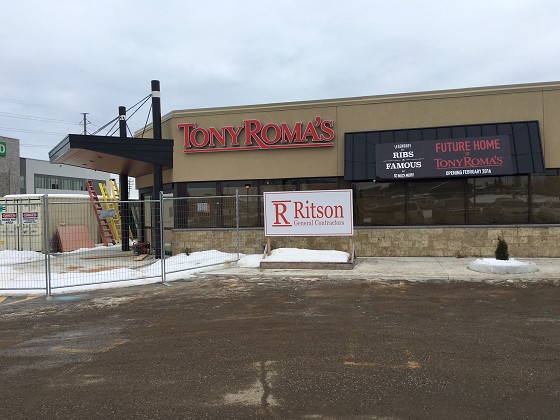 The new restaurant will occupy the former Swiss Chalet location with a complete new construction from the ground up which has been completed by local general contractor Ritson & Sons Contracting Ltd.
Ritson & Sons Contracting Ltd. was formed in the spring of 2008 by Joe Ritson and grew a little each year. They mostly do general contracting in all parts of the carpentry trade. The employees are all carpenters registered or in the apprentice program. Ritson & Sons will
do anything from finishing work to rough carpentry work. They also run a cabinet shop to do millwork.
" When we first started it was more residential work but now mostly commercial. My background is I apprenticed with Tom Jones and Pradal Contracting. We have a staff of 10 in the company and office and shop in Westfort." said Joe Ritson, age 37, President Ritson & Sons
Contracting Ltd.


" Tony Roma was a pretty good sized building project for us with some tight timelines that had to come together with a new restaurant at the end. The installation of the kitchen equipment and training had to be timed out well. We started the project working for the landlord with
an entire exterior upgrade to the building envelope and then moved inside where everything was gutted," said Joe Ritson.
Ritson & Sons started work with the landlord at the end of May 2015 and began the inside work early November, for about 100 day work schedule to complete the new Tony Roma's.
" The project has gone well. We did all the carpentry work, framing and wood working which was extensive. All the booths were custom made. All the cambinitry and wood paneling was custom work. The subtrades also had lots of work to do with plumbing, where the slab had to be cut open for new kitchen equipment, new washrooms and assesibilty. Electrical was a substantial sub trade with many high end fixtures installed. The flooring was quite extensive with a lot of tile work. The subtrades performed very well and from the beginning understood
our time constrains." said Joe Ritson. " We worked longer hours and days here to keep the schedule. We will be demobilizing here and give it a final cleaning.

" I am happy with the project. It shows well and reflects what our capabilities are at Ritson and Sons with the finishing work in here. It was agood job for us," said Joe. " We are now bidding other work. It is the first bit of slow time in the 5 years with the Thunder Bay economy since we have been bidding the commercial work. Hopefully things will loosen up in the next few months with infrastructure work."