Thunder Bay's Chris Talarico Releases First Single: I'm All In
by Scott A. Sumner

Recently I was on Face book and this really interesting video shot right here in Thunder Bay popped up on my screen. It was done in the downtown Thunder Bay Waterfront, an area I spend quite a bit of time. The video and song just totally impressed and I soon found out it was
the first song release from 25 year old Thunder Bay resident, Chris Talarico. It was fun to sit down with Chris and find out more about his just starting music career.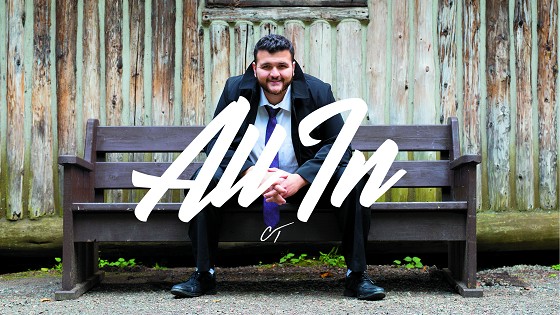 You have enjoyed singing from a very young age Chris?

"I have been singing at least since I was 10, singing along to the music that I liked in the car which ranged from Usher to Michael Buble, crooner style. I realized I was able to manipulate my voice to sound like these people and do my own thing and it just kind of went from there."

You have done a first song and video yourself that was released on Face
book and You Tube?

That's right, it's called "I'm All In" and was written by myself and someone I work closely with JC Wilkinson, my mentor and a musician. We met several years ago at a karaoke competition and he kept contacting me to work together over the next two years, asking me to come out and play with him. I finally did a couple shows with him and it was after that I decided to take music seriously, started taking vocal lessons and writing. He's helping with the beginning of my career to get to the
door that will get me to the next step."

How did "I'm All In" get completed and come to life?

"We took the song to Toronto with Zedd Records and Mark Zubek who was able to give it that full production sound we couldn't get ourselves with the10 instruments that are playing in the background. We will also go through Mark to establish my first EP to have the sound consistent. He has been great to work with."

" We then came back to Thunder Bay and reached out to EPICA Pictures and Damien Gilbert to do a video which we filmed at the Waterfront. It was awesome."

" From conception to final product I had these lyrics and James had this little groove going on. We put that together and them took it to Mark in Toronto, composing it to a commercial space that you might hear on the radio. He put certain pieces into place. You had to make some compromises to your story, because a song is essentially a story. We loved the process and then took it a step further by bringing in a fourth person, Damien, to our creative process to complete the story
through video to tell the full story. We even filmed a few extra things that didn't fit into the story at first but we ended up using in the video to make it better."

The song I'm All In has a country feel to it?

"It mixes some pop elements to keep it up beat but lives in that sort of space. There is a banjo and organ that bring it to a country vibe. It is almost an old school country. We added the slide guitar and ended up with this old school do op. It's country with some weird song elements to make it different. It is my song style and no one else is doing something like this I think."

Are you interested in being a country artist?

" At the end of the day I'm a vocalist and want to sing for people whether that becomes lounge singing, jazz, big band or country. I want to be heard is really what it comes down to. My music influences have spanned. When I was 10 I was a big pop and R&B fan, then in high school
it was jazz and big bands. Crooning is really where I feel most comfortable with my style. Working with James, he is a big blues country guy. I do like country, as they are some of the songs that
speak to me the most. I do want to find where I sit but right now I am kind of writing the lyrics thinking what is the signature sound and letting the song live in it's own space. I am writing songs that all sound very different. On my upcoming EP people can expect 5 to 7 different genres such as rock, country, pop and jazz."

You have other songs written and ready to go?

" We have several songs right now and it is a matter of picking the songs and getting then recorded. I love doing videos, it's so much fun, so I would like to do another video if I could, if possible. I am hoping to release the EP by mid summer."

Can you get any financial help to do this as so far you have put in all
your own money?

" Yes one of the things Zedd Records do is to apply for things like Factor grants. I will apply to Ontario Arts grants. If the funding comes in we will record more songs and do the next video."

What's next for you to get your voice heard Chris?

" We could have released 'I'm All In" to I Tunes already but I want to get the EP done so if you hear "I'm All In" there is a follow-up, something else to hear. A big job for me is writing and doing some
live performances and honing my craft. In the summer I want to do festivals to have a broader audience to get that feedback. Possibly I might make the move to Toronto in the next year and a bit to expand and broaden those horizons. I definitely want to get some notice and hone my craft here before I take that big of a leap. The help from JC Wilkerson and Zedd Records have been incredibly helpful to me to see how things are done in the industry. It's been an amazing experience."