Thunder Bay Ventures Release Thunder Bay's Economic Activity Index
by Scott A. Sumner

Today Thunder Bay Ventures released an index which was created as the result of a study completed in 2013. " Our Poised for Development Ready for Growth study suggested we create a Thunder Bay Economic Activity Index. This is an index of economic study based on total
employment, retail sales, average resale home price, employment benefit
claims and affordability of housing," said Royden Potvin Manager of
Thunder Bay Ventures.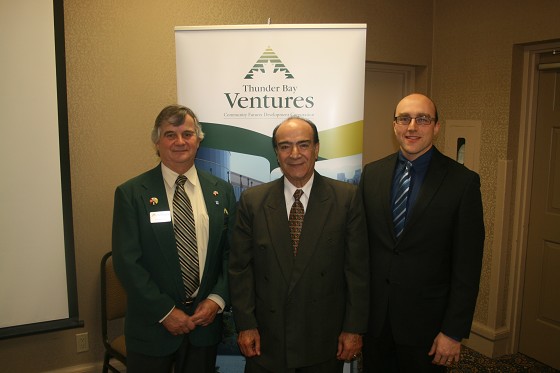 " This gives a base line of information so we can compare our economy. Up to now we could only make informed guesses but now we can benchmark ourselves against this baseline. We engaged Dr. Dadgostar and Dr. Lento of Lakehead University Business School to put together this information. There was lots of discussion on how the index will be weighted, what to include and the methodology to do it. We got information from Statistics Canada, Employment Canada, CMHC and others." How is the the economy of Thunder Bay doing? " We know we are quite steady in Thunder Bay but compared to some parts of Ontario we are lagging the Ontario economy. We are growing but at a less rapid rate than the rest of the province. We do have good stability in our economy and it is quite diverse. There is a large service sector and a smaller goods sector as a part of our overall economy." said Potvin.
Thunder Bay Ventures is creating a base line with this index to use in two years or five years to compare how Thunder Bay will look then. It could help doing policy adjustments to react to the information.
" This study had never been done before in Thunder Bay. In 2012 we did the study for Thunder Bay Ventures to show the building of the economy of Thunder Bay. We had a small index then but Thunder Bay Ventures wanted a more comprehensive index which is now the Thunder Bay Economic Activity Index," said Dr Bahram Dadgostar, Dean of Business at Lakehead University. " We started looking at 25 inputs and selected 5 components that we used in the study to get the most relevant information." " We are doing OK in Thunder Bay. This is a resilient town. Thunder Bay has reinvented its self several times in the past 100 years. I am hopeful about the Thunder Bay economy and the future of this city because the resilience is unbelievable. It is relatively good here. This index will show you where you are and what is coming in the
future. It will help with direction and making adjustments in the
economy."

Thunder Bay Ventures are going to have a 4 page newsletter on their Website so people can understand the results of the study. www.thunderbayventures.com