Thunder Bay Hydro Recognizes Retrofit Award Winners
Thunder Bay Hydro recently recognized four local businesses at its 2015 Retrofit Excellence in Energy Efficiency & Conservation Awards. Each award recipient had made a significant impact on Thunder Bay's green economy over the past year, demonstrating leadership to save energy by participating in the Thunder Bay Hydro saveONenergy RETROFIT PROGRAM.
The conservation program provides incentives for commercial operations to install newer, more energy efficient solutions. Says Tim Wilson, Vice-President, Customer and Information Services, of Thunder Bay Hydro; "The Retrofit Awards highlight how many Thunder Bay organizations are putting an increased focus on energy conservation. These efforts are a triple win for our community because they help our electricity system, the environment and the wider economy."
Two new awards have been added to this year's initiative. The Not-For-Profit Award recognizes one local organization that has exhibited leadership in energy efficiency through the Retrofit Program, while the Electrical Distributor Award is being presented to the distributor that conducted the highest amount of retrofits in the community this year.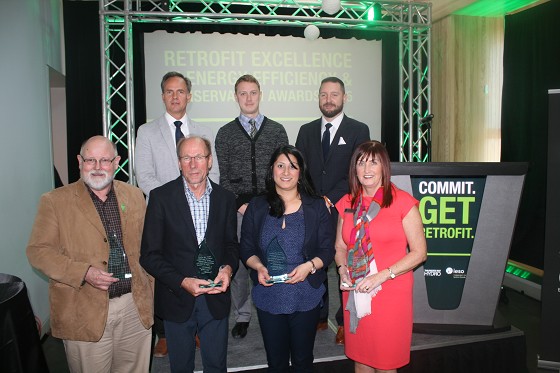 The recipients of the 2015 Retrofit Excellence in Energy Efficiency & Conservation Awards are as follows: Best Western PLUS Nor'Wester Hotel & Conference Centre • Retrofit Measure: Interior & Exterior LED Lighting • Key Stats: Saved 72,969 kWh, which translates to 6% annual electricity savings.
Bombardier Transportation in Thunder Bay • Retrofit Measure: Installed commercial high-bay lighting • Key Stats: Payback period for installation is less than one year. Saved 348,998 kWh, which is enough to power 35 homes in Thunder Bay for a year.
George Jeffrey Children's Centre • Retrofit Measure: LED lighting fixtures • Key Stats: Retrofit incentives covered over 35 % of project costs.
MGM Electric Limited • Key Stats: Secured the most Retrofit projects in 2014.
The RETROFIT PROGRAM involves upgrades to high efficiency equipment such as lighting, motors and heating, and for installing new control systems. In 2014 over 100 retrofits were completed in Thunder Bay, saving over 3.9 million kWh. In total $493,000 was paid out in incentives to local participating businesses. "It is exciting to see the increasing adoption of energy efficient solutions by local organizations;" says Jake Allen, Energy Services Advisor of Thunder Bay Hydro. "Better energy management can help organizations cut costs but in addition to as helping the bottom line, many organizations know that energy efficiency is a substantial business growth opportunity." Thunder Bay Hydro Conservation is now seeking 2015 RETROFIT Recruits to participate in the program over the next year. Continues Allen; "With a large focus on lighting in 2014, we are challenging Thunder Bay businesses to consider upgrading HVAC units, motors, controls, ventilation systems along with refrigeration." www.tbhydro.saveonenergy.ca/retrofit
Tom Walters CEO of George Jeffrey Treatment Centre.
" Like all organizations we are interested in being green and also in saving some money. We had some broken lights on the exterior of our building and the cost to replace with LED light made sense. It was an easy process and we have gone from 175 watts to 35 watts which means for us as a non profit we can put more money into services for kids. We are currently examining our lighting inside the building to see if we can save there as well.The lights are much brighter and we are very pleased with how the place is lit up at night."
Tim Wilson VP Customer Service and Conservation Thunder Bay Hydro
"It is important for customers a s it helps them reduce their hydro bills and they can put that money to better uses whether it is to increase sales or make capital improvements. At Thunder Bay Hydro we have provincially mandated hydro savings targets we have to achieve. We are doing our best to encourage customers to make these savings. The customer saves money and the hydro gets to make our targets. We are just entering into a new 6 year program and have to achieve further savings. It is getting harder to achieve the savings based on what we have done already. We are looking to step it up to heating and cooling saving from just lighting. The bigger you are the more opportunity you have to achieve savings. We see small business can easily get into 10% and even 20 %. The private sector is the easiest to reach because they understand the savings and how it effects their business results."