THUNDER BAY'S NEWEST RESTAURANT TONY ROMA'S
RIBS – SEAFOOD – STEAKS
By Sherry Aalto

Tony Roma's is known the world over for their award winning ribs! Now everyone in Thunder Bay can experience the internationally acclaimed flavours in the new restaurant that boasts casual elegance, charm and supreme service!

Located at 1043 Memorial Avenue, Thunder Bay, Ontario, in the heart of the downtown core, Interecity, Tony Roma's is going to be the hot spot for dining!
The owners of this new restaurant, Gord and Leena Lem, said they are originally from Thunder Bay and are thrilled to be home. Leena says, in a telephone interview, "These are exciting times for us to be opening a brand new restaurant right here in our own home town!" Gord and Leena are familiar with the franchise Tony Roma's as they have been involved in the business of restaurants for more than 25 year and have spent most of those years at every level of operating in a Tony Roma's Restaurant.

"We moved away from Thunder Bay 17 years ago to work at Tony Roma's in Calgary, but we always kept Thunder Bay close to our hearts,"The ribbon cutting ceremony for Tony Roma's will be held on March 12th, 2016. As with any construction project, it was no easy feat arriving
at the point for opening their doors. With schedules and weather and supplies delayed somewhat, it is amazing the endurance and the team effort of everyone to see this new restaurant to its completion.Leena herself cannot say enough about the General Contractor, Ritson and Sons and a host of other project coordinators and trades people who went beyond to see the project through.

The new restaurant features family, casual dining and seats 240 patrons. There are mostly booths for more privacy and the bar counter seats 28 people with eight 60 inch screen T.V's. The attached lounge consists of 3 large round booths seating 6 -8 people comfortably.
There is also a "Closed for Private Functions" area that can accommodate 40 people with a private washroom and 65inch screen television.
The relaxing colours of charcoal, ash greys and creme, radiate casual elegance and delivers relaxation and comfortable surroundings. Special lighting features of interchanging colours at the bar, add to the already inviting atmosphere.
There is a quaint fireplace area as well and also a fireplace in the women's washroom. There is also "auto dry" right at the sinks in the washrooms. The men will never have to miss another score when going into the Men's room as there is a T.V. in there as well! There is also
a Universal handicap washroom that is large and well designed.The hours of operation will be Sundays 11:00 A.M. 11 P.M. Mondays to Thursday 11:00 A.M. – 12:00 A.M. and 11:00 A.M. until 1:00 A.M. on Fridays and Saturdays.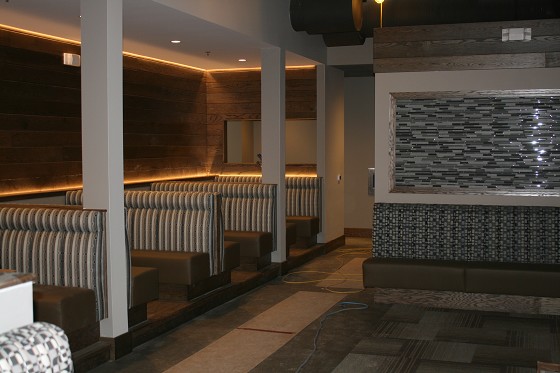 As for the menu, you will be very impressed with the extensive choices that Tony Roma's has waiting for you. Some of the fabulous menu choices are ribs, done to perfection, popular seafood items, appetite engaging top sirloin steaks, salads, and kids menu, that serves every
pallet, such as pasta, burgers, ribs and chicken strips. And for the children, this includes refills on soft drinks, appetizer which consists of vegetable sticks, plus one side and dessert. This all
starts at $6.99 per child.

For those lunch breaks, Tony Roma's offers seven lunch specials for $11.00.
If Prime Rib is a favourite of yours then you will want to know that every day from 4:00 P.M. until close or until supplies last, you may enjoy a prime rib dinner, which will include a choice of 2 side items.

Watch for the grand opening of this amazing and history infused restaurant on March 14, 2016.

Anticipation was never greater!
Tony Roma's! (807)622-7427. Call and make your reservation soon!