Third Generation Family In The General Contracting Business in Thunder Bay- RML Contracting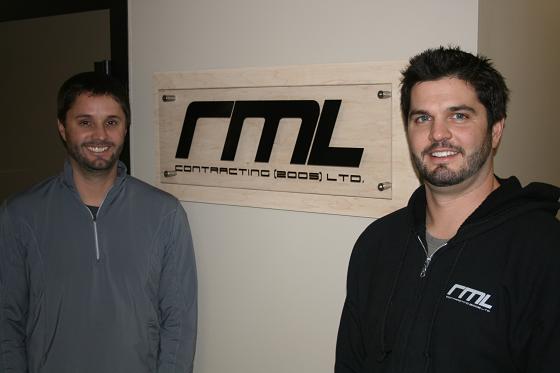 by Scott A. Sumner
There is a youth movement happening in the construction business of Thunder Bay! Andrew Lindstrom, age 31, is President and General Manager and Matthew Lindstrom, age 29, Operations Manager and Secretary Treasurer of RML Contracting. Their grandfather started the firm Stead and Lindstrom in the 50's and their father took over the firm in 1977 and ran it for 20 years. RML is now the third generation of the family construction work.
" We developed our own company in 2005 starting in landscaping work and then progressed into general contracting. I am a civil engineering technologist and my brother is an architectural and civil technologist. My dad kept the building we are in today in hopes we would take over one day. He closed down the business when we weren't ready to take over yet and I ended up in Calgary working for a few years but came back to start our business from scratch. It has worked out well now." said Andrew Lindstrom.
RML Contracting offers a wide range of services with new construction and renovation in commercial, residential and industrial. They do a fair bit of work with the school boards through out NW Ontario and the City of Thunder Bay. The firm offers landscape services on an larger scale for other large general contractors. Recently they did the landscape work on the waterfront for Tom Jones and next year have a landscape job for Bird Construction on the new court house project.
A new project just completed by RML Contracting is the new Mountainview Cemetery office building. " It was a very competitive job with 7 bidders and similar pricing but we were low bidder. It was a very interesting project, very energy efficient with some new building techniques and some normal wood techniques. The HVAC system is state of the art. The lightning system is low voltage with motion sensors. The building envelope has substantial insulation and the roof system is a flat roof. There is lots of glass which provides the natural light," said Matthew Lindstrom. " We started work in June of this year completing the first week in November. It went smoothly for us. We used a full array of sub contractors similar as you would on a larger building. It is the same idea as a $5 to $10 million project and a nice job for us with good complexity." " We are very pleased with the project and the customer is happy. At RML we want to treat all our clients well with our work ethic. We have a really good staff of 10 employees who are mostly site people. We like a hands on approach. It is also good working together as brothers. We have defined our roles well. Matthew runs the bigger jobs and I handle the estimating work." said Andrew Lindstrom. " I love the business and am glad I moved back here from Calgary. Thunder Bay is a great place to live, especially with two younger children. The business climate couldn't be better with lots of work coming up. 2012 was a little tighter but next year will be really busy."
" The Site Development had to be scaled back due to budget constraints with the remainder of the site development concept expected to be completed at a later date. Also the building originally utilized a high ceiling over the Public and Administration spaces that was eliminated due to budget constraints. " said Cory Stechyshyn, Architect with Form Architecture. " FORM Architecture Engineering are extremely pleased with the performance and professionalism demonstrated by RML Contracting. Their ability to manage the project schedule and construction progress, quality workmanship and cooperative work ethic fostered a good working relationship throughout the duration of the project."