The Award Winning 2015 Chevrolet Colorado!
by Scott A. Sumner
The just released 2015 Chevrolet Colorado is a brand new mid sized truck from General Motors. It has already won Truck of the Year status and has proven to be wildly popular with the truck buying audience everywhere!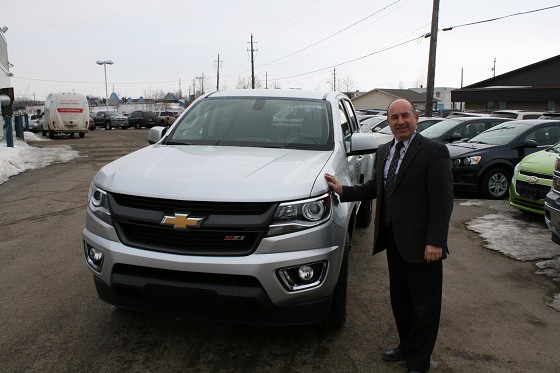 " The Colorado has been totally redesigned from ground up. The truck is smaller than the Silverado but now has a 6 foot box available which appeals to a much larger market segment.You can get the crew cab with a 5 or 6 foot box which makes it a bigger truck, kind of a mid sized truck. The full sized Silverado can also come with a 6 foot box." said Pat Spina, Sales Manager at Badanai Chevrolet Cadillac, Thunder Bay.
The Colorado has a 3.6 litre V6 available while the standard engine is a 2.5 litre 4 cylinder. The mileage is very good on both engines. " I like that the Colorado is a beautiful looking truck that will appeal to younger people who like the look and an older demographic who don't want to be parking a bigger truck. You have the use of a truck like a car! As we get older the smaller truck can be easier to maneuver but you still have trailering capacity and could put a snowmobile in the box as well." said Spina
" There is limited production for Canada, they are hard to get. We have sold 3 so far and another 3 sold on the order bank being built. The US is gobbling up as many as they can which makes it harder to get in Canada. The presolds are being built first."
On the 2015 Chevrolet Colorado there is back up camera and Wifi 4 g network - a hub for your computer. The pricing is a little under the Chevrolet Silverado similarly equipped. It is a totally different market than Silverado though. The Colorado starts at $23,000 and can go to $42,000. You have regular cab, extended cabs and crew cab versions with the 5 or 6 foot bed. You can go from a base to fully loaded version.
" The Dodge and Ford trucks don't have a model in this segment. The only others in this market class are Nissan and Toyota. We have 2 on ground right now and 5 in the ship cycle coming at us so will have a good selection!." said Pat Spina.