The 2017 Chevrolet Cruze Hatch!
by Scott A. Sumner

The 2017 Chevrolet Cruze Hatch is all new, introduced to North America and will attract a new buyer to GM. The Hatch gives you more of a cross over experience with flip and fold back seats and offers
more versatility.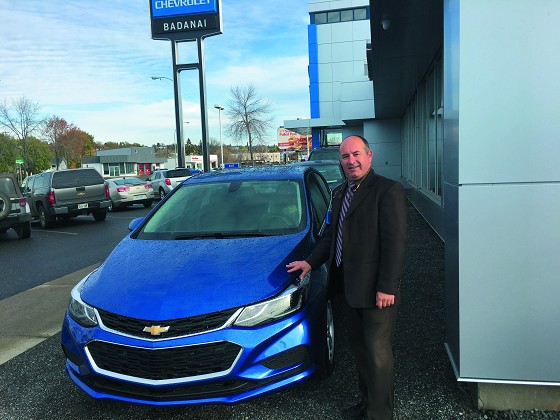 " The Cruze has been a very popular car for us, our best selling small car. The Hatch version will give us a new audience to go to," said Pat Spina,Sales Manager of Badanai Motors Thunder Bay.
" We stock several different models of the Cruze at all times. They range in price from $17,000 to $28,000. Currently we are limited in production on the hatch model but have 12 ordered and 3 on the
ground."
The Cruze is very efficient on gas at 5.9 liters per 100kilometers. GM is coming out shortly with a diesel engine for theCruze.
The 2017 Cruze Hatch can include Apple Carplay, Android Auto, 4G LTE WI-FI and Chevrolet Mylink. It offers space to spare and has the DNA made up of adventure.
" The car business has been very good this year with lots of sales, 0% financing and GM is offering attractive incentives to the consumer." said Pat.
You can see the the 2017 Chevrolet Cruze Hatch at Badanai Motorsin Thunder Bay!