TD Bank Group announced important funding to Confederation College for unique biomass heating research study
Representatives from TD Bank Group were on hand recently to present the Bio-Energy Learning and Research Centre of Confederation College with $100,000 to support a unique biomass heating research study. The funding will provide a much needed boost for the first phase of the project.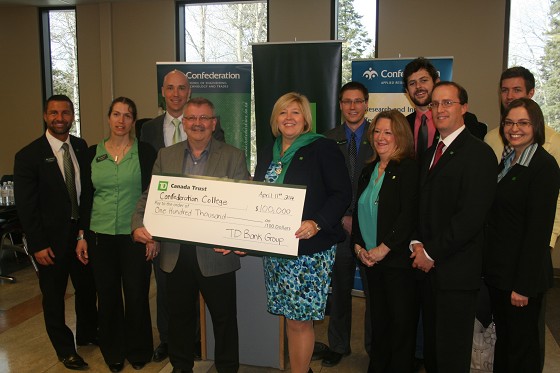 "TD is committed to being an environmental leader. We work to reduce our own environmental footprint, to provide customers with green options and to make a positive impact in communities," said Jane Duchscher, Senior Vice President, Retail Banking for Ontario North & East. "We are especially thrilled to be here with Confederation College to support its continuous efforts in environmental research - together we can all make a difference"
The first phase of the pre-feasibility study, "Biomass Heat as a Catalyst for Community Development in the Boreal Forest," will begin this May. The College led project will include partnerships with Lakehead University and the Biomass Innovation Centre (Nipissing University). "This project aims to establish the economic and environmental value of biomass heating for northwestern Ontario," said Jim Madder, President, Confederation College. "We are grateful for the support from TD Bank Group that will allow us to explore the viability of this innovative and sustainable heating source. Aside from the predicted (direct) benefits to the communities, the introduction of biomass heating to the region would create several new jobs which could be filled by College graduates."
Biomass heating systems use agricultural, forest, urban and industrial clean wood residues to produce heat and electricity with a lesser effect on the environment than fossil fuels. This pre-feasibility study will examine how the wide-spread introduction of biomass heating may decrease northwestern Ontario's reliance on the importation of fossil fuels and supplement heating options in remote communities. The results of the study will address any potential challenges with biomass heating in northwestern Ontario and be used to outline best practices and regulatory needs for future implementation. This technology has the potential to be a catalyst for a variety of future opportunities.
Confederation College has been serving the citizens of Northwestern Ontario since 1967 meeting the educational needs of students in a catchment area of some 550,000 square kilometers. Along with its main campus in Thunder Bay, Confederation College has eight regional sites located in Dryden, Fort Frances, Geraldton, Kenora, Marathon, Sioux Lookout, Red Lake and Wawa. Confederation College delivers exceptional education and training to an average of 8,800 combined full and part-time students per year and currently has a total of 805 full and part-time employees. Confederation's regional economic impact and contribution is valued at $411.2 million annually. Jane Duchscher, Senior Vice President Retail Banking TD Bank. " We have been long standing supporters of the environment in many ways giving back to the communities like today and also with a community grass roots based effort- Friends of the Environment. Here we appeal to our customers to give us monthly donations as small a $2. We utilize all of the money we collect to the community. In this region we have done $500,000 this last year in Northeast and Northwest regions. Our funds of $100,000 will go to a great biomass project here at the college and specifically looking at fly in locations up north. We hope it can be a life changing proposal" Peter Johnson with TD Environment
" We have a green branch in Toronto in October 2013- a test SEED branch fully solar panels generates reusable energy. It is our design branch for the future and very energy efficient. It was designed with the needs of the customer, the environment and the community all taken into consideration by our real estate and architect people.
" We have a reduction of 40% of energy use with solar panels on the roof and walls, rain water capture, natural gardens in the front and electronic charging stations for electric vehicles. The branch is modular so can be constructed quickly. It has a tremendous amount of wood that all comes from a certified sustainable managed forest. It is beautiful and isn't like your traditional bank branch."