Sioux Lookout Ready For An Exciting Expansion
by Scott A. Sumner

Sioux Lookout has been known as the Hub of the North for many years.The airport services 28 communities in the region. When a new regional hospital was created in Sioux Lookout, increased Sioux Lookout Airport traffic level was the result.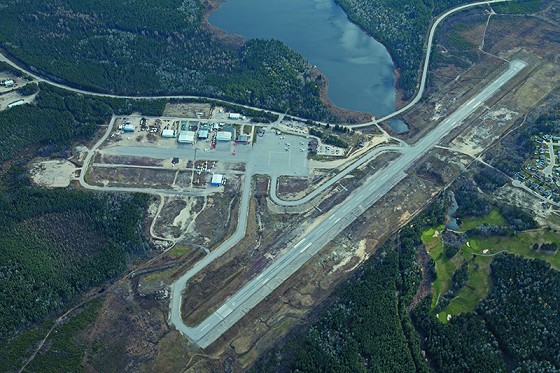 " In the past 6 years we have averaged about 120,000 passengers per year and 30,000 aircraft movements per year. We have scheduled service with Wasaya and Bearskin Airways. There are three chartered airlines here as well - North Star, Northern Skies and Sky Air. During freeze
up and break up we have other charters and medevac service. Orange has two fixed wing aircraft based in Sioux Lookout." said Ben Hancharuk Airport Manager, Sioux Lookout. " We have 80 flights a day and scheduled service every day. Wasaya has the majority as they feed the
north and Thunder Bay, Bearskin goes east and west and then south."
The biggest aircraft that could land on an ongoing basis at the Sioux Lookout Airport is a Bombardier Q400. They could take a Boeing737 with no contaminents (rain or snow for example) but not on a scheduled basis. Their runway is 5300 feet long and 100 feet wide. Perimeter comes in with a Dash 8 5 days a week now. The popular aircraft flying here is the 1900 and Metro which hold19 passengers.
" We are an economic driver and that is how any community should consider an airport. If you have an airport you have an opportunity to help and provide a service to the local economy." said Ben Hancharuk.
The Sioux lookout Airport has 14 employees but at the last count there is an 110 additional staff that work at the airport within the communities. There are 7 hangars as well as hospitality operations like the new Days Inn which went up recently, with 5 motels here in
total.
" We get a mix of travellers. The northern communities are advancing, becoming more and more economically sustainable and growing. You get a mix of medical, pleasure and business travel from the communities. It could be the band councilor, the economic development
officers or service providers out of Sioux Lookout from health care and the trades etc. It is a good mix of medical and business travel." said Ben. " We also get vacationers in the summer, mostly from the US, with about about 50 flights annually. We are a jump off point for tourism with fishing and hunting and outposts and camps. Sioux Lookout is a very busy airport in the North. The climate can be tough and a challenge but you get used to it each year with the seasons. It is
always a challenge, we are a similar climate to Thunder Bay."
The Sioux Lookout Airport is in the stage of finalizing a design build for a terminal expansion of 1000 meters or about 10,000 square feet.
" Our current terminal was designed for 55,000 passengers per year and we are now at 120,000. Our current operators don't have sufficient space to operate efficiently . They manage with what they have but is time to expand. The last expansion was in 1995."
" We have gone out for expressions of interest and got 8 responses. That was narrowed down to 3 and they got the design build RFP which closed June 8th and is being scored from our side, users with technical support and consultants. We should be under construction by late summer with footing in the ground before the frost. It will be a challenge as we have to stay operational. We will provide information to the users and others to help with the travel. It will probably be up
to 18 months to complete."
The Sioux Lookout Airport's objective is to enhance the airport's role in the community as an economic catalyst while achieving a high level of operational excellence in its operation as a safe and secure facility.

The Sioux Lookout Airport is licensed as a public aerodrome and caters to the ever increasing demand of scheduled flights by Bearskin Airlines, Wasaya Airways, Perimeter Air and charter flights by Skycare Air Ambulance, Bamaji Air, Superior Airways, Northern Skies and Thunder
Air. The airport also serves as a base for Ornge, Nishnawbe-Aski Police Service (NAPS), private aircraft owners and several charters both from the United States and within Canada. The Sioux Lookout Airport is easily accessible with connecting flights to carriers such as Air Canada, WestJet, United Airlines, and Northwest Airlines, to name a few.

This airport also acts as a hub for passengers and patients for the Meno-Ya-Win Health Centre from 29 northern communities and 17 nursing stations, as well as a mid-point for sportsmen and cargo to the communities and fishing and hunting areas in the further north. Due to its valuable services to the northern communities, this airport is acting as a major transfer point between the southern and northern communities.


Aviation History

Sioux Lookout Airport started operation in 1933. In the mid-thirties, Popular Mechanics magazine reported in an article on aviation, that Sioux Lookout (Hudson) Airport was at the time the second busiest Airport in North America next to Chicago. Today, the airport is a
"Mini-Hub" facilitating travel to and from all northern communities in Northwestern Ontario.

The two main factors that brought the north closer to Sioux Lookout Airport were the termination of winter tractor trains going north. (The end of an era of hearty breed of men); the other was the Ministry of Transportation program in 1968 of "Highways in the Sky" and building of landing strips at the northern villages.

The Airport now accommodates aircraft's on a 24 hours basis with carrier operations averaging 30,000 movements annually.

At present, the Sioux Lookout Airport accommodates a 24 hour NavCanada Flight Services Station (FSS), and has hangars belonging to Allen Airways, Bearskin Airlines, Red Hawk Aviation, Ornge, Nishnawbe-Aski Police Service, Northern Airborne Maintenance, Skycare Air Ambulance and Wasaya Airways.

History of Aviation in Sioux Lookout

Sioux Lookout has been a part of the birth and growth of aviation since the early 1920's, from its infancy through to its current maturity.

Going back to the early 1920's, transcontinental flights have always taken place over the forested areas of Ontario. The first flight into Sioux Lookout was in 1921 by the local Ministry of Natural Resources. This, a landmark event, introduced the people of Sioux Lookout to the
fascinating world of flight.

The gold discoveries in the Red Lake area opened the gateway for aircraft in the north to provide the much needed alternate form of transportation. In March 1926, Mr. Jack Elliot of Eastern Ontario shipped two Curtis JN4 aircraft by rail to Sioux Lookout. These aircraft were then ferried to Hudson by Elliot and Harold Farrington
and commenced air service to Red Lake.

In March 1926, Western Canadian Airways was formed with the financial backing from financier James A. Richardson of Winnipeg. The first aircraft to arrive was a Fokker Universal, ferried from New Jersey to Sioux Lookout by Pilot Oakes and Engineer Al Cheeseman.

The Canadian Airlines name continued on in Sioux Lookout until it was taken over by Canadian Pacific Railway in 1941. In 1946 with the arrival of Norseman CFBSL crewed by Eddie Richards & Arnold Wallace, Hudson Bay Air Transport began its operations from Sioux Lookout. In
1955 State Falls Airways was established by Gordon Norell & Arnold Hunt with the purchase of Super Club aircraft.

In 1967 with the takeover of Trans Air , Dave Hooker commenced operations in Sioux Lookout. The operation of charter flights and freight hauling was carried on from an improved office and maintenance facilities.

Finally in 1974, the Municipality of Sioux Lookout bought the present airport from the Federal Ministry of Transportation.