Second-Year Aviation Students Get a Little Wet During "Dunker" Training
by Scott A. Sumner

When you fly over northwestern Ontario where there is almost as much water as land, having to ditch in a lake or river is a very real possibility. That's why students in Confederation College's Aviation Flight Management program took "dunker" training at the Lakehead University C.J. Sanders Fieldhouse.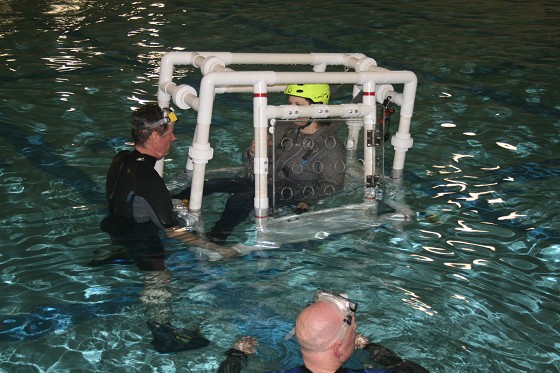 During the course, students learned Submerged Aircraft Fuselage Egress (SAFE) Training. This course taught students in a controlled setting how to safely exit an airplane that has crashed, flipped, and submerged in water. The training is similar to that shown in the "Dilbert Dunker" scene in the movie An Officer and a Gentleman.

"Many pilots who crash during a water landing or ditch on a lake survive the impact, but then drown when they become disoriented in the aircraft and can't escape," said Paul de Oude, Chair of the School of Aviation at Confederation College. "Since every pilot flying in northwestern Ontario will be flying over water regularly, we make SAFE Training available.
The course is run by Transport Canada Aviation Safety Award winner Bryan Webster, who developed his course after surviving a ditching accident himself in 1977. A renowned expert in the field, Webster has since been featured on an episode of The Aviators demonstrating water egress.

Bryan Webster " We have been training students for 15 years and I have trained over 5000 people personally. Of that number we have had 14 come back and thank us as they used the training when they had a problem in their airplane."
" We have been the pioneers of this program. I used to fly FeD Ex planes every night 15 or 20 years ago. We have taken it to where it is known throughout the world. We put people in a set up that is similar to a cock pit and run through a scenario that is similar to an accident. Once they have 6 or 8 run throughs they are up and ready to go."
" In this course we put them in and get them used to being upside down which is very unusual and then teach them a four part series which is find the door, open it and find a reference point, find your life vest and get your belt off and then out the door. Once they get it mastered and get their heart rate down, it is imprinted in their mind and they are good to go.'
"You can go from warm dry and happy in a cockpit to upside down in a fraction of a second. If a float plane hits a log in the water it goes upside down. If you have been trained you go straight to getting yourself out. If you haven't you go through a state of denial first but you have about 15 seconds. Transport Canada has now mandated this training for pilots." www.dunkyou.com
Robert Burough is a second year Aviation student at Confederation College andgraduating in April. He has a job lined up at Yellowknife. " It is pretty intimidating and a very unique experience but will definitely help me in my future job. It will prepare you ahead of time. The biggest thing about being a pilot is procedure right, say 1 2 3 4. As long as you remember what to do next it happens pretty quickly. It is a skill I can transfer to my job."