RML Contracting Construct Thunder Bay's Newest Tim Hortons in Record
Time
by Scott A. Sumner

Andrew and Matthew Lindstrom are the owners of RML Contracting. Their family has been in the construction business in Thunder Bay for a long time.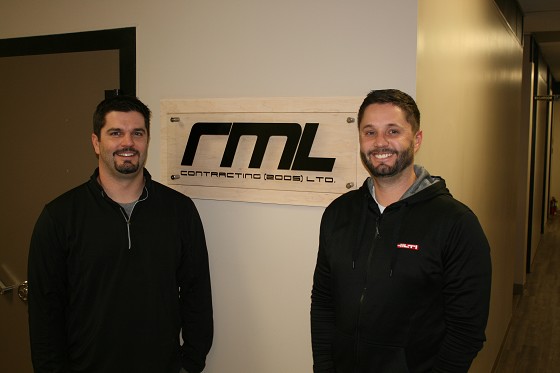 The name RML was taken from a previous company owned by a brother before 2005 with 2 other partners then. In 2005 Andrew moved back from working in Alberta, took over the company and kept the company name. The Lindstrom family had been in the construction business with Stead & Lindstrom since the 1950's with Andrew and Matthew's father then. Their father is now manager of the construction association of Thunder Bay.
" RML has done quite a bit of work since our beginning in 2005 and we are getting our name out there. We just finished off the Tim Horton's and have done the POW Wow Grounds recently at the Fort William Nations. We completed the Oasis Family Dental Clinic last year, Mountainview Cemetery and various other projects." said Andrew Lindstrom.
RML has just completed the Tim Hortons unit on Edwards Street. This unit design is built all across Canada. Tim Hortons are opening 30 new separate stores in December alone across Canada. The newest Thunder Bay Tim Hortons opened December 12th. The building is 2700
square feet in size.
" The store is an all open concept design where we just paint the ceiling. It is an industrial look and the newest model they have across Canada with some different colour schemes. The store owner can pick their colour scheme,"said Andrew. " The electrical, HVAC and plumbing
especially were intense on this project. Lots of the plumbing work had to be done in the slab before it was poured."
This Tim Horton's build project started August 15 and took about 3 1/2 months to complete.
"They like them up pretty quickly. We got very lucky with the weather here in Thunder Bay this year which was very nice. The building has a foundation wall or frost wall and then an infill slab. It is mostly post and beam construction, with a James Hardy board, brick and rosetta
stone exterior. Inside is drywall and a little bit of suspended ceiling,"said Andrew. " We had many subtrades involved on the project and it went very well as you can see from the time frame. We opened a
little ahead of schedule."
" The Tim Hortons system is to ship up their own millwork pre manufactured, we just supervise the installation. All the equipment comes up and we just off load it and help set up. There is also a interior fit up done by Tim Horton's which we oversee. It is a real system, a cookie cutter type system." said Andrew.
" We like to do projects of this size, not the huge condos etc. We did rough frame the Holiday Inn Express on Carrick Street for a Sault Ste Marie company a few years back." said Andrew.
In the summer RML are up to 15 full time staff and run 10 full time all year round. They do mostly commercial work but do some residential or additions, say 1 or 2 decent sizes residences each year. RML also built 2 four plexs for a client to rent this year .
" We have had a very, very busy last few years. I don't know what the new year holds for us . It might be a little quieter than normal to start but the summer will pick up. The Federal government change and Ontario government has affected the spending. We expect more private
spending as well as public because of the stable government situation now." said Andrew.