Province Helping to Promote Thunder Bay as a Mining Hub
Ontario Releases Renewed Mineral Development Strategy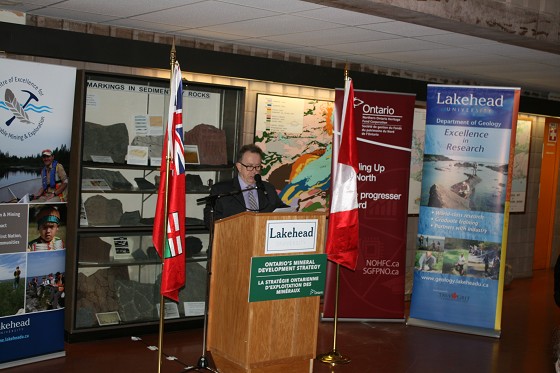 Ontario recently introduced a renewed Mineral Development Strategy that provides a 10-year vision to position Ontario as the global leader in sustainable mineral development and will help promote the mining industry in Thunder Bay.
The renewed strategy confirms the province's commitment to attracting new investment and supporting innovation in the mineral exploration and development sector around the province and in Thunder Bay. The strategy consists of a 10-point action plan with four strategic priorities to ensure the mining sector is:

* Competitive and innovative
* Safe and environmentally responsible
* Efficiently and effectively regulated
* Positioned to ensure growth and prosperity for future generations.
The strategy is the result of engagement with prospectors, junior exploration and mining companies, environmental organizations and Aboriginal and northern communities. They shared their input through written submissions and participation at workshops hosted by the
province.
The Northern Ontario Heritage Fund Corporation (NOHFC) is investing $5 million in a Junior Exploration Assistance Program in support of the renewed Mineral Development Strategy. This program is expected to provide much needed financial support for mineral exploration projects.
Supporting a healthy, competitive and sustainable mineral sector is part of the government's plan to build Ontario up. The four-part plan includes investing in people's talents and skills, making the largest investment in public infrastructure in Ontario's history, creating a dynamic, innovative environment where business thrives and building a secure retirement savings plan.
Michael Gravelle
"The mining sector is a big part of the Ontario and NW Ontario economy. Last year we had $11 billion in mineral production. We do know there are challenges in the mining industry so we made a determination to renew our Mineral Development Strategy which was put in place 10 years ago."
"We are focussed on an innovative mining sector and being environmentally responsible. We are in challenging times and have come out with a $ 5 million program to help move the junior exploration sector companies. This exploration helps develop mines 10 or 15 years
down the road."
" We are pleased with the Ontario Mining and Prospectors Associations supporting this strategy. When a company decids to move forward on a mine project, say like New Gold, they will put forward $800 to $1 billion of investment before they pull out 1 oz of mineral from the
ground. That is a big commitment."
" The Ring of Fire is all part of this process. There are almost 20 companies that have a stake in the Ring of Fire and other organizations with involement.This report speaks to many elements to the Ring of Fire and it all ties together in a rather beautiful way in my opinion. The Ring of Fire will be one of the greatest resource projects the province has ever seen. We need to get this right."
" The billion dollars for the Ring of Fire is specifically targeted for transportation infrastructure. What corridor will work best for the companies and the First nations.It is about opening up the North and getting access. We need investment from the Federal Government which is
more optimistic now. The Ring of Fire is a nationally significant project. It is not just about a road to a mine site. It is a remote part of the project that has never seen development like this before."


QUOTES
"Our government is committed to supporting a globally competitive mineral development and mining sector that provides significant social and economic contributions to Ontario's economy and supports economic development for Aboriginal communities. The Mineral Development
Strategy is a blueprint for how we will help the sector address the challenges of today and position it to grow and attract investment in the future."
- Michael Gravelle, Minister of Northern Development and Mines
"The OMA thanks Minister Gravelle for his ongoing commitment to the mining sector. The renewal of Ontario's Mineral Development Strategy recognizes the sector's value to Ontario as well as the crucial need to have a competitive operating environment. We look forward to working with the Minister to maintain a leadership position in sustainable mining."
- Chris Hodgson, President of the Ontario Mining Association
"The introduction of a 10 year Mineral Development Strategy by the Ontario Government will provide a solid framework for mineral explorationists in Ontario. The components of the Strategy, when implemented, will provide greater certainty and preserve Ontario's position as the number one jurisdiction for mineral exploration in Canada."
- Garry Clark, Executive Director, Ontario Prospectors Association"
Ontario's Mineral Development Strategy is charting the path for future resource development in Northern Ontario. Mining, anywhere in the world, has to focus not only on how to best get what weneed from under the ground, but to make certain we push for the best from those above the ground, too. This strategy will help do just that and CESME looks forward to partnering with the province aswe work together to ensure sustainable mineral development that is to
the benefit of all"
- Dr. Pete Hollings, Director, Centre of excellence for Sustainable
Mining and Exploration (CESME),
Lakehead University
"The renewal of Ontario's Mineral Development Strategy and its subsequent implementation says that Ontario is interested in growing this sector of the economy in a sustainable manner through targeted investments in infrastructure, exploration incentives and improving the
innovation and cost competitiveness of the industry while listening to the input and thoughts of the aboriginal and municipal stakeholders. This can and will continue to be a leading industry in the north. "
- Doug Murray, CEO, Thunder Bay Community Economic Development
Commission
QUICK FACTS
* There are currently over 40 mines operating in Ontario, including 14 base metal mines, 16 gold
mines and one diamond mine.
* The value of mineral production in 2003 was $5.7 billion. In 2014, the value of mineral production was a record $11 billion.
* Ontario accounts for approximately 25 per cent of mining jobs in Canada.
* The mining industry supports more than 26,000 direct and 50,000 indirect jobs, and is the largest private employer of Aboriginal persons in Ontario.
BACKGROUNDER
Mineral Development Strategy
10-Point Action Plan
The Mineral Development Strategy consists of four strategic priorities with a 10-point action plan to support these priorities.
A Competitive and Innovative Industry
Entrenching Ontario's reputation as the leading mining jurisdiction in
the world by:
1. Attracting jobs and investment
2. Fostering a culture of innovation
3. Increasing mineral discovery rates
4. Improving our cost competitiveness
A Safe and Environmentally Responsible IndustryGuiding Ontario's mineral sector as smart, sustainable and environmentally conscious by:
5. Enhancing worker health and safety further across the industry
6. Protecting the environment, reducing the impacts of exploration and mining and addressing climate change An Industry that is Efficiently and Effectively Regulated
Providing greater certainty for the mining industry by:
7. Improving regulatory efficiency, predictability and transparency An Industry that Provides Growth and Prosperity Supporting a healthy, competitive mineral sector to build a strong,
prosperous economy for today and tomorrow by:
8. Enhancing Aboriginal voices and meaningful participation in economic
development
9. Establishing socio-economic conditions needed to advance major
mining projects
10. Building a highly skilled workforce